Women's Basketball Fall to the Norse After Tough Start
Jan 9, 2016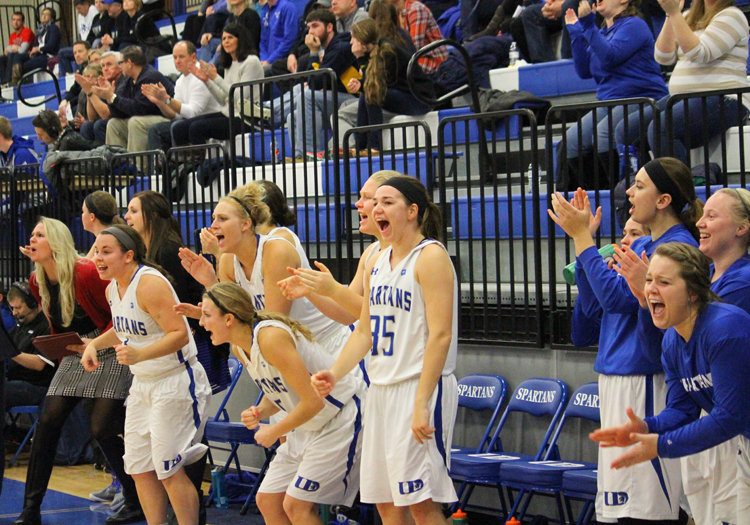 The Spartans rallied in the final quarter behind cheers from the bench in Saturday's seven point loss to the Luther Norse.
BOX SCORE
DUBUQUE, Iowa - The University of Dubuque women's basketball team fought to the finish, but couldn't overcome Luther's frantic full-court press and 17-point halftime deficit in 70-63 defeat to Luther on Saturday afternoon.

The Spartans (5-8, 0-2 Iowa Conference) shot 50 percent out of the gate, but the Norse pressure forced the Spartans into 17 turnovers in the first half. Luther (10-3, 2-0 Iowa Conference), currently receiving votes in the recent D3hoops.com poll, scored 17 points off Spartan miscues en route to a 49-32 halftime advantage.

UD fell behind by as many as 20 points to begin the second half, but cut the Norse lead to six with a little over a minute left in a fourth quarter that saw a combined 16 points scored. A Norse jumper 22 seconds later extended the Norse lead to eight as Luther closed out their second win of the conference season.

Spartan sophomore Abbey Meyer led three UD players in double figures and totaled a team-high 16 points with three steals and three assists. Junior Emily Brinker scored 13 points and sophomore Braanna Steen posted 11 points and a game-high seven rebounds.

Despite 22 turnovers on the game, the Spartans utilized a 20-for-25 free throw shooting performance, especially down the stretch, to claw their way back. The Spartans were aided by a Norse team that reached their penalty limit within the first six minutes of nearly every quarter. Steen was a perfect 7 of 7 at the charity stripe.

The Spartans fell to the Norse for the second time in the last six meetings and dropped to 23-49 in the all-time series. Coach Mark Noll's squad is 11-7 against Luther during his tenure after starting out 12-43.

UD will face Central (3-10, 0-2 IIAC) this Wednesday, January 13 at 6:00 p.m. on the road. The Dutch fell to Wartburg, 69-54, on Saturday afternoon.