Women's Basketball Lose in Overtime to Pioneers
Dec 5, 2015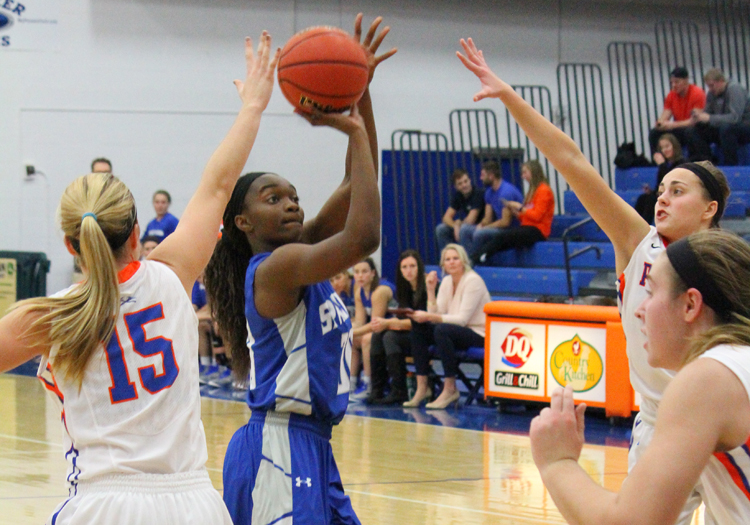 Naomie Kipulu grabbed three rebounds on Saturday, but UD's bench scoring would be held scoreless by the host Pioneers.
PLATEVILLE, Wis. - The University of Dubuque women's basketball team led by nine points in the first half, but lost in overtime to UW-Platteville Pioneers 67-79. UD's team hampered by the flu bug this week, would miss some key free throws down the stretch in regulation allowing the host Pioneers to tie the game at 63-63. The Spartans were held to just four points in overtime and UD's bench would be held scoreless while the Pioneers bench pumped in 33 points.
UD maintained a 10 point lead for the better part of the opening half as they sank 11-35 attempts from the field (31.4%) and were a chilly 2-11 from beyond the three point arc. The Spartan defense held the Pioneers to just four made baskets (4-39, 10.3%) and forced them into nine turnovers in the first half. The Pioneers jumped out in the second half and scored 18 baskets and shot over 40% to battle their way back into the game. In overtime , UD missed all 11 of their shot attempts while the Pioneers sank 8-10 free throws to capture the contest.
The Spartans were led in scoring by Abbey Meyer's 21 points, Emily Brinker finished with 19 points, 10 defensive rebounds, and five blocks. Braana Steen finished with 15 points, Allison Biermeier added nine points, and Kara Enos had three points. UD trailed the Pioneers in rebounding 51-75 (30 offensive and 45 defensive). The Spartans were out scored in second chance points 22-2.
The Spartans (2-4 overall) return home on Tuesday, Dec. 8 when they host UW-Stout at 5:00 p.m. on Jon Davison Court in Stoltz SPorts Center.