Women's Basketball Returns from Adventurous Puerto Rico
Dec 2, 2015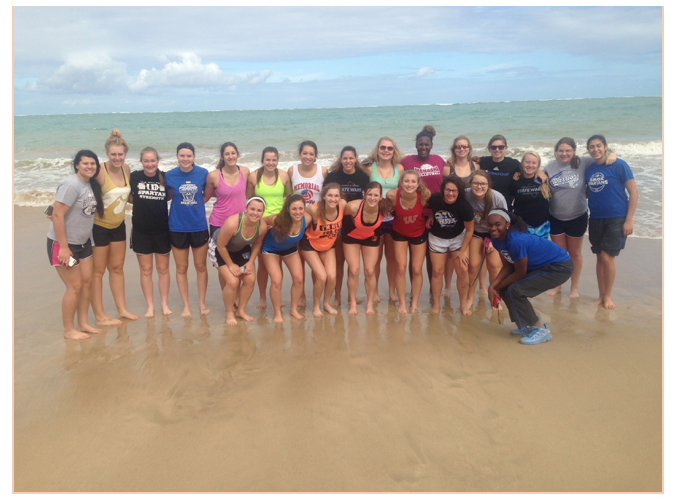 SAN JUAN, Puerto Rico - Read about the two-game Puerto Rico trip taking place between November 20-24 from the University of Dubuque women's basketball players' perspectives! Five players document their San Juan experience on everything from the physicality of Puerto Rican play, Air Noll, mechanical bulls, and the beach.
The Spartans split a pair of games against Puerto Rican teams in a November 21 loss to the University of Metropolitan, 53-48, and bounced back with a 52-44 win over the University of Sacred Heart the following day. Both games were played at a Bayamon gym that was not enclosed. Other activities included visiting old San Juan and assisting at a YMCA kids camp.

"Our Puerto Rico trip was a great trip," Head Coach Mark Noll said. "It was a great experience to play two local teams against a totally different style of play and new environment. We were able to do a lot of team bonding as well after taking in some great sight seeing at old San Juan while hitting the beach as well."

Read the players' accounts below!
*All pictures courtesy of Kelsey Steinhagen unless otherwise noted
Day 1 (Friday, November 20, 2015)
Junior forward
Emily Brinker

Quotable: "... the second our bus rolled up to take us to our resort, it seemed more like a party bus with Puerto Rican reggae music blaring through the speakers and our driver drumming on the dashboard."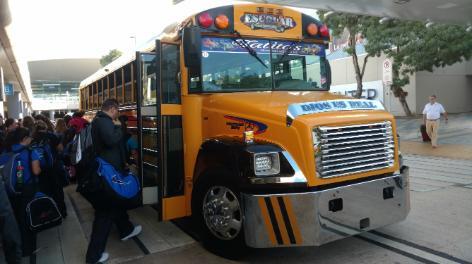 Today's long day started with an alarm at 3:30 a.m. to catch our bus to Chicago O'Hare airport for our flight to San Juan. Despite having to take a few detours, such as turning around in a Target parking lot to get to the correct terminal and speed walking our way through mounds of people, we were able to make our flight right on time.
Finally, on the airplane, it was time to relax for the next 4 hours knowing that the next time we stepped foot off it we would be in sunny, 85-degree weather. Well, it was relaxing for the majority of us since it was Abbey and Hannah's first time flying and Abbey shed a tear in fear before we even made it off the ground. Fortunately, the landing in San Juan went a lot smoother for Abbey.
The second we stepped off that plane and waited curbside for our decked out yellow school bus to pick us up, half the team wasted no time stripping their pants off right there into the shorts we had on underneath to take advantage of the warm weather. But, the second our bus rolled up to take us to our resort, it seemed more like a party bus with Puerto Rican reggae music blaring through the speakers and our driver drumming on the dashboard.
We then made our way to a local YMCA to have a short practice and get up and moving before our game the next day. We did our usual free throw line shooting, walking through plays, and of course half court shots at the end with a reward coming to the first two to make their shot.

After practice we headed back to the resort and got ready to head to team dinner. We walked through old San Juan and hit up a local sports bar just a few blocks away. Everyone, so overly hungry, stuffed ourselves with burritos, tacos, nachos, and of course chips and salsa. We then made our way back to the resort where we are getting the much needed rest from a day full of travel as well as preparing to play our first game of the trip tomorrow afternoon.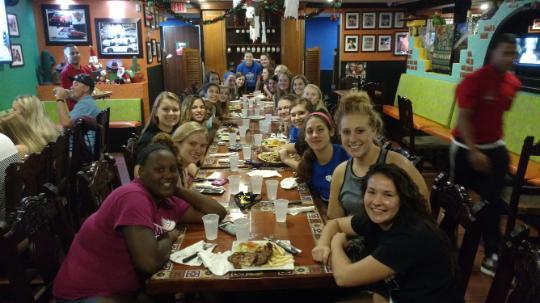 Day 2 (Saturday, November 21)
Senior guard
Jessie Kirkwood
Quotable: "Puerto Rican basketball is more like American football than American basketball …"

Rise and SUNSHINE!!! Escaping the snow back in the Midwest just in time, our first full day in San Juan, Puerto Rico began with a beautiful sunrise and mid 80-degree weather. Life couldn't get any sweeter!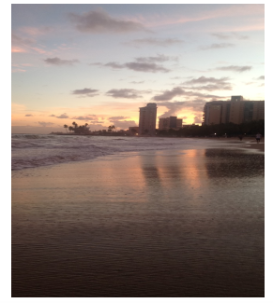 Courtesy of Jessie Kirkwood
After a few of us made it up in time to watch the sunrise on Playa de Isla Verde, the whole team enjoyed an extensive breakfast at our jaw-dropping hotel. As I am sure many of you know, food is high on the priority list for us so having a buffet style breakfast with numerous options was a big deal.
Since not everyone made it to sunrise after our long day of traveling Friday, the team took a walk down to the beach (located just a couple blocks from our hotel) after breakfast. It was a few of the girls' first time seeing the ocean- safe to say it was love at first sight!
After our team walk to the beach, everyone headed back to our hotel to get in the zone for our first game in Puerto Rico. We left the hotel around 12:30 for University of Puerto Rico Bayaman gym to face UMET (Metropolitan University from San Juan). It was quickly evident how fortunate we are for the facilities we have at UD. Within minutes into arriving at the gym, everyone was dripping sweat- Coach Noll lead the stats in sweat loss per game this trip with 5 gallons per quarter!!
Quickly into the game, we realized we weren't in Iowa anymore. Turns out, Puerto Rican basketball is more like American football than American basketball. Quite the experience! We had to make changes throughout the game to adjust to the physicality and difference in style of play and officiating. Though our effort was there, we fell short against UMET, losing by 5 points. Regardless of being disappointed and frustrated with our loss, the opportunity to play the game of basketball in an entirely different environment was an incredible experience. More importantly, sharing this once in a lifetime experience helped us rise together and grow closer as a team.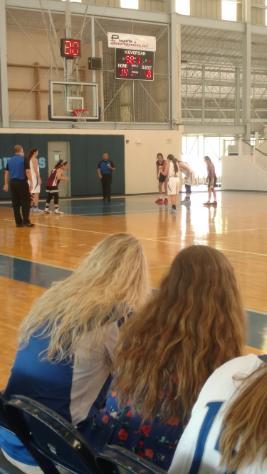 Following the game, we all took much needed showers then were given time to get dinner on our own and explore (while always in large groups for you worried Moms out there). After dinner, we sat out by the pool for a while for some team bonding, but most of us hit the hay early to catch up on some sleep before our second and final game in San Juan on Sunday.
Day 3 (Sunday, November 22)
Senior guard
Molly Richardson

Quotable: "Day 3 was an absolute success all around. We got the dub, a bunch of sun, and some good grub."
Our day started with our team breakfast at the hotel followed by a little time at the beach where we all just hung out and got our feet wet a little bit. We still hadn't got the chance to swim in the ocean yet because of our games so we were all getting a little antsy to get in there.
We then boarded the bus (unfortunately not the rockin' yellow school bus) and headed off to our second game. The energy was great from warm-ups all the way throughout the game and we pulled out the "W!" It was a great team effort all around that got us the win and multiple people stepped up and made big time shots. We're also glad little Nikki Flash is all right after taking a basketball kicked right at her face during warm-ups. You're the real MVP, Nik.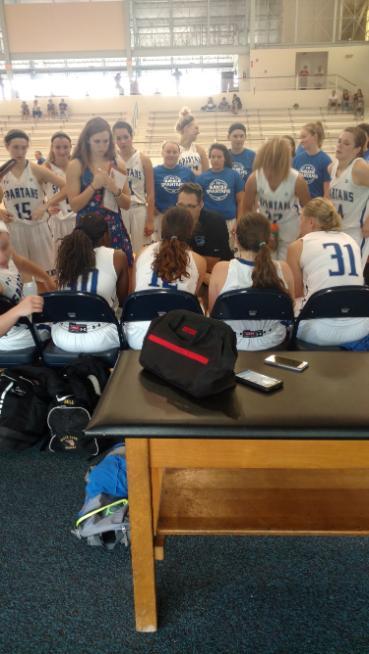 With the vibes of our team at an all time high, we boarded the bus back to the hotel and had a little post game dance party. After getting back to the hotel, we literally ran to the beach for some much anticipated fun in the sun. A few players had a tough time with the waves knocking them down but we all survived.
After our successful time on the beach, we all got dressed up for a nice team dinner at a rooftop restaurant. I'm not sure the food was as good as the time we had there. Sarina hopped up on a mechanical bull and absolutely killed it. Also, we may have had a certain member of the coaching staff get up on the bull but that's a story for another time. Our night ended with some quality team bonding time while exploring San Juan a little bit more.
Day 3 was an absolute success all around. We got the dub, a bunch of sun, and some good grub.
Day 4 (Monday, November 23)
Freshman forward
Kelsey Betthauser
Quotable: "When we got there (YMCA camp), there was a hoop lowered for the kids … even Air Noll made an appearance to slam it down."

We started the day this morning with breakfast at 9AM. Some struggled more than others to get down to breakfast, but thankfully everyone made it. Promptly at 9:30 our pimped-out school bus picked us up. We were off to Old San Juan. The ride took a while and the music on the bus may have been a little too loud for as early as it was, but the beautiful view of the ocean along the way made up for it.
Our driver dropped us (and his daughter) off in the middle of Old San Juan. We then walked a very hot and sweaty mile to Castillo San Filipe del Morro for some team picture opportunities. When we had finally drug ourselves through the entrance, the ladies found salvation at the nearest water fountain. Most of them actually sprinted to quench their thirst.
We all explored the castle. It had an amazing ocean view. The crisp blue water and crashing waves were absolutely amazing. It turns out the view from the bathroom was actually one of the best views in the entire castle.
The team took multiple pictures overlooking the ocean and even some selfies with an iguana. Once we exhausted our time on the castle, the girls were set free to explore Old San Juan. Many decided to take the free trolley back to where we had started our journey this morning to save time and energy.
Everyone found a bite to eat and explored the various shops in Old San Juan. Many took this time to buy souvenirs for themselves and loved ones.
By 1 p.m. all were hot, sweaty, tired, and ready to go back to the hotel. The ladies wasted no time when they arrived at the hotel to get into their swimsuits and head to the beach. We rode the waves and caught some rays to make the most out of the time we had there.
Before we knew it, we had to head back to the hotel to get ready for the camp the team was instructing at the local YMCA. Our famous school bus took us to our destination.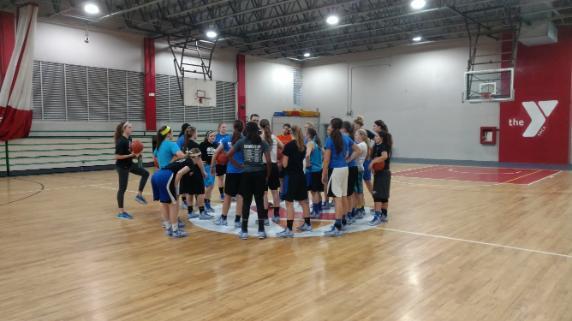 When we got there, there was a hoop lowered for the kids. The team of course proceeded in using the hoop for a dunk contest while we waited for the kids. Even Air Noll made an appearance to slam it down.
There were about six boys ages eight and nine that were part of a YMCA team there to be instructed by the team. The girls took the boys through various ball handling and shooting drills along with some games at the end. The kids absolutely loved it! They were such hard workers and some may have had some better ball handling skills than some girls on the team. Overall, the camp was a success.
We went back to our hotel and each of the girls got money for supper. Many used it to eat at Outback Steakhouse located conveniently in the hotel.
After supper the team spent some time relaxing with one another for a few hours. The ladies then decided to continue their team bonding by going out of the hotel. Some of the team stayed in, but the rest decided to make the most of our last night in Puerto Rico.
Day 5 (Tuesday, November 24)
Freshman post
Sarina Boldt

Quotable: "We, as a team, got to experience the trip of a lifetime …"

Today was our last day in Puerto Rico. Some of us had mixed feelings about leaving, because we didn't want to leave the beautiful ocean and the warm weather, however we all agreed that we were ready to see our families again.
As a team, we decided to wake up before the sunrise and take a team picture on the beach while the sun was rising. The sunrise was absolutely gorgeous and it was a perfect, balmy 75°F on the beach at that point in the morning.
After storming the breakfast buffet, we all split up and went our separate ways for the morning free time. Some girls caught up on some much needed sleep, some girls laid out at the pool and got their tan on, while other girls went to the beach to enjoy the ocean one more time before we left for the airport later on.
At the airport, the wait to get through security felt like the longest wait of our lives, but we persevered and made it through without difficulty and in one piece. For the life of us, no one on the team could figure out what time out plane was going to be landing due to the time zone changes. We took off 15 minutes early and had some turbulence but overall the flight was smooth and relaxing. We landed in Chicago at 5:50pm and we were all very grateful to get off the plane.
We, as a team, got to experience the trip of a lifetime. Even if UD Women's Basketball gets to do something like this again, it won't be the same. Playing basketball in a gym that wasn't enclosed, riding the "party bus" to and from the local YMCA, playing basketball with 8­10 year old boys that have a surprising amount of skill and knowledge of the game, feeling slightly lost in the Puerto Rican culture and experiencing how they live, and bonding as a team, for better or for worse, all of these things collectively made for an amazing trip and none of us will be the same after this. It was a blast to hang out with the team and to travel to Puerto Rico to play basketball.