Women's Basketball Secures First IIAC Win of the Season
Jan 24, 2016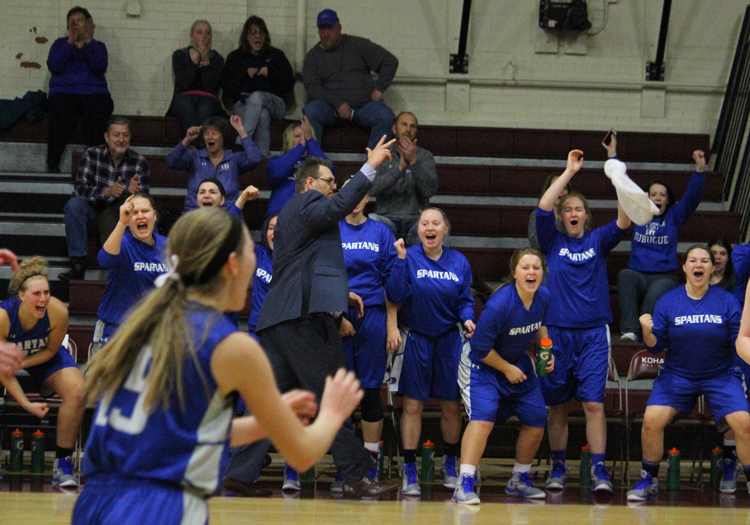 BOX SCORE
CEDAR RAPIDS, Iowa – Led by Abbey Meyer's 16 points and 12 rebounds, the University of Dubuque women's basketball team canned nine three-pointers and held Coe to 36.2 percent shooting in their first Iowa Conference victory, 74-64, over the Kohawks.

Meyer, a sophomore, was anywhere and everywhere after collecting her first double-double of the season while adding five assists and two steals to the mix. The former Cascade prep pioneered a combined 49-point effort between her, Braanna Steen, and Emily Brinker.

Steen totaled a team-high 17 points with five rebounds while Brinker scored 16 points and nine boards as the Spartan offense finished 25 of 56 from the field (44.6%).

The Spartans (6-11, 1-5 Iowa Conference) led 17-13 despite a turnover-plagued first quarter and never trailed after that. Brinker nailed two three-pointers and scored eight points during a key 11-3 run that pushed the Spartan lead from four to 12 midway through the second quarter.

UD added to their first double-digit lead of the IIAC season as it swelled to 21 points in the middle of the third quarter. Coe (11-6, 2-4 Iowa Conference) came within nine points with 2:09 remaining, but by then it was too little, too late.

Defensively, the Spartans were lights out after holding Coe, ranked 17th nationally in three-point percentage (36.2%) to just 3 of 22 (13.6%) from downtown on the game.
Sophomore reserve Allie Biermeier went 3-for-3 from three-point land as the Spartans made an IIAC season-best, nine threes on 19 attempts (47.4%).

The Spartans defeated the Kohawks for the third time in the last four meetings and are now 25-28 in the all-time series.

UD gears up to face Loras this Wednesday at home that will be televised on local KCRG 9.2. The Duhawks (12-5, 5-1 Iowa Conference) defeated Wartburg, 59-55, at home on Saturday afternoon.