Women's Basketball Victorious on Senior Night
Feb 20, 2016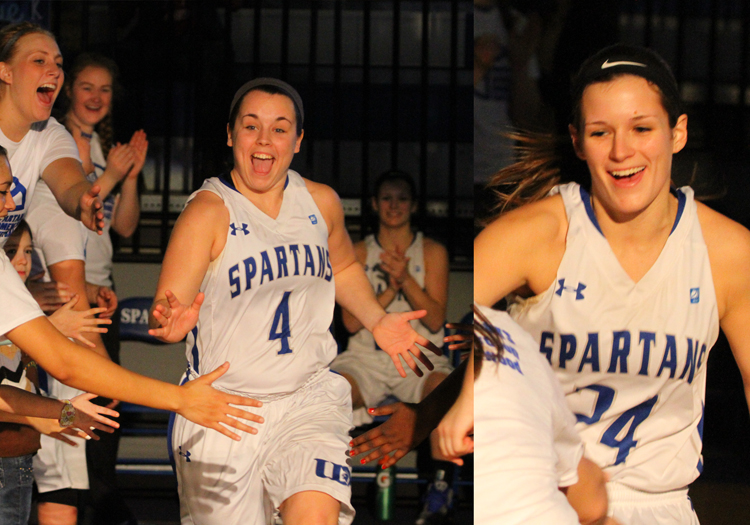 Molly Richardson (#4) and Jessica Kirkwood (#24) finished their Spartan collegiate careers on Saturday with a victory.
DUBUQUE, Iowa - Junior Emily Brinker and sophomore Braanna Steen each had 14 points as the University of Dubuque women's basketball team concluded their season with a win over the Dutch, 62-52, after holding Central to 30.0% shooting.

The Spartans (9-16, 4-10 Iowa Conference) missed out on the Iowa Conference tournament by one game, but ended the season on a high note for seniors Jessie Kirkwood and Molly Richardson. Both seniors started as Richardson finished with six points, including two 3s, and Kirkwood scored three points and dished out three assists in their final game.

Kirkwood and Richardson were honored between the men's and women's game and leave as the second winningest class in UD history.

Despite a slow start, the Spartans led, 51-43, through three quarters. The Dutch (4-21, 1-13 Iowa Conference) cut UD's lead to four early in the fourth, but the Spartans utilized an 8-2 run behind a pair of 3s by Steen and Madison Boer to put the game out of reach. Brinker's free throw with 1:06 remaining concluded the scoring as the Spartans won their second-straight home game.

Brinker, who led the team in scoring with 16.1 points per game this season, added five rebounds and a game-high six assists while Steen pulled down a game-high nine boards.

UD held the Dutch to 7 of 30 shooting (23.3%) in the second half and just 1 of 4 from beyond the arc to foil any comeback plans by Central. The Spartans avenged an earlier loss to the Dutch this season and improved to 17-1 against Central in Head Coach Mark Noll's tenure. UD improved to 28-40 in the all-time series.

Due to Coe's win tonight, the Spartans just missed out on their seventh straight Iowa Conference tournament berth. UD finished strong as winners of three of their last five games.