Women's Tennis Battle Duhawks in Opener
Sep 2, 2015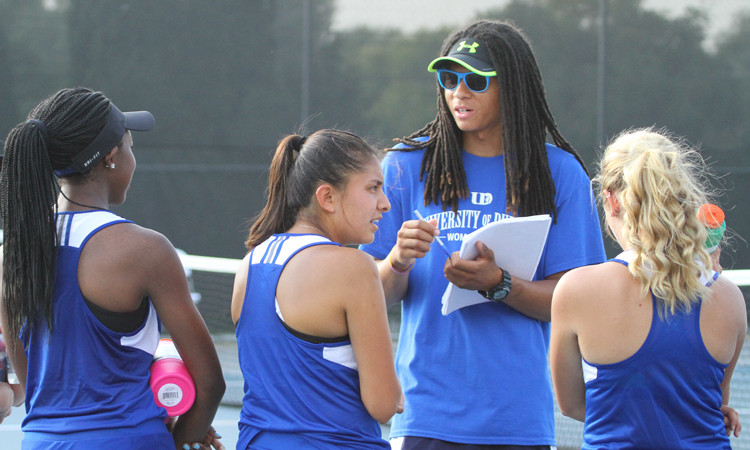 Click here for box score of match
DUBUQUE, Iowa - The University of Dubuque Spartans women's tennis team opened theri 2015-16 season against the Loras College Duhawks in near ideal fall conditions on Frank Farber Courts on Wednesday afternoon. The Spartans under the tutelage of interim head coach Dishon Deering captured two singles matches en route to a 2-7 loss.
Head coach Claudio Giraldi is currently away on a military committment and will be returning later this fall to assume the reigns of the women's and men's squads with Deering as his assistant.
UD lost all three doubles matches, but the young Spartans suffered showed some definite positives moving forward. All three doubles partners are new. Last year's All-Iowa Conference performer, Arantxa Martinez (So., San Luis Potosi, Mexico) continued to showcase her skill along with new partner Marissa Joers (Fr. Racine, Wis.) at #1 doubles in a hard fought 6-8 loss. Nkenge Bokela (Fr., Minneapolis, Minn.) teamed up with Mariah Scott (Jr., La Porte City, Iowa) at # 2 doubles and lost 3-8. At #3 doubles Taylor Fortmann (Jr., Sherrill, Iowa) joined forces with Megan Ranney (Fr., Waterloo, Iowa) in a 4-8 loss.
Martinez cruised through #1 singles in straight 6-0, 6-0 sets over the Duhawks Jessic Dickhut to improve her record to 1-0. The only other winner in singles was Joers who captured her first collegiate match 6-2, 6-0 over Meggie Clements.
The Spartans continue their season on Sept. 5 at UW-Stout at 9:00 a.m. and at 12:00 p.m. will face Lawrence University in Menomonie, Wis. before returning home on Sept. 9 to face league foe the Coe College Kohawks at 1:30 p.m.