Spartans Announce Athletic Changes
Jul 11, 2017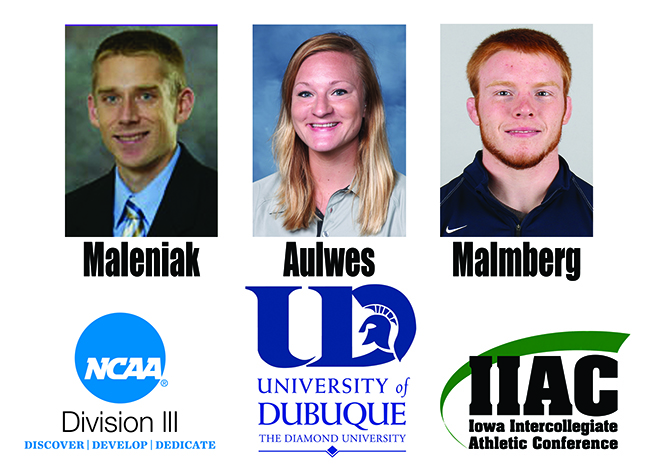 DUBUQUE, Iowa – The University of Dubuque Athletic Director Dan Runkle has announced the appointments of Richard Maleniak as Assistant Head Women's and Men's Cross Country and Assistant Track Coach, Caitlin Aulwes moves from graduate assistant to Assistant Softball Coach, and Lucas Malmberg as Assistant Wrestling Coach.
Maleniak joins UD in 2017 after five full seasons with the University of St. Thomas Tommies track and field/cross country team working with the women's middle distance and distance runners. He joined the St. Thomas coaching staff prior to the 2012 track season with responsibilities for writing the workout plans for women distance runners ranging from 600m to 10K, and St. Thomas saw immediate success at the conference and national level.
"I'm excited to join the staff at UD," said Maleniak. "Coach Gunnelson has done a great job building up the track and field program over the last several years into a winning program, and I aim to add to that with the distance program."
While with the Tommies, Maleniak helped coach 29 individuals and relays to conference titles and 57 all-conference finishes, 20-NCAA All-American performances in individual or relays. Prior to joining the St. Thomas staff in 2012, Maleniak spent two and a half seasons as a graduate assistant coach for the cross country/track and field teams at NCAA Division I Illinois State University (ISU). While at ISU, he was responsible for on and off campus recruiting and implementing workouts for the distance runners among other administrative duties. In 2011, women's cross country won their first Missouri Valley Conference (MVC) title in program history after placing 2nd the previous two seasons. The Redbird distance crew also had six individual or relay MVC champions in cross country and track and eight NCAA regional qualifiers.
Maleniak added, "Coach Gunnelson stresses the importance of developing the student-athlete in all phases of their lives, not just their athletic development, and as coaches we have to see our roles as a coach as also a mentorship role to our student-athletes, and help them develop into future leaders when they graduate from UD."
Maleniak began coaching collegiately at the University of Wisconsin-Eau Claire as an assistant coach for the men's and women's track and field/cross country programs. He earned his bachelor's degree from the University of Wisconsin-Eau Claire in chemistry with a business emphasis in 2002, and he earned a master's degree in sports management from Illinois State University in 2011.
As a competitor, Maleniak was a two-time NCAA Division III Track All-American at UW-EC and is a school record holder in the indoor mile and outdoor 1500m. The Madison, Wis. native also holds a U.S.A. Track and Field Level I coaching certificate.
Aulwes joined the University of Dubuque Softball staff in summer 2015 as a graduate assistant and has been promoted for Assistant Softball Coach for the Spartans. She was a four-year starter for UD from 2010-2014 and served as a captain during her senior year. She was a Second Team All-Iowa Conference performer in 2014 as an outfielder.
She ranks fifth all-time in career runs with 68, fifth in runs batted in (61), is tied for the lead in homeruns in a season with six (2011), and ranks second in career triples with eight. She was a key component in helping the Spartans qualify for the 2015 and 2014 IIAC Softball Tournaments.
"Transitioning into a full-time position within the UD softball program will continue the strategic objectives head coach Wendi Wipperfurth and I have put into a process," said Aulwes. "Building a committed and competitive culture is key. My goal for the near future is to continue program growth, recruiting and instilling our culture in prospective and current student-athletes. The impact will be tremendous within our program, as consistency and culture are vital pieces. Human capital is the most valuable asset any organization can attain and getting the right people within is key, whether it's student-athletes or coaches."
Aulwes, a Strawberry Point, Iowa native, earned her master's degree in business administration from the University of Dubuque in May 2017 and was a 2014 UD graduate, earning a bachelors of science in health, wellness and sport degree.
Malmberg joins the Spartans after finishing his collegiate wrestling career at the top. He capped off his senior year with his second consecutive national wrestling title for Messiah College. He won the 125 lbs. weight class (2016, 2017) and was a four-time NCAA Division III Finalist and three-time NWCA Scholar All-American for the Falcons. He is one two wrestlers in the Middle Atlantic Conference (MAC) history to ever to qualify for four national finals.
"I am extremely excited and honored with the opportunity to not only be part of the UD family, but to have a chance to impact the wrestling program," commented Malmberg. "I plan on bringing high levels of intensity, focus, and commitment as we prepare for the season ahead. Ultimately my aim is to help each student-athlete pursue excellence and character in all areas of their life."
The Marathon, N.Y., native finished the 2016-17 season with a 44-3 record and a career record of 174-13. He is the all-time wins leader in wrestling at Messiah. During college he travelled the world on mission trips to South Korea, Prarguay (South America), and Uganda (Africa). He is a 2017 graduate of Messiah College, earning a degree in cross-cultural Christian ministries and has been a youth leader at New Hope Brethren in Christ Church since November 2014.
###
For additional information, please contact Paul Misner, director of sports information, at 563.589.3168.