Spartans Baseball Takes Two from Duhawks on Senior Day
Apr 29, 2017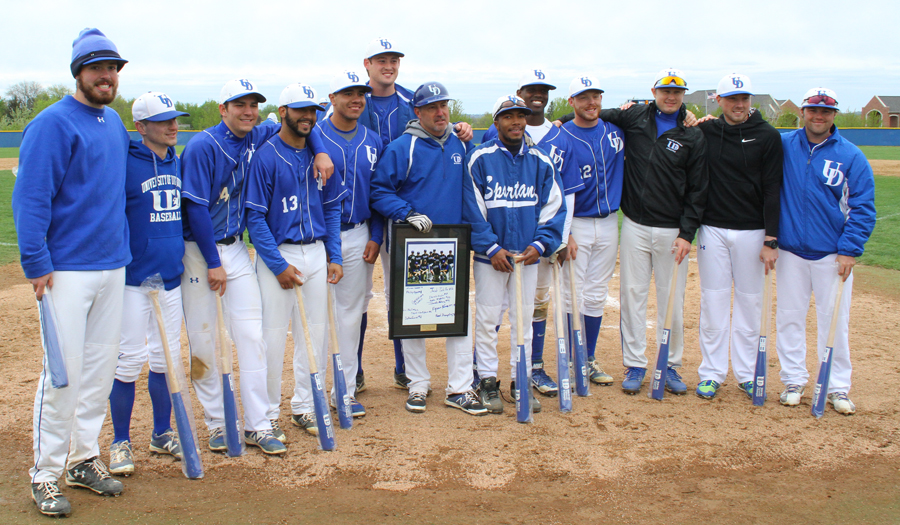 The Spartans captured a pair of wins on senior day, winning game one 4-1 and game two 2-0 over the Loras College Duhawks on Saturday.
DUBUQUE, Iowa - Weather won on Friday afternoon, but it was all Spartans on UD Senior Day after winning game one over the Loras College Duhawks 4-1 and capturing game two by a 2-0 score. Game three re-scheduled from Friday will be played on Sunday, April 30 at 11:00 a.m. weather permitting. Rain is forecasted for the Dubuque area on Sunday.
Two-time All-Iowa Conference Pitcher of the Week, Chase Kueter would throw a complete nine inning game victory in the opener. He allowed one earned run off six hits, struck out six of the 33 batters faced. UD scored four runs off nine hits and both teams stranded five runners on base. Thomas Kempf and teammate Austin McWhite would finish with two hits and an RBI each. Other hits included: Michael Salazar, Jack Lasswell, Will Doherty, Marquis Dew, and Eric Hall.
Doug Van Dyke started on the mound for the Spartans in game two. He tossed seven innings, allowed just three hits after facing 27 batters. He walked three ans struck out four. In relief, Nathan Schneiderman would earn the save after finishing the final two innings. He shutdown the Duhawks with four strike outs after facing six batters. He would end the final inning by striking out the side.
UD scored two runs off four hits and both teams left six runners on base. Dew finished with the lone triple in the game after a ball fell fair on the right field line and would roll to the fence. Salazar scored one of the two runs after getting on base in a double. McWhite and Dew would both finish with a hit in the win.
UD improved to 21-12 overall and 15-4 in the IIAC. Loras falls to 13-21, 6-13 in the IIAC.