Spartans Track and Field Begin 2017 Outdoor Season
Mar 31, 2017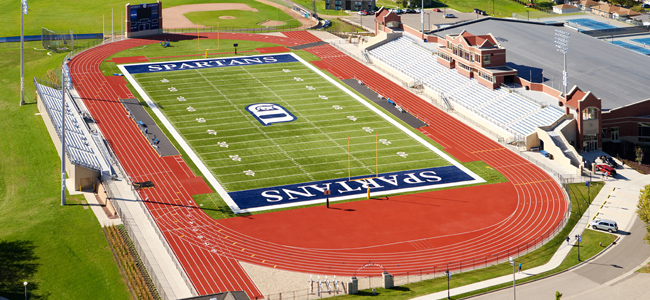 CLICK HERE for Results of Birmingham Southern College Hilltop Classic
2017 Outdoor Season Women's Results
2017 Outdoor Season Men's Results
BIRMINGHAM, Ala. - The University of Dubuque women's and men's outdoor track and field teams begin their outdoor season on Saturday, April 1 at the Birmingham Southern College Hilltop Classic at Krulak Stadium on senior day. The Spartans will compete with an abridged squad this weekend before returning to full strength at the Luther College 51st Annual Norse Relays on April 8 with teams scheduled to compete: Luther College, Coe College, University of Wisconsin-Superior, Bethany Lutheran College, University of Dubuque, University of Northwestern-St. Paul, University of Iowa Track Club, and Luther Alumni (Norse Relays Schedule of Events).
The University of Dubuque track and field coaches finished the indoor season with awards from the U.S. Track & Field and Cross Country Coaches Association (USTFCCCA). UD head coach Chad Gunnelson was selected as Central Regional Coach of the Year. Assistant coach Jake Malm joined Gunnelson and earned Central Region Assistant Coach of the Year honors for both the men's and women's programs after coaching the Spartan throwers to a successful and record breaking indoor season.
"Coach Malm has worked tirelessly to improve our program and create one of the premiere throws programs in the nation," added Gunnelson. "This award reflects his efforts and commitment to our throwers developing champions."
Alec Bass (Jr., distance, Spring Green, Wis./River Valley HS) was named Central Regional Men's Track Athlete of the Year and Tanasha Atwater ( Jr., throws, Davenport, Iowa/Davenport Central HS) claimed Central Regional Field Athlete of the Year for UD. The two combined to win five events at the Iowa Conference Championships in late February and Bass led the Spartans to their first IIAC Indoor Track and Field Championship title in 2017. Both earned All-American honors at the 2017 Indoor Track and Field National Championships held in Naperville, Ill. on March 10-11.
Five members of the University of Dubuque track and field teams participated in the NCAA Division III Indoor Championships with three Spartans bringing home All-American honors.
Atwater pulled in All-American honors in two different events. On Friday March 10 in the weight throw, Atwater was in eighth placed until she launched a throw of 18.36m in her fifth attempt to move her into fourth place where she would finish. Atwater shifted to the shot put on Saturday morning, where her longest throw was 14.42m, where she would finish in fourth place. Atwater finished in 12th place in the shot put at the 2016 NCAA Division III Indoor National Championships.
Blaze Murfin (So., throws, Dallas City, Ill./Illini West HS) joined Atwater in earning All-American honors in both the weight throw and shot put. After finishing in 10th place and just missing All-American honors in the 2016 NCAA DIII Indoor Championships in the weight throw, Murfin improved this year, launching a throw of 18.67m. The toss was just shy of his season PR of 18.74m but was good enough for him to finish in sixth place. Murfin also came up just 0.07m shy of his season best in the shot put but finished in fifth place with an impressive throw of 16.71m.
Bass was the third Spartan to earn All-American honors, after he placed fifth in the 3000m race in a time of 8:22.65. Bass earned All-American honors in the 2016 NCAA Cross Country National Championships after finishing in 30th place. Two other participants were Ron Brown (So., throws, Milwaukee, Wis./Wauwatosa HS) and Fabiola Ortiz (Sr., distance, Elgin, Ill./St. Charles North HS). Ortiz finished in 13th place in the mile with a time of 5:02.912, missing the finals. Brown participated in the weight throw but scratched on all of his throws.
The Spartans host the University of Dubuque Invite on Friday, April 21 beginning at 3:00 p.m. on the Douglas J. Miller Outdoor Track.