Track and Field Earn USTFCCCA Central Region Honors
Mar 9, 2017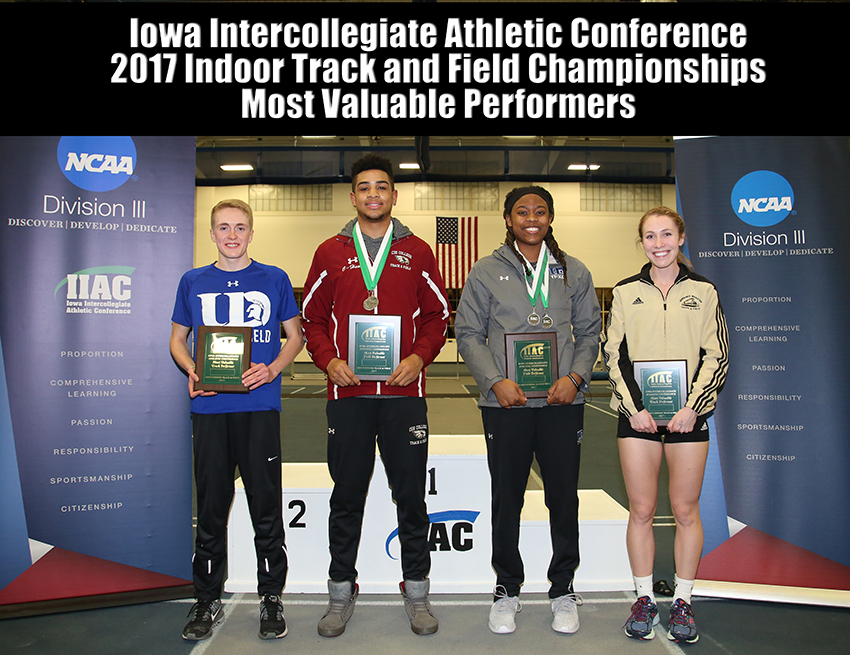 The Spartans Alec Bass (pictured on left) and Tanasha Atwater (third from left) continue to add to their indoor track and field season awards
by being named Central Regional Athlete of the Year.
‌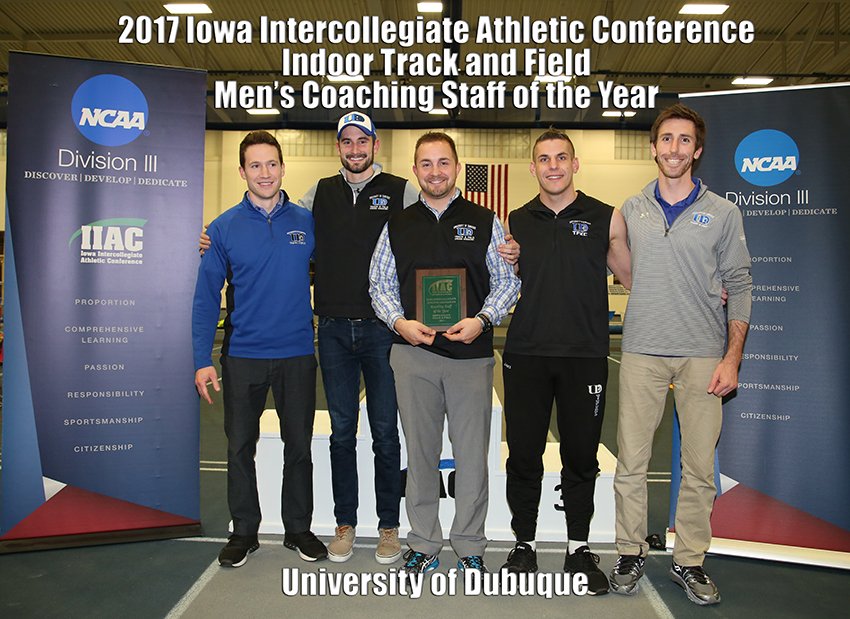 The University of Dubuque men's track and field coaches earned Central Region Coach the Year for Chad Gunnelson (pictured in center) and
Central Region Women's Assistant Coach of the Year and Central Region Men's Assistant Coch of the Year for Jake Malm (pictured on left).
DUBUQUE, Iowa – The University of Dubuque track and field coaches earned awards from the U.S. Track & Field and Cross Country Coaches Association (USTFCCCA). UD head coach Chad Gunnelson was selected as Central Regional Coach of the Year. Assistant coach Jake Malm joined Gunnelson and earned Central Region Assistant Coach of the Year honors for both the men's and women's programs after coaching the Spartan throwers to a successful and record breaking indoor season.
"Coach Malm has worked tirelessly to improve our program and create one of the premiere throws programs in the nation," added Gunnelson. "This award reflects his efforts and commitment to our throwers developing champions."
Alec Bass was named Central Regional Men's Track Athlete of the Year and Tanasha Atwater claimed Central Regional Field Athlete of the Year for UD. The two combined to win five events at the Iowa Conference Championships in late February and Bass led the Spartans to their first IIAC Indoor Track and Field Championship title.
"It's an incredible honor to see the hard work of our student-athletes and staff be recognized by the great coaches of the Central Region," said Gunnelson. "Tanasha and Alec are such incredible competitors and represent exactly how dedication can be realized in the ring and on the track."
USTFCCA Central Region Athlete of the Year
Alec Bass – Men's Track
Tanasha Atwater - Women's Field
USTFCCA Central Region Coach of the Year
Chad Gunnelson - Men's Indoor Track and Field
Jake Malm - Women's Indoor Track and Field Assistant Coach of the Year
Jake Malm - Men's Indoor Track and Field Assistant Coach of the Year
USTFCCA Women's Central Region Honoree's
Tanasha Atwater – Shot Put, Weight Throw
Fabiola Ortiz – Mile
USTFCCA Men's Central Region Honoree's
Blaze Barista - Triple Jump
Alec Bass – Mile, 3000 meters, 5000 meters
Ron Brown – Weight Throw
Blaze Murfin – Shot Put, Weight Throw
Kortez Picket – High Jump
Colfay Pointer – 400 meters