Atwater and Malm Pick Up USTFCCCA Central Region Awards
May 23, 2018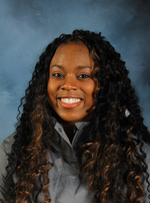 NEW ORLEANS, La. – University of Dubuque track and field's Tanasha Atwater was named 2018 Central Regional Women's Field Athlete of the Year for the outdoor season by the U.S. Track & Field and Cross Country Coaches Association (USTFCCCA). UD assistant coach Jake Malm, was also voted Assistant Coach of the Year for his work.
Atwater (Sr., Davenport, Iowa/Davenport Central), ranks in the top eight nationally in two different events. She heads into the national championships ranked fourth in Division III in the shot put with a mark of 14.77 (48-5.5) and eighth in the hammer throw at 54.81m (179-10). The Iowa Conference Field MVP will look to repeat in the shot put on Friday at the national championship meet in La Crosse, Wisconsin. She will also throw in the hammer on Saturday at 2:00 p.m.
For the second straight year, assistant coach Jake Malm has grabbed USTFCCCA Assistant Coach of the Year. The UD women throwers totaled 68 points and won three event titles at Iowa Conference Championships, leading the team to best finish in school history. Five Spartan athletes qualified for the national meet, with two each in the discus and hammer. In the final USTFCCCA Event Squad rankings, Dubuque finished as the top squad in the hammer and in the top six of the other three throwing events.
The Spartans will begin the NCAA Division III Outdoor National Championships on Thursday.