Baseball Clinches Program's First Iowa Conference Title
May 5, 2018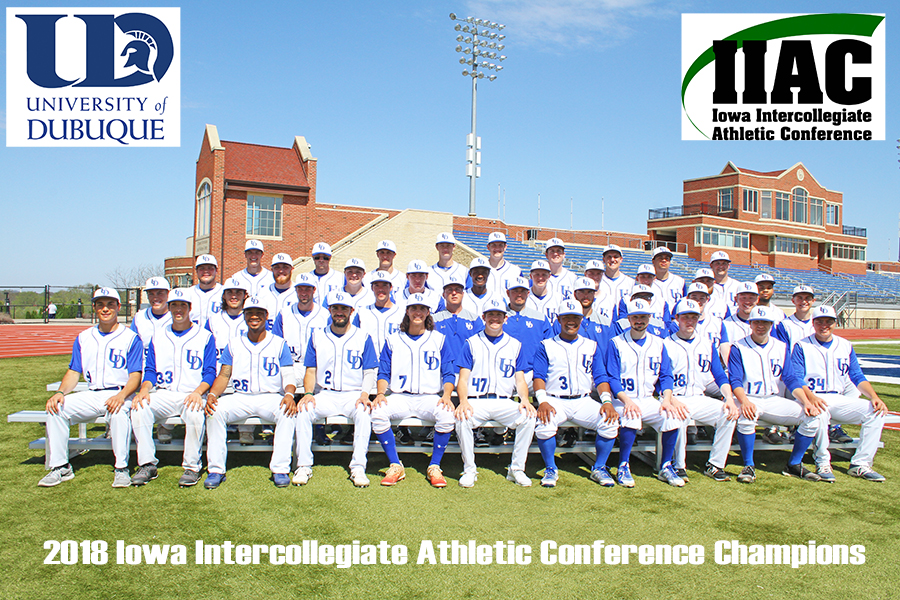 More photos on bottom of page from weekend victory celebration.
Box Score Game One Box Score Game Two
DUBUQUE, Iowa- The University of Dubuque baseball team swept Nebraska Wesleyan University on Saturday afternoon by scores of 19-3 and 9-1, clinching the Iowa Conference Championships for the first time in program history. The Spartans have fought through the loss of their assistant coach, Luke Kalb, who passed away from a rare form of liver cancer in Feb., to sweep the final weekend of the regular season and capture the 2018 Iowa Intercollegiate Athletic Conference title for head coach Paul Wyczawski.
Senior day provided the group of six seniors some highlights for their career in near ideal baseball conditions. Thosw who played their final home games included: Will Doherty (Sr., C, Cross Plains, Wis./Wisconsin Heights H.S.), Dalton Garst (Graduate,3B, Winnebago. Ill./Winnebago H.S.) , Tyler Lewan (Sr., SS, Golden, Colo., Dundee-Crowm H.S.), Tyler Imrich (Sr., OF, Jacksonville, Fla./Bishop John Snyder H.S.), Doug Van Dyke (Sr., RHP, Bartlett, Ill./Bartlett H.S.), and Cody Kramschuster (Sr., INF., Windsor, Wis./Deforest H.S.).
Game One
UD 19, NWU 3
Nebraska Wesleyan... 000 030 0 -  3  7  1      (9-25, 5-17 IIAC)
Dubuque, Univ. of... 502 228 X - 19 22 0 (20-15, 15-5 IIAC)
How It Happened
-After two quick outs to begin the bottom of the first UD rattled off six straight two out hits, including RBI doubles off the bats of Thomas Kempf, Jarad Clevenger and Will Doherty to give UD an early 5-0 lead.
-Spartans took advantage of a two out error from NWU in the third when Jack Lasswell singled to center to build the UD lead to 7-0.
-NWU put runners on second and third with no one out in the top of the fourth but Doug Van Dyke escaped the jam without any damage after a foul out and two strikeouts.
-The Spartans put the ten run rule into use after an eight run sixth inning on seven hits. Jack Lasswell got the scoring started in the inning with a RBI double down the left field line. Dalton Garst, Kellen Mitchell, Cody Kramschuster also had RBI hits in the inning.
-All 12 Spartans that had an at bat in the game had at least one hit.
At the Plate
Kellen Mitchell: 3-4, 3 R, 2 RBI, 1 BB
Jack Lasswell: 3-5, 2 R, 2 RBI
Will Doherty: 2-3, 2 R, 3 RBI, 1 BB
Pitching Breakdown
Doug Van Dyke (W, 5-2): 5.0 IP, 6 H, 3 R, 3 ER, 1 BB, 9 K
Nick Sewruk: 2.0 IP
Game Two
UD 9, NWU 1
Nebraska Wesleyan... 000 010 000  -  1  5  4      (9-25, 5-18 IIAC)
Dubuque, Univ. of... 030 111 12X  -  9 11  1      (21-15, 16-5 IIAC)
How It Happened
-UD once again jumped out to an early lead in the second inning when Will Doherty doubled to center field to score Zach McCoy. Nasir Ricks followed Doherty with a RBI triple to right field and Jack Lasswell made it 3-0 UD with a single right back up the middle.
-Will Doherty led off the bottom of the second and scored after back-to-back wild pitches to make it 4-0 after four innings.
-Justin Jenson was robbed of a hit in the bottom of the sixth by a diving catch but it was good enough to score Jack Lasswell from third for a sac fly and a 6-1 lead.
-Will Doherty drove in the Spartans seventh run of with his third double of the game in the bottom of the seventh inning to give UD a six run lead.
-The Spartans tacked two more runs on to their lead in the bottom of the eighth for good measure. Kellen Mitchell tripled to right field to plate Dalton Garst and Tyler Lewan had a sacrifice fly to center field to score Mitchell.
-Nathan Schneiderman closed the door on the Prairie Wolves, striking out the last batter of the game, sending the Spartan team into celebration mode on the mound.
At the Plate
Will Doherty: 3-3, 2 R, 1 RBI, 3 2B
Jack Lasswell:
Pitching Breakdown
Tyler Carlson (W, 3-1): 7.0 IP, 5 H, 1 R, 1 ER, 0 BB, 4 K
Nathan Schneiderman: 2.0 IP, 0 H, 0 R, 0 BB, 2 K
Game Notes
-This is the first conference title in the program's 68 years.
-The Spartans honored six seniors between games. Will Doherty, Dalton Garst, Tyler Lewan, Tyler Imrich, Doug Van Dyke and Cody Kramschuster.
-Each senior recorded at least one hit on the day.
-This is the first time UD has qualified for the Iowa Conference Tournament three straight seasons since 1995-1997.
-The 19 runs scored in game one is the most by the team this season, passing Friday's mark of 17.
-UD racked up 49 hits over the three game series against Nebraska Wesleyan
-The final out can be viewed here: https://bit.ly/2jzImU2
Up Next
The Spartans will be the one seed at the Iowa Conference Tournament next week. The tournament is Thursday, May 10th to Saturday, May 12th in Cedar Rapids at Veterans Memorial Stadium.