Joseph Receives Cliff Harris Award Tonight
Jan 11, 2018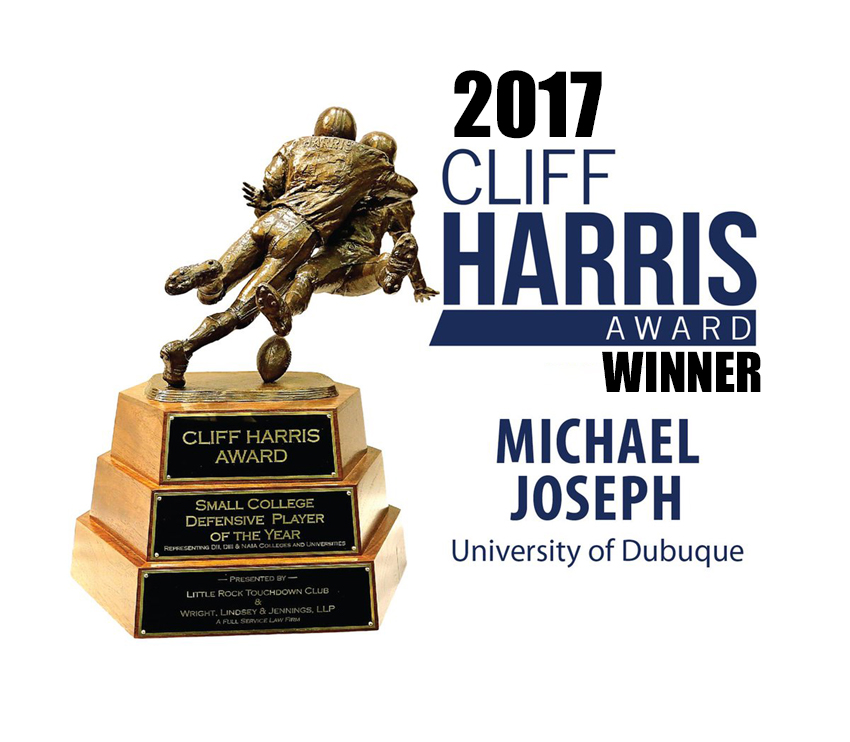 LITTLE ROCK, Ark. - The University of Dubuque's Michael Joseph will receive the Cliff Harris Award tonight, Jan. 11 at the Little Rock Touchdown Club Awards Banquet held at the Embassy Suites in Little Rock at 7:00 p.m.
NFL Hall of Fame and Heisman Trophy winner Marcus Allen will be the keynote speaker at the awards banquet. Arkansas High School players and coaches, Arkansas College Players of the Year, along with Paul Eells Award, Willie Roaf Award, Dan Hampton Award, and the Cliff Harris Award will be presented.
The Little Rock Touchdown Club, which began in August 2004, has become one of the nation's largest and fastest-growing football clubs. Having started with 17 founding members, the organization has quickly grown to more than 500 members. The club meets every Monday from 11:50 a.m. to 1:00 p.m., with lunch beginning at 11:00 a.m. during the fall at Embassy Suites in west Little Rock.
Annually, the club hosts an awards banquet recognizing a Most Valuable Player from every Arkansas college football team. Awards are also presented to a Coach and Player of the Year from every high school classification. A national Collegiate Player of the Year, SEC Defensive and Offensive Players of the Year and SEC Coach of the Year are also named.
https://lrtouchdown.com/