Spring Football Begins March 20
Mar 19, 2018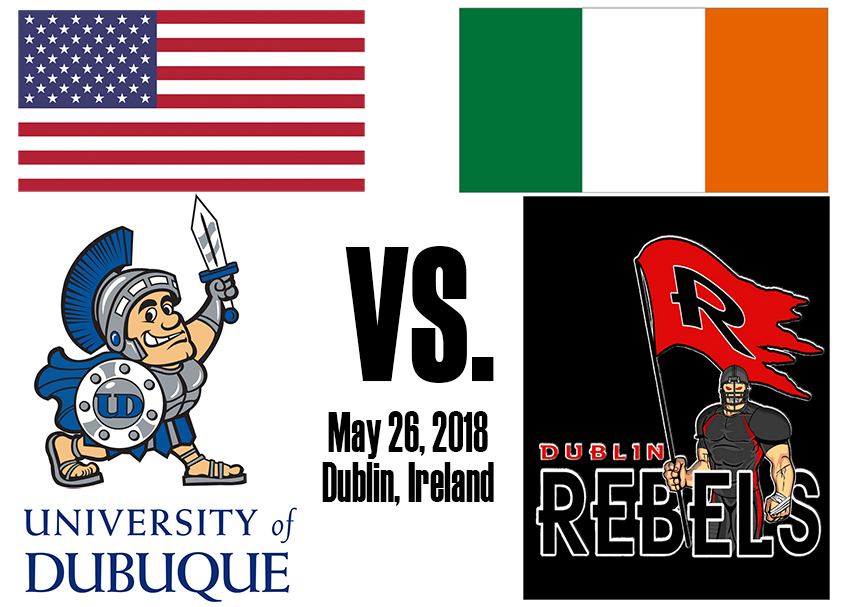 The University of Dubuque football team will open their 2018 spring football training on Tuesday, March 20 in the Veterans Memorial Training Center.
The Spartans will return 103 players from the 2017 season. The offense will return seven starters, highlighted by the 1-2 punch Dwayne Allen Jr., and Maurice Herrion at tailback. Allen Jr. was a First Team All-Iowa Conference running back who led the team and the league in rushing in 2017.
On the defensive side, the Spartans have to replace one of the best defensive backs in the country in 2017 Cliff Harris Award winner Michael Joseph. Joseph is having a Pro Day at Iowa State University on March 27 for NFL scouts. Missing on defensive is three-year starter at safety in Derek Trotter and Derek Schambow, but UD returns seven other starters on the defensive unit with six starters at linebacker and on the defensive line.
The 2018 spring will be highlighted by an overseas trip to Ireland for nine days beginning on May 21. The 58 Spartan football student-athletes making the trip will play the nine time Irish National Champions, the Dublin Rebels on Saturday May 26. In 2017, the Rebels finished 7-1 in the regular season with a home reverse versus University of Limerick Vikings being their only blemish, the Rebels went on to defeat the Carrickfergus Knights to win the Shamrock Bowl XXXI with a final score of 12-6.
The Dublin Rebels Football Program was founded in 1995 as a Flag Football team. In 2001 the club transitioned to a Senior Kitted club. All members of this team must be 18 years of age or older to participate. The Dublin Rebels compete in the Irish American Football League's top-level competition, the Shamrock Bowl Conference. The regular season consists of eight games, four home and four away.
On the trip the Spartans will spend time touring the countryside and sights of Ireland. Possible trips may include the Blarney Castle, Trim Castle, Ring of Kerry, Cliffs of Moher, and St. Patrick's Cathedral in Dublin.
UD will open up the 2018 fall season at home on Chalmers Field against the University of Wisconsin - Whitewater Warhawks (2017 record of 7-3 overall, 6-1 in WIAC).The Warhawks have been one of the top NCAA Division III teams in the country for the past 15 years and kick-off is scheduled for 6:00 p.m.
Head coach Stan Zweifel completed his ninth season at UD and his overall record is 54-38 and his IIAC record is 42-26, .618 winning percentage. His 54 wins is second all-time at UD and his conference wins at 42 is ranks second in school history. His .618 winning percentage in conference play is second best to UD Hall of Famer Don Birmingham (1977 – 83, .633%).
2018 Football

Sept. 1

vs. UW-Whitewater

Dubuque, Iowa

6:00 p.m.

Sept. 8

at Pacific University

Forest Grove, Ore.

7:00 p.m. (PST)

Sept. 15

at Coe College

Cedar Rapids, Iowa

1:00 p.m.

Sept. 22

vs. Central College

Dubuque, Iowa

1:00 p.m. (Hall of Fame)

Sept. 29

at Loras College

Dubuque, Iowa

1:00 p.m.

Oct. 6

vs. Luther College

Dubuque, Iowa

1:00 p.m.

Oct. 13

Bye Week

Oct. 20

at Buena Vista Univ.

Storm Lake, Iowa

1:00 p.m.

Oct. 27

vs. NE. Wesleyan Univ.

Dubuque, Iowa

1:00 p.m.
(Homecoming)

Nov. 3

at Simpson College

Indianola, Iowa

1:00 p.m.

Nov. 10

vs. Wartburg College

Dubuque, Iowa

1:00 p.m.