USTFCCCA Honors Track and Field All-Academic Team and Individuals
Jul 28, 2017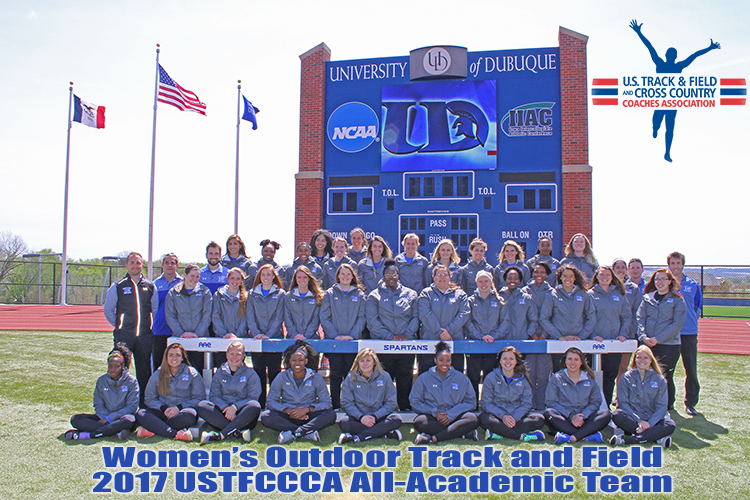 NEW ORLEANS, La. – Scholar Teams of the Year and All-Academic Team honors for the 2016-17 NCAA Division III Indoor and Outdoor Track & Field seasons were announced by the U.S. Track & Field and Cross Country Coaches Association (USTFCCCA). The University of Dubuque women's track and field team earned the prestigious academic honor in 2017.
The Spartans were one of 183 teams to be in contention for Scholar Team of the Year, a program must finish highly at the respective national championship meet and have at least a 3.00 cumulative team GPA.
The Spartans capped off the 2017 outdoor season with eight qualifiers for the 2017 NCAA Division III Outdoor Track and Field Championships where they brought home four All-Americans and one national champion. Tanasha Atwater (Jr., Davenport, Iowa/Davenport Central) claimed the first women's outdoor track and field national championship in program history and the first on the men's or women's side since 2014. Atwater brought home the championship in the shot put with a school and stadium record toss of 15.09m (49-06.25).
The women's team also finished fourth at the IIAC Outdoor meet with 133 points. Fabiola Ortiz was named IIAC Women's Track MVP as she won the 1500m run, 3000m steeplechase and finished second as a member of the 4x800m relay. Other winners included, Tanasha Atwater in shot put, Danielle Wegter (Fr., Muscatine, Iowa/Muscatine) in discus, Rebecca Burmahl (So., Monticello, Iowa/Monticello) in hammer throw, and Abigail Willis (Sr., DeWitt, Iowa/Central-Clinton) in the javelin. The Women's team won four outdoor meets in 2017.
The USTFCCCA also announced National All-Academic selections which included 12 Spartans, who were recognized for this honor. Student-athletes must earn a 3.30 cumulative G.P.A. or higher in addition to one of the following athletic achievements: compete in an NCAA Indoor or Outdoor Championship, or finish the regular season ranked in the national Top-50 in an individual event or ranked in the national Top-35 in a relay. UD has had 14 student-athletes earn the honor since 2012.
"This is a great accomplishment for these student-athletes," said director of Cross Country and track and field Chad Gunnelson. "It shows the dedication and discipline on and off the track".
2017 University of Dubuque USTFCCCA All-Academic Honorees:
Women
Tanasha Atwater – (Jr.) Throws
Alison Beeman – (Fr.) Sprints
Kelsey Betthauser – (So.) Throws
Shelby Lane – (Jr.) Throws
Fabiola Ortiz – (Sr.) Distance
Jade Romagna – (Fr.) Distance
Aleyha Slatter – (So.) Jumps
Alyssa Skrove – (Fr.) Jumps
Kiersten Wenthold – (Sr.) Distance (1 of 29 who maintained a perfect 4.0 G.P.A.)
Men
Blaze Barista – (Fr.) Jumps
Blaze Murfin – (So.) Throws
Colfay Pointer – (Fr.) Sprints