Women's Basketball Rank #5 WBCA Academic Team Award
Jul 18, 2017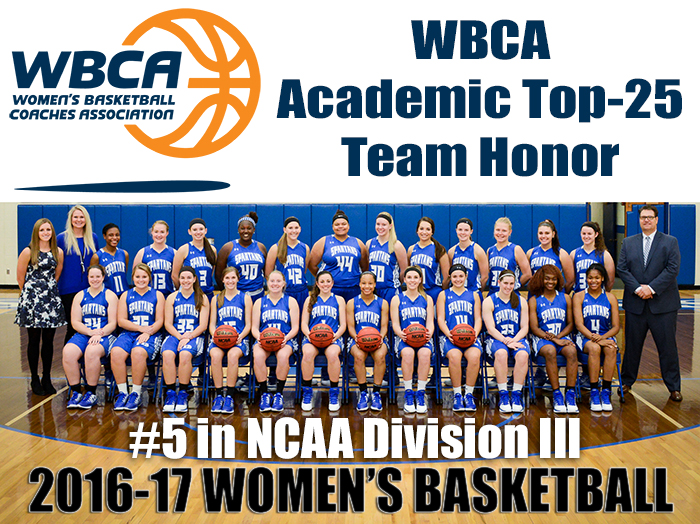 ATLANTA, Ga. - The WBCA Academic Top-25 recognizes NCAA Division I, II and III; NAIA and junior/community college women's basketball teams across the nation which carry the highest combined grade point averages inclusive of all student-athletes on their rosters for the entire season. The 2016-17 season is the 22nd in which the WBCA has compiled the honor rolls.
The University of Dubuque was ranked #5 in the NCAA Division III poll with a cumulative team GPA of 3.634, marking it's third consecutive year to be ranked in the Top-5 for academics for head coach Mark Noll. Last season the Spartans held the #1 spot with a cumulative team GPA of 3.685 and in 2014-15 UD ranked #3 with a 3.605 cumulative team GPA. The Spartans are the lone Iowa Intercollegiate Athletic Conference (IIAC) team to be ranked in the Top-25 in 2016-17, and also the only IIAC team ranked in Top-5 for the past three consecutive seasons.
"The WBCA family is committed to the student-athlete experience and celebrates these teams that have demonstrated excellence in the classroom," said WBCA Executive Director Danielle Donehew. "This year's WBCA Academic Top-25 is a powerful list of teams and their head coaches who have winning cultures that prepare their student-athletes for success in life."
"To be in the Top-25 says alot of what our 21 student-athletes are achieving in the classroom, said Noll. "I'm so proud of our ladies, as we are the only program in Division III to be in the Top-5 in the past three consecutive years."
Founded in 1981, the Women's Basketball Coaches Association is the professional association for coaches of women's and girls' basketball at all levels of competition. The WBCA offers educational resources that coaches need to help make themselves better leaders, teachers and mentors to their players; provides opportunities for coaches to connect with peers in the profession; serves as the unifying voice of a diverse community of coaches to those organizations that control the game; and celebrates those coaches, players and other individuals who excel each year and contribute to the advancement of the sport.
A team's GPA is calculated by dividing the total number of quality points (A=4, B=3, C=2, D=1, F=0) earned by the total number of academic hours attempted by all team members in the academic terms (semesters or quarters) that the season spans. Weighted grades are converted to a 4.0 scale. The GPAs are rounded to the nearest thousandth of a point. Teams are nominated for the honor by the WBCA-member head coach. A team must have a 3.000 or better GPA to be nominated.
Listed below is the NCAA Division III WBCA Academic Top-25 Team Honor Roll. The head coach listed for each institution was its head coach during the 2016-17 season.
NCAA Division III WBCA Academic Top-25
| | | | |
| --- | --- | --- | --- |
| Rank | Institution | Head Coach | GPA |
| 1 | Emerson College | Bill Gould | 3.673 |
| 2 | Westminster College (Missouri) | Tracey Braden | 3.669 |
| 3 | University of Pittsburgh-Greensburg | Erin Eaton | 3.647 |
| 4 | Greenville College | Roy Mulholland | 3.641 |
| 5 | University of Dubuque | Mark Noll | 3.634 |
| 6 | New York University | Lauren Hall-Gregory | 3.625 |
| 7 | MIT | Sonia Raman | 3.618 |
| 8 | University of Wisconsin-Eau Claire | Tonja Englund | 3.594 |
| 9 | Western Connecticut State University | Kimberley Rybczyk | 3.593 |
| 10 | William Smith College | Lindsay Sharman | 3.576 |
| 11 | Vassar College | Candice Brown | 3.559 |
| 12 | Ithaca College | Dan Raymond | 3.558 |
| 13 | Bethel University (Minnesota) | Jon Herbrechtsmeyer | 3.552 |
| 14 | Middlebury College | KJ Krasco | 3.549 |
| 15 | Carthage College | Tim Bernero | 3.547 |
| 16 | Marywood University | Tara Macciocco | 3.546 |
| 17 | Baldwin Wallace University | Cheri Harrer | 3.544 |
| 18 | Washington and Lee | Christine Clancy | 3.540 |
| 19 | Houghton College | Alicia Mucher | 3.537 |
| 20 | Swarthmore College | Renee DeVarney | 3.532 |
| 21 | Elmhurst College | Tethnie Carrillo | 3.527 |
| 22 | University of Minnesota, Morris | Tim Grove | 3.526 |
| 23 | Suffolk University | Ed Leyden | 3.519 |
| 24 | Case Western Reserve University | Jennifer Reimer | 3.513 |
| 25 | Thomas More College | Jeff Hans | 3.511 |