Bailey Eliminated on Day One of Championships
Mar 8, 2019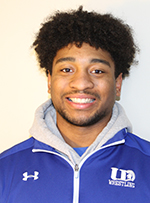 ROANOKE, Va. – University of Dubuque's Tevin Bailey was on the wrong end of two close matches on Friday afternoon at the 2019 Division III Wrestling Championships to be eliminated on the first day of the championships.
His first match against Solomon Nielsen of Augsburg, started out with fireworks. Early on he fended off take down attempt and turned it into a takedown of his own. However, the call was review and overturned to keep it 0-0. Moments after the review, Bailey fended off another shot from Nielsen and this time turned it into points with a take down and earned two back points in the process. After an escape from Nielsen, Bailey grabbed a single leg take down in the final seconds of the first period to lead 6-1 after one.
Bailey started down in the second frame and escaped after a minute, but was then taken down and ridden out to make his lead 7-3 heading into the final period. Nielsen got a quick escape to start the third period and took down Bailey before the period was half over to make it 7-6. Bailey was let up for an escape to make it 8-6. However, Nielsen continued with the momentum and took down Bailey right back down, this time to his back, where Bailey was pinned quickly with 40 seconds left.
In his second match of the day and first in the consolation bracket, Bailey faced up against Justin Ranson of Bladwin Wallace. Bailey fell behind in the first period after getting taken down but got out before the end of the period to make 2-1 heading to the second. Bailey then evened up the match after starting down in the second period and escaping in 20 seconds and no one would score for the remainder of the period to send it to the third and final period tied at 2-2.
Ransom began down to begin the third, and just like Bailey in the second quickly escaped to regain the lead at 3-2. Ransom would then win a scramble to take down Bailey with 1:30 remaining in the frame. Bailey then returned the favor with an escape and take down of his own to tie it up at 5-5. However, Ransom was able to escape and hold off Bailey for the 6-5 win and eliminating Bailey.