Murfin Continues to Bring in Performer of the Week Awards
Apr 8, 2019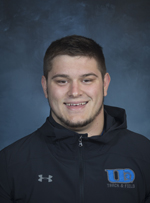 CEDAR RAPIDS, Iowa – For the 17th time in his career, UD senior Blaze Murfin has earned American Rivers Conference Track and Field – Field Athlete of the Week. It is the sixth time he has took home the accolade this season, the first of the outdoor season and seventh outdoor honor of his career.
Murfin (Dallas City, Ill./Illini West) began the 2019 season with a bang, winning the shot put, discus, and weight throw at the Cornell College Invite on Saturday, April 6th. His winning throw in the shot put of 18.11m/59-05 is the top throw in not just the conference, but the all of Division III after the weekend.
Murfin's winning tosses in the discus (48.97m/160-08) and the hammer throw (57.07m 187-03) also came in as the top mark in the American Rivers Conference after two weekends of the outdoor season.
Murfin and the Spartans continue the outdoor season this weekend at the UW-Platteville Invite on Friday and Saturday.