Stefanowski Named Nominee for 'Good Works' by Allstate.
Jul 17, 2018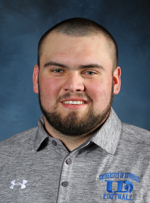 NORTHBROOK, Ill., July 17, 2018
– Across America, many college football players receive praise for their superior performance on the field. Today, however, only a select group of those student-athletes have the honor of being commended for their distinguished accomplishments off the field when Allstate Insurance Company and the American Football Coaches Association (AFCA) announce 169 nominees for the 2018 Allstate AFCA Good Works Team
®
. The University of Dubuque's Collin Stefanowski (OL, Sr., Lake Villa, Ill./Grant H.S.) was named of 169 nominees for the Spartans. Stefanowski has been an anchor on the offensive line for the past three years and part of a offensive front which allowed just eight sacks and a rush average of 240.2 yards a game in 2017.
The Allstate AFCA Good Works Team
®
has been one of the most esteemed honors in college football for more than 25 years. The student-athletes who are nominated for this award not only demonstrate a unique dedication to community service and desire to make a positive impact on the lives around them, but they also show tremendous perseverance as well as the ability to overcome personal struggles and come out victorious against all odds.
"Each nominee has an inspiring story to tell – often times about how they have prevailed over hardships and adversity only to turn around and pour their hearts into helping others," said David Prendergast, president of the Eastern Territory at Allstate Insurance Company and a member of the 2018 voting panel. "It is our privilege at Allstate to come together with the AFCA for the 11
th
consecutive year to shine a light on these exceptional nominees who set the highest standards of community service and serve as role models for generations to come."
The college football players who have been nominated make it a priority to find time in their busy schedules to volunteer in meaningful ways. Of the nominees, many players dedicate time to reading, mentoring and playing sports with disadvantaged children when they are not in the classroom or on the field. Other players make frequent visits to hospitals to spend one-on-one time with ill patients. One student-athlete even went as far as donating bone marrow in order to save the life of a child in need.
A special voting panel consisting of former Allstate AFCA Good Works Team
®
members and prominent college football media members will review submissions from sports directors across the nation to select the 2018 Good Works Team
®
.
Tim Tebow, two-time national champion, Heisman Trophy winner and 2009 Allstate AFCA Good Works Team
®
member, will once again headline the Allstate AFCA Good Works Team
®
voting panel.
"I've seen the value of this team firsthand since I was selected as a member of the Allstate AFCA Good Works Team my senior year, and I love seeing the influx of players year after year who truly embody everything this program stands for," said Tebow. "These kids have so much character, strength, and honor. To excel on the field, in the classroom and be a leader in community service - that is the ultimate accomplishment."
The Allstate AFCA Good Works Team
®
is comprised of 11 players from the NCAA Football Bowl Subdivision and 11 players from the NCAA Football Championship Subdivision, Divisions II, III and the NAIA and one honorary head coach. To be in consideration by Allstate and the AFCA for a nomination, each player must be actively involved with a charitable organization or service group while maintaining a strong academic standing.
The final roster of 22 award recipients and honorary head coach will be unveiled in September.
"There are always a lot of great stories that come out every year during the college football season, but none of them compare to the inspiring stories that each of these Allstate AFCA Good Works Team nominees live out on a daily basis," Todd Berry, AFCA Executive Director said. "How these student-athletes spend their time helping others should be a motivation to everyone who reads about them to give back. It's an honor to partner with Allstate to publicize the great works these student-athletes achieve each year."
In addition to Tebow and Prendergast, the 2018 Allstate AFCA Good Works Team
®
selection panel members includes: former Good Works Team
®
members Zaid Abdul-Aleem (Duke, 1994 team), Matt Stinchcomb (Georgia, 1997, 1998 teams), Brian Brenberg (St. Thomas, 2001 team), Mike Proman (Amherst, 2002 team) and Wes Counts (Middle Tennessee State, 1999 team); media members Kirk Herbstreit (ESPN), Blair Kerkhoff (Kansas City Star) and Paul Myerberg (USA TODAY); Georgetown College head coach Bill Cronin; 2001 AFCA President and current athletic director at Virginia Union University Joe Taylor.
After the final team members are announced in September, college football fans can visit the Allstate AFCA Good Works Team
®
official page on ESPN.com to view profiles and images of the players and honorary head coach, and vote for the 2018 Allstate AFCA Good Works Team
®
Captain. Fans are also encouraged to follow along and join in on the conversation by searching and using #GoodWorksTeam on their social media channels throughout the season.
The following players have been nominated for consideration to be named to the 2018 Allstate AFCA Good Works Team
®
:
Combined Divisions (FCS, II, III & NAIA)
Alabama State University – Carl Thompson
Alma College – Hunter Hoffman
Angelo State University – Connor Flanigan
Arkansas Tech University – Tremel Glasper
Ashland University – Travis Downing
Aurora University – Kurtis Chione
Bemidji State University – Jared Henning
Berry College – Justen Booket
Bethel University (Minn.) – Kyle Kilgore
Black Hills State University – Zane Lindsey
Butler University – Drew Bevelhimer
Capital University – Cory Heeter
Carthage College – Jeremy Behnke
Chapman University – Elias Deeb
Colorado State University-Pueblo – Quinn Vandekoppel
Concord University – Brandon Plyler
Concordia University, Nebraska – Vince Beasley
Dakota State University – Brandon Schmit
DePauw University – Hunter Sego
Drake University – Nathan Clayberg
East Stroudsburg University – Levi Murphy
Eastern Kentucky University – LJ Scott
Eastern New Mexico University – Wyatt Strand
Eastern Washington University – Sam McPherson
Ferris State University – Travis Russell
Franklin and Marshall College – Tanner Erisman
Frostburg State University – Riley Hartman
Furman University – Avery Armstrong
Guilford College – Jeremiah Hedrick
Harvard University – Jake McIntyre
Hope College – Mason Dekker
Howard University – John Petricca
Illinois State University – Jake Kolbe
Jacksonville University – Jake Dempsey
James Madison University – Grant Westbrook
Johns Hopkins University – Luke McFadden
Kennesaw State University – Nicolas Snowden
Lewis & Clark College – Pete Lahti
Lindenwood University – Jonathan Harris
Macalester College – Ethan Levin
Manchester University – Brady Nyland
Marist College – Kyle Hamrick
Mercer University – Isaiah Buehler
Millikin University – Matthew Brown
Millsaps College – Andrew Cassidy
Minot State University – Parker Franzen
Monmouth University – Ryan Wetzel
Montana State University – Wilson Brott
Moravian College – Nick Zambelli
Morgan State University – Deontaye White
Morningside College – Trent Solsma
North Carolina Central University – Nick Leverett
North Dakota State University – Easton Stick
Northern State University – Zach Mohs
Ohio Dominican University – Cory Contini
Ohio Wesleyan University – Cameron Smith
Peru State College – Daniel Boshart
Princeton University – Kurt Holuba
Rensselaer Polytechnic Institute – Sean Egan
Rowan University – Kevin Stokes
Saint Augustine's University – Zack Jenkins
Saint John's University (Minn.) – Jackson Erdmann
Samford University – Kevin Marion
South Dakota School of Mines – Jake Sullivan
South Dakota State University – Taryn Christion
Southeastern Oklahoma State University – Joel Carlos
Southwest Minnesota State University – Jon Dicke
Springfield College – Andrew Papirio
Stephen F. Austin State University – Cody Williams
Stevenson University – Dan Williams
Stony Brook University – Marc Nolan
Texas A&M University-Commerce – Chris Smith
Texas A&M University-Kingsville – Sean Landez
The College of Wooster – Hunter Coia
University of California, Davis – Kooper Richardson
University of Central Missouri – Austin Miller
University of Dubuque – Collin Stefanowski
University of Minnesota-Crookston – Will Cross
University of Minnesota-Duluth – Trapper Ward
University of Mount Union – Jared Ruth
University of North Dakota – Brady Oliveira
University of Pennsylvania – Sam Philippi
University of Puget Sound – Dwight Jackson
University of Sioux Falls – Logan Dykstra
University of St. Thomas – Jacques Perra
University of Tennessee at Chattanooga – Alex Trotter
University of Wisconsin-Platteville – Mark Johnson
University of Wisconsin-Whitewater – Elliot Kim
Upper Iowa University – Tanner Thompson
Utica College – Malcolm Stowe
Virginia State University – Shakym Peters
Walsh University – Morgan Trust
Wartburg College – Matt Sacia
Washington University in St. Louis – Jason Singer
Wayne State University – Deiontae Nicholas
Westminster College (Pa.) – Bryson Paulinellie
Wingate University – Adam Riley
Youngstown State University – Tevin McCaster
About the Allstate AFCA Good Works Team®
The Allstate AFCA Good Works Team
®
was established in 1992 by the College Football Association, recognizing the extra efforts made by college football players and student support staff off the field. AFCA became the governing body of the award in 1997 and continues to honor college football players who go the extra mile for those in need. Allstate worked to present the award starting with the 2008 season.
The SEC leads all conferences with 71 selections to the Good Works Team since it began in 1992. The SEC is followed by the Atlantic Coast Conference with 37 selections and the Big 12 Conference with 30 selections. Georgia is in first place with 18 honorees to the Allstate AFCA Good Works Team.
®
The Bulldogs are followed by Kentucky and Nebraska with 14 honorees. Super Bowl XLII, XLVI and XLI champion quarterbacks Eli and Peyton Manning were members of the 2002 and 1997 Good Works Teams
®
, respectively.
About AFCA
The AFCA was founded in 1922 and currently has more than 11,000 members around the world ranging from the high school level to the professional ranks. According to its constitution, the AFCA was formed, in part, to "maintain the highest possible standards in football and in the coaching profession" and to "provide a forum for the discussion and study of all matters pertaining to football."