Women's Soccer Returns From Costa Rica
Aug 22, 2018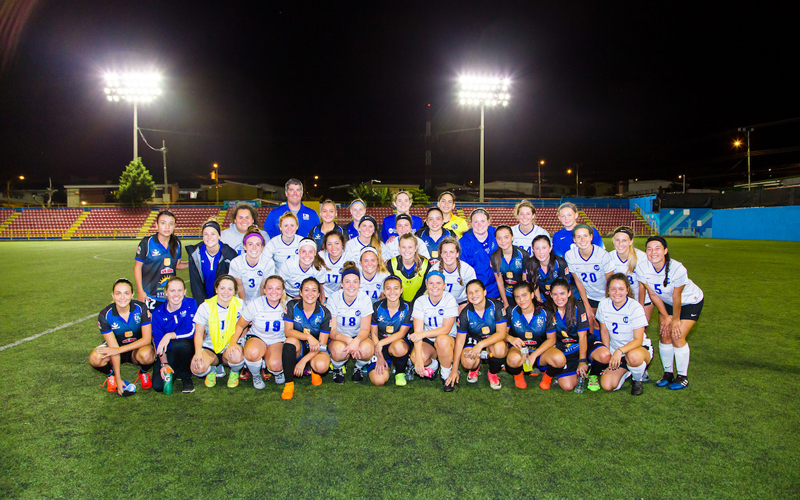 DUBUQUE, Iowa - As a part of preseason training, the University of Dubuque women's soccer team traveled to Costa Rica for training, games and adventure.
The team wanted to take full advantage of their time abroad, so the coach asked Costa Rica Soccer Tours to work in as many adventures, excursions, and soccer matches as possible. We were happy to oblige, and gave the team their very first friendly match against Dimas the day they arrived in Costa Rica.
The women had plenty of time to check into their hotel, settle into their rooms, and enjoy a delicious lunch and orientation where they learned about the beautiful country they'd be spending the next week exploring. Their match against Dimas was a thrilling one, with the game nearly ending in a tie before Dubuque's opponent scored with only five minutes left in the game. Obviously, the Dubuque coach was thrilled with his team's performance, and everyone was excited to practice and prepare for their next match in just two days.
"What an amazing way to dive in a culture, experience international matches and come together as a team," said Assistant Coach Melissa Gaudet. UD Trainer Brenna Sneed added, "It was a great mixture of adventure, soccer, community service, relaxation and great bonding throughout the trip."
During their week-long stay, the team got their adrenaline pumping during a white water rafting excursion, hiked up to the edge of an active volcano, explored the rainforest in search of the La Paz waterfalls, and flew over the forest canopy on a zip line. The women learned more about the country, culture, and community during a walking tour of the capital city of San José, and had the chance to connect with the people during a community service project at a local school for impoverished children.
They also competed in two more friendly matches against local competitive teams, and had several workout sessions on the Pacific Beach