Greetings From Your Alma Mater!
On behalf of the entire University of Dubuque community, I want to welcome each of you back to the campus for Homecoming 2015; a time of rekindling relationships, reminiscing, and re-connecting with your University. You will discover that we are a University that is growing in physical appearance, enrollment, programmatic complexity, and reputation. Yet with all that is new, the soul of the University, rooted in our Mission, remains the same as it has been since our founding in 1852.
Homecoming is a uniquely special time to see life-long friends and to make new ones during this exciting weekend. You will find a wonderful array of events that are opportunities to be together with other Spartans, and I encourage you to take part in as many as possible. This year we have chosen as our Homecoming Weekend's theme, Cherishing our Past, Building our Future. We are so very grateful for the many blessings that we have received throughout our history, and, in particular, those that have come over the last decade and a half.
We look forward to welcoming you back to your campus home for Homecoming 2015, October 15-18.
Click on the Homecoming Logo below for a list of University sponsored Homecoming events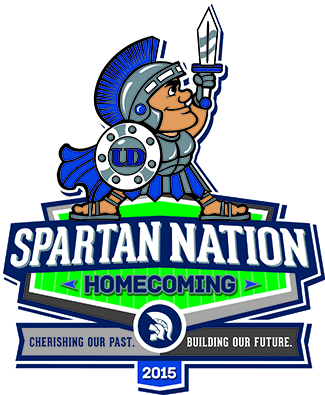 ‌