Cheer and Stunt
The University of Dubuque Cheer and Stunt team is at the forefront of Spartan athletics, providing the `Blue and White' not only at athletic events, but at events throughout the campus community. The Cheer and Stunt team is under the care of the University of Dubuque Athletics Department. The student-athletes that make up the squad attend camps in the summer, travel to post-season games as well as men's and women's basketball tournaments, and compete in national competitions.
The University of Dubuque team is comprised of a co-ed core of performers who lead the crowd at football, men's basketball, women's basketball, and other events. Members of the cheerleading squad follow the NCAA-mandated AACCA guidelines while at games, events, and practice.
Become a Spartan!
If you're interested in cheer and stunt at the University of Dubuque, complete the prospect form, and a coach will be in touch.
Roster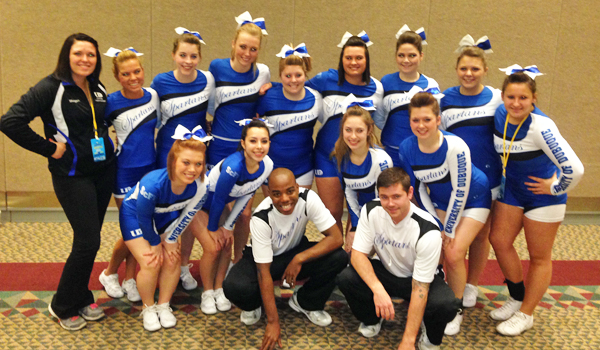 Season Statistics
Coaches
University of Dubuque Cheer and Stunt Coaches Profile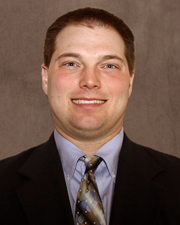 Drew Ritchie
Head Cheer and Stunt Coach
E-mail
:
dritchie@dbq.edu
Office Phone:
563.589.3733
Office Location:
306 Stoltz Sports Center
Biography - Click to Read
Drew Ritchie
,a native of Madison, Wis. (La Follette High Scool), joins the University as a full-time coach after serving as varsity coach at Middleton High School in Middleton/Cross Plains, Wis. He was responsible for all coaching responsibilities in practice and administration for the entire cheerleading program at Middleton.
He was a member of the UW-Platteville cheer and stunt team (2002-2004) and also at UW-Oshkosh (2004-2007) where he was named captain in 2007. While a member at UW-Oshkosh Ritchie was part of two national championships as a Division III school (UPA-2005 and COA-2007). He earned his Bachelor of Arts Criminal Justice Degree from UW-Oshkosh in 2007.
Ritchie has been a cheerleading camp coach with Central Wisconsin Cheer Camps (CWCC) 2002-2003 and 2007. He also was a volunteer assistant coach with Cheer Xcel All Stars (Las Vegas, Nev.) while he worked full-time as an officer for the Las Vegas Metropolitan Police Department in Las Vegas, Nev., in 2009. In 2010 he took the Head Coaching Job at Middleton High School near Madison, WI where he coached the Varsity squad to the Wisconsin State Cheerleading Championships and achieved a 4th place finish. Drew is currently an active Staff Instructor for NCA (National Cheerleaders Association.)
He holds AACCA safety certification and a concussion certification through the NHFS. He is first aid, CPR and AED certified through the Red-Cross. He also holds a Master's Level Coaching Certification through NCSSE (National Council for Spirit Safety and Education.)
---
History
Select a season for historical information and statistics