Aviation
‌‌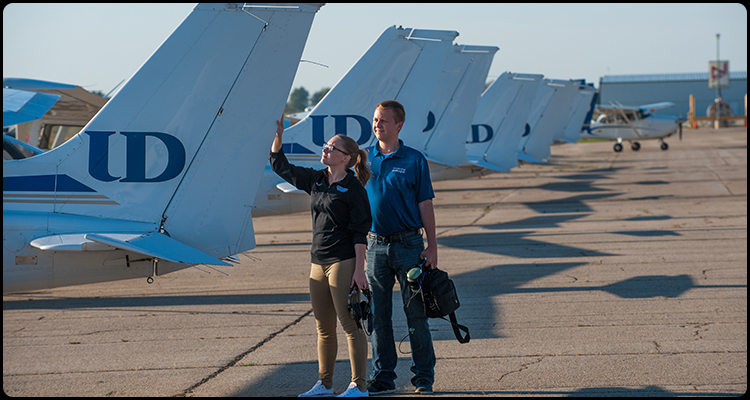 Flight Operations and Aviation Management
The aviation programs provide students with the academic and professional tools needed to achieve success in the constantly changing aviation industry. The mission of the Aviation Department is to provide students with the professional skills that allow for success in all segments of the aviation industry while enhancing their critical thinking and decision making skills. The Aviation Department supports the University of Dubuque Mission by establishing excellence in professional preparation, fostering a zeal for life-long learning, focusing on the development of professional skills enhanced by technology and integrated with safety practices, and characterized by fiscal prudence with quality equipment and facilities.
The Aviation Programs are Internationally Accredited
The Flight and Management programs are accredited by the Aviation Accreditation Board, International (AABI).
What does Aviation Accreditation mean?
AAB international accreditation represents the highest standard of achievement for aviation schools worldwide. This prestigious accreditation assures quality and promotes excellence and continuous improvement in undergraduate education for all aviation disciplines. To receive accreditation an aviation school must meet the following criteria:
Demonstrate that faculty and staff members are qualified and current in their fields;
Maintain a high-caliber curriculum that is current and relevant;
Measure learning outcomes and continuously strive for improvement;
Cultivate a culture of safety that permeates all flight and ground activities by faculty, staff, and students;
Collaborate with industry to assure employers that graduates possess a broad background in the aviation industry as well as skills needed for aviation specializations; and
Provide for aviation programs to periodically perform a comprehensive self-analysis to achieve their objectives.
---
---
University of Dubuque Aviation Faculty Research
---
---