Admission Process
Step 1: All applicants to the University of Dubuque Master of Physician Assistant Studies program must apply for admission through the Central Application Service for Physician Assistants, or CASPA, at https://caspa.liaisoncas.com. Applications for the program will be accepted beginning April 25, 2019. The application deadline is November 1, 2019. Your application must be verified by CASPA by the deadline date, and we must have your official GRE scores by the deadline date (our CASPA GRE code is 1620). We recommend that you submit your application and required materials by October 1 to give CASPA sufficient time to verify your application. No additional application is needed.
Step 2: As applications become verified by CASPA, the admissions committee will review application materials. Beginning in June, the most competitive applicants will receive an email inviting them to campus to interview.
Step 3: Following the interview, the admission committee will tabulate and review interview results, cumulative and science prerequisite grade point averages, GRE scores, healthcare experience, letters of recommendation, and other factors that may enhance an application, all of which admission selection will be based.
IMPORTANT NOTE: While we have set a deadline date of November 1, we will be utilizing a rolling admission process in which applicants are notified of their admission decision within a relatively short period of time after interviewing. Since the program is limited to a class size of 25, the program could fill quickly. Therefore, those who apply early in the admission cycle are more likely to be interviewed than those who apply later.
2020 Cohort: Over 600 applications were submitted to UD with over 400 considered for an interview. Of the 26 seats filled we have 8 males and 18 females with the average age of 24, the average cumulative undergraduate GPA was 3.46, the average prerequisite science GPA was 3.48, and the average combined GRE score (quantitative + verbal) was 310. This cohort averaged 2,500 direct patient contact hours, averaged 32 hours of shadowing a physician assistant and majored in the following areas: biochemistry, biology, biomedical science, chemistry, health science, liberal studies, neuroscience, nutrition, and political science. Our cohort calls home in the following states: Iowa, Illinois, Minnesota, Missouri, North Dakota, South Dakota, and Wisconsin.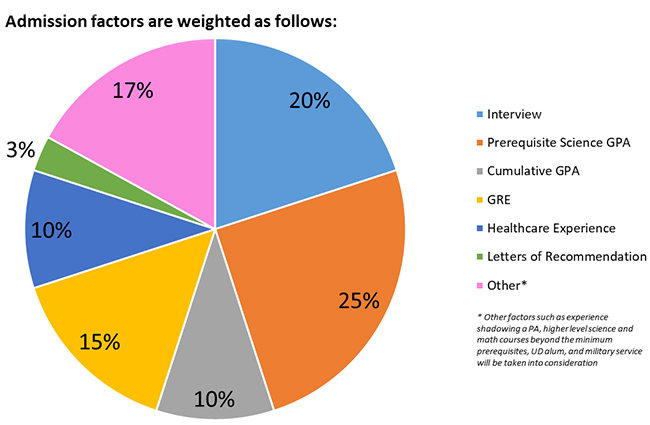 ---
For more information regarding admission requirements and/or the application process please contact Patti Burgmeier, Director of Admission for Graduate Studies, at PBurgmeier@dbq.edu or 563.589.3664.