Class of 1968 Reunion Page
Homecoming and Reunion Preview
Plans are well underway for our 50th Class Reunion during Homecoming Weekend (October 25-28, 2018). And we want to see you there! Our goal is to get as many of our classmates together as possible and have the opportunity to visit, reminisce, and celebrate. Not only will we have the opportunity to gather as a class, but with all of our fellow Spartans from surrounding class years -- a true UD celebration like we used to have. While in Dubuque, we created memories and friendships to last a lifetime. Let's not miss this opportunity to make even more memories - so make plans to attend the party on October 26. Reunion invitation and more information to come.
If you have questions regarding the Reunion Celebration, please contact one of the C'68 committee members listed below.
---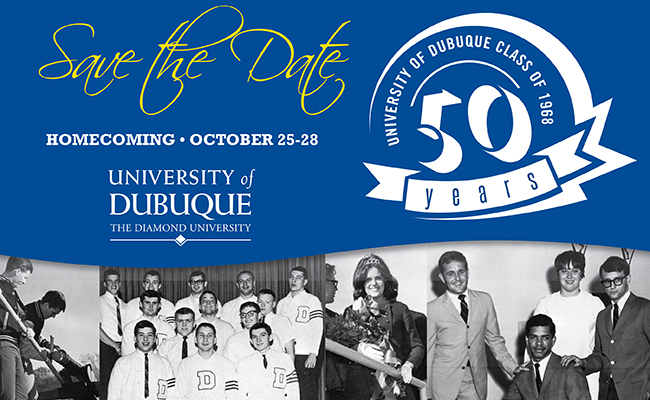 ---
C'68 Reunion Committee Members
| | |
| --- | --- |
| Name | E-mail |
| Dave Bettridge | ddbett@gmail.com |
| Paul Clayton | paulclayton@optonline.net |
| Bill Crandall | bwcrandall46@gmail.com |
| Royce Farmer | rwfarmer@lisco.com |
| Kathy Farmer (Haselton) | kfarmer60@lisco.com |
| Pat Franzen | franzen@mtco.com |
| Tom Greenawald | tgreenawald@gmail.com |
| Rich Heinisch | dubiousdic@aol.com |
| Chuck Moody | chuckmood@machlink.com |
| Nancy Sudlow (Doyle) | sudlowe@comcast.net |
| Nancy Tooker (Rogers) | tooker@essex1.com |
| Paul Lyons | mr1040@hotmail.com |
---
Invest in the Class of 1968 gift and share your story!
In recognition of our 50th reunion milestone, we are asking you to Join us and Make an Investment in the Class of 1968 Gift. We are well on our way to achieving our $25,000 goal. But we need your help.
Our investments will establish the Class of 1968 Endowed Scholarship that will leave a lasting legacy for Spartans to come. Each of us was personally impacted by scholarships or someone who helped us with our UD education. And this is our opportunity to pay it forward. You'll learn more about how each of us was personally impacted through correspondence you will receive over the summer and early fall. We will also post them on this page. In the meantime, we invite you to share your UD story and personal testimonial to how scholarships made a difference in earning your degree.
---
See Who's Coming!
C'68 MEMBERS
OTHER SPARTANS
Dave Bettridge
James Breed (C'66, MDiv'70)
Monika (Preu) Breed
Marilyn (Demmer) Heinisch (C'88)
Paul Clayton
Mark Maxwell (C'70)
Bill Crandall
Gary Samp (C'69)
Nina (Dougherty) Elder
Ed Sudlow (C'67)
Kathy (Haselton) Farmer
Larry Tooker (C'67)
Royce Farmer
Pat (Wild) Franzen
Raymond French
Richard Fuller
Thomas Greenawald
Sharon (Davis) Groom
Richard Heinisch
Susan (Olson) Hibbs
Carol "Cookie" (Spencer) Kuhle
Paul Lyons
Chuck Moody
Kay (Pierson) Nightingale
George Parthemore
Bucky Peterson
Paul Porter
Bonnie (Clupper) Reina
Judy (Frank)

Rudzinski

Ellen (Heitka Bettridge) Schmittinger
Nancy (Doyle) Sudlow
Nancy (Rogers) Tooker
John Von Tish
William Wagner

Roy Wicklund
---
Submit Your Favorite UD Memory
As we prepare for this fall's festivities, we want to hear from you! Using the form below, tell us your favorite UD memory. This will be a fun way for us to reconnect and once the stories and memories are collected, they will be shared with all of us; it will make a great memento from the weekend's festivities.

Additionally, be sure to send in some photos of your time on campus and photos of what you have been up to since graduation. Photos will also be used in a slideshow that will be shown at the celebration.
You can email photos to Katie Kraus, director for alumni engagement, at kkraus@dbq.edu or send via mail. Original photos will be scanned and returned to you.
If you prefer, you may submit your memories and photos by mail to:
Director for Alumni Engagement
University of Dubuque
2000 University Ave
Dubuque, IA 52001