Emil Lussow ('43)
Basketball - Football - Track & Field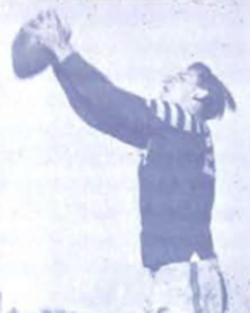 Emil Lussow was a standout student-athlete for the University of Dubuque in football, basketball, and track. In football, he was named AP "Little" All-American in 1942 while also earning First Team All-Iowa Conference End in 1940, 1941, and 1942. During the 1942 season, Lussow led the nation in scoring from the end position with 73 points including a school record five touchdown catches vs. Iowa Wesleyan. He finished the season with 10 touchdown catches, drawing the attention of the Chicago Cardinals (now Arizona Cardinals) of the NFL. The Cardinals selected Lussow in the Ninth Round with pick 93 of the 1943 Draft. UD won the IIAC Championship in 1940 (7-0) and 1942 (8-0) with Lussow leading the offensive charge. Lussow was later named to the Des Moines Register's All-Time Football Team for the years 1922-61.
On the Basketball Court, Lussow was a four-year letter winner and team captain as a senior. A consistent scorer, he averaged 15 points per game for his career. He finished second among conference scorers in 1941 and 1943. He led UD to the 1941 conference title with a 15-3 record. Years later he played for the Waterloo Pro-Hawks of the Professional Basketball League of America in 1947-48.
Off the playing field, Lussow married fellow UD graduate and Homecoming Queen Sally Vail in December of 1942. He would go on to earn his masters degree from the University of Wisconsin. He later served as the Athletics Director at Hillcrest High School in Illinois.