Student Stories
Your investment in the Annual Student Scholarship Fund makes a real difference in the lives of our students. Read more about current students Lincoln, Marissa, and Logan below and how UD and UD investors have made an impact in their lives.
You can make a difference in the life of a UD student by investing today!
Invest in Students | Change the World | One Student at a Time
---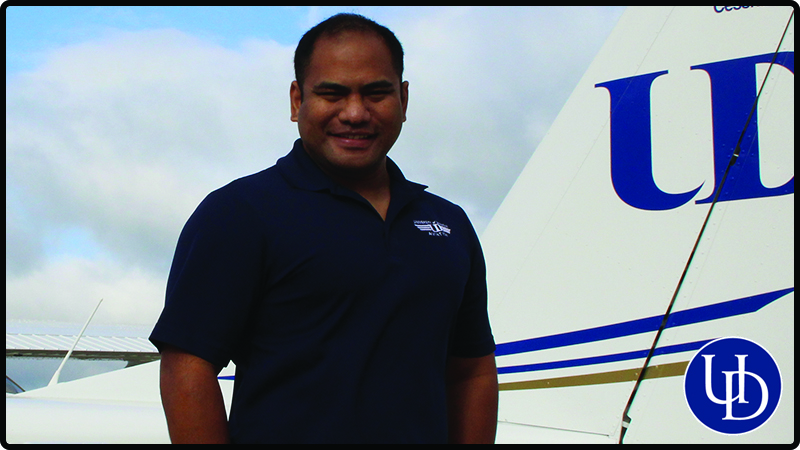 Lincoln Moliga, of American Samoa, returned to college as a non-traditional student to study aviation. The sophomore flight operations major said he is thankful to have found UD, a university where the instructors care for the welfare of their students and prepare them for the real world.
1. Can you tell me what you like about UD?
"As a former undergraduate college student who holds a Bachelor of Science degree from another university, I can attest that UD is by far the best. The administration staff at UD continue to make every hurdle I encounter easy and are extremely helpful. The instructors care about the welfare of their students and prepare them for the "real world" as young adults. I'm very fortunate to have found a university that provides action along with their word. "
2. What are your plans after graduation?
"Plan I is to head back home to American Samoa with the knowledge, skills, and training I've gained from UD to assist with the development and find solutions for our small aviation industry back in the islands. Plan II is to pursue my aviation career in Hawaii with a regional island-hopping airline and go from there."
3. How has receiving scholarships impacted your life?
"I feel at times I'm not worthy of these scholarships, but I am grateful for how it has tremendously helped me in my pursuit of my educational goals. The financial assistance I've received is upmost a privilege. It's given me the nod that motivates me to keep striving to do my best, as well as the financial support to attain my dream."
4. What would you say to those that have invested in your future?
"I am thankful for the opportunity they have given me. The help you've given I don't take lightly. I hope one day I can show you that your investment was worth it. Thank you for investing in me and in the future students who will benefit from these scholarships. Your role not only benefits the students and UD, but also our families and communities."
---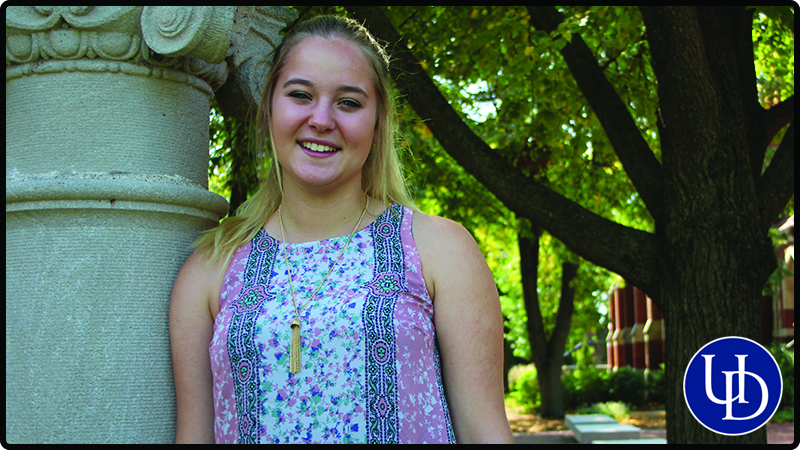 Marissa Joers, a senior business administration major, is president of the Student Government Association, a Wendt Character Scholar, and has participated in the 2017 Joseph and Linda Chlapaty Summer Fellowship.
1. Why did you decide to become a Spartan?
"The first time I toured UD I immediately fell in love with the school and the people here. I believe without a doubt that UD is the place I was meant to be, and I am so thankful that my path led me here. I'd toured eight other schools and had committed to one before I visited, I actually rescinded that commitment the same day I visited UD."
2. What do you like about UD?
"I have had incredible experiences with all of the faculty, staff and administration on campus because every single person is working for the students. They are all working towards giving us the best education, experience and opportunities possible, and many of them will go to great lengths far outside their job descriptions to help us. That has made attending this university far exceed my expectations for college."
3. What are your plans after you graduate?
"I plan on working full-time after I graduate in May of 2019, and then plan on seeking out my Juris Doctor in law school specializing in environmental law. I went to the first certified 'green' school in Wisconsin, so I was constantly surrounded by a mindfulness of environmental stewardship and being ethical and aware of all the choices we make. "
4. How have scholarships impacted your life?
"Receiving scholarships allows me to work less and focus on my academics more, and has a profound impact on my student experience. I am constantly in awe of the selfless generosity that stranger's exhibit, not only to me, but to other UD students. I want to make those who have invested and believed in me proud. I work hard every day to be as successful as I can for them."
---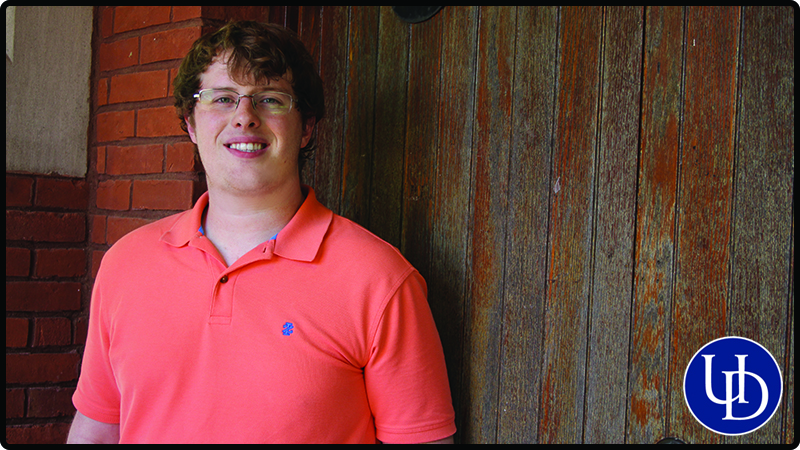 Logan Ellis moved from Nebraska to attend the University of Dubuque Theological Seminary and obtain a master of divinity degree. As a Young Adult Ministry Scholar, he attends classes, teaches first-year students, and coordinates the UDTS Food Pantry.
1. Why did you choose the University of Dubuque Theological Seminary?
"UDTS perfectly fit all of my hopes of a seminary to attend. I visited UDTS and learned, first-hand, about the Young Adult Ministry Scholar program, the love for rural ministry, and passion for ministry in context. UDTS's creativity and boldness in exploring new ways of ministry left a lasting impression.
2. What is a typical week at UDTS like for you?
"A typical week as a Young Adult Ministry Scholar includes attending seminary classes on Monday, teaching University of Dubuque first-year students on Tuesdays and Thursdays, participating in Undergraduate Seminary Taskforce, and interacting with students at the Student Engagement Center in Heritage Center. Other weekly tasks include managing the food pantry and completing homework."
3. What are your plans when you graduate?
"I see myself in a small, rural Presbyterian church as a pastor. I also hope to continue to teach classes at a local college, and help in the process of forming students and creating multiple spaces where they can encounter Christ."
4. How has receiving scholarships impacted your life?
"The scholarships have allowed me to pursue my passion of education and rural ministry. I am able to study with experts and scholars in the field of ministry. I would like to thank those who have invested in UD and UDTS students. It is through their generosity that I can attend the University, and also participate in its ministry to the students who come to UD. I am very blessed to have this opportunity."
---
---