Uptown: Motown Remixed
Friday, September 17, 2021 | 7:30 p.m.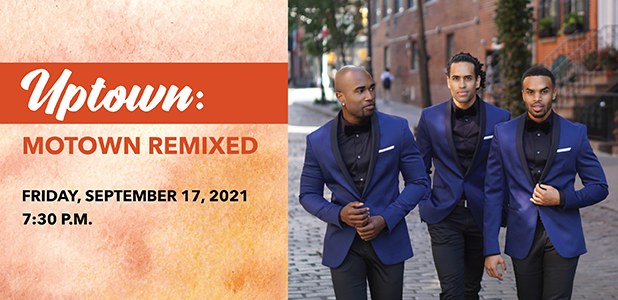 Direct from NYC, the epicenter of contemporary pop and soul, and with humble beginnings in Harlem, Uptown is a group of young men who combine the smooth stylings of old-school R&B with today's hits. Each singer is a soloist who brings crowds to their feet singing along. An Uptown show exudes freshness and fun in a way all ages enjoy. Backed by a tight four-piece band, this trio of young Temptations with moves like the Jackson 5 and the energy of Bruno Mars offers a performance with modern style and irresistible swagger. Witness classics like "My Girl," "I Want You Back," and "Uptown Funk," all reimagined with youthful passion and exuberance.
View the press release for complete details.
---
---