Chavez and Turnage with Lone Victories in Defeat to #12 Luther
Jan 28, 2016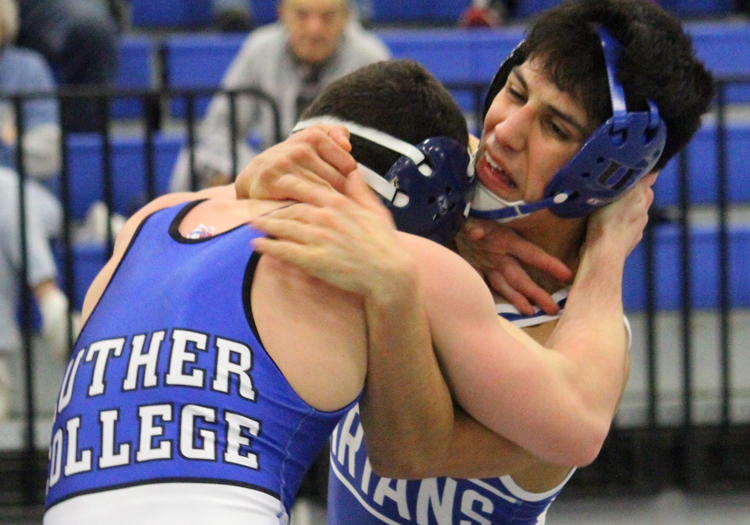 ‌
The University of Dubuque Spartans Julio Chavez opened the dual vs. Luther College Norse on Thursday night with a fall (3:00) in the 125 lbs. match over Conner Murphy as time ran out in the first period.
DUBUQUE, Iowa - Julio Chavez (125 lbs.) opened the bout with his seventh pin of the season and Elton Turnage (174 lbs.) won in overtime, but the University of Dubuque wrestling team fell 31-9 to #12 Luther on Thursday night.

Chavez (13-7) waited until the waning seconds of the first round and secured the fall as time expired while Turnage (20-9) needed two sudden victory periods in his narrow 3-2 victory.

Jeremy Melendez (19-7) fell by decision 6-0 to undefeated No. 1 Drew Van Anrooy at 141 lbs., but kept it close until the final two minutes of the third period. Melendez just missed out on becoming the third Spartan wrestler with 20 wins this season.

UD dropped to 12-9, 2-3 Iowa Conference this season.

The Spartans head to rival Loras (1-10, 1-3 Iowa Conference) this Thursday, February 4 at 7:00 p.m.
Match started at 125 lbs.
Individual Div. III rankings courtesy of NWCA
Referee: Curt Frost

125: UD Julio Chavez (Fall 3:00) over Conner Murphy, UD 6-0
133: LUT #9 Nick Scheffert (Maj. Dec. 10-1) over Stephen Rosenburg, UD 6-4
141: LUT #1 Drew Van Anrooy (Dec 6-0) over Jeremy Melendez, LUT 7-6
149: LUT Dakota Gray (Dec 7-1) over Adrian Collier, LUT 10-6
157: LUT Tristan Zurfluh (Dec 3-2) over Kody Krenz, LUT 13-6
165: LUT Blake Letney (Tech. Fall 17-1 5:58) over Alek Aragon, LUT 18-6
174: UD Elton Turnage (Dec 3-2 in SV-2) over Javier Reyes, LUT 18-9
184: LUT #7 Justin Kreiter (Maj. Dec 8-0) over Jonathan Denikas, LUT 22-9
197: LUT Derek Stork (Fall 3:43) over Cosmo Halwix, LUT 28-9
285: LUT Conner Herman (Dec 5-0) over Sawyer McCaffrey, LUT 31-9