Softball Splits With Duhawks in NFCA StrikeOut Cancer Series
Apr 20, 2016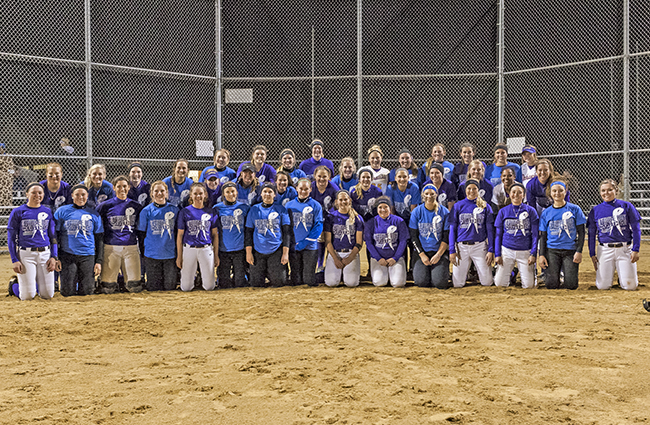 The two teams joined forces to raise $4,642.60 for the American Cancer Society in the 2016 game.
Game 1 BOX SCORE (UD wins 17-10)
Game 2 BOX SCORE (UD falls 4-3)

DUBUQUE, Iowa - The University of Dubuque softball team battled not only the Loras College Duhawks on Tuesday, but April showers which caused an extended delay in the opening game of the StrikeOut Cancer series and a relocation to finish game two under the lights. UD scored their season high for runs in a commanding 17-10 victory in game one. The Spartans would strand eight on base in game two's 3-4 loss played at the Dubuque Girls Softball Complex under the lights.
Thank you for your support of the annual National Fastpitch Coaches Association StrikeOut Cancer series. With your help, the two schools in an effort to give back to the local Dubuque community will continue to support efforts to raise awareness as well as dollars for research that will one day beat this disease. Many thousands of dollars have been raised for local cancer organizations. Money raised in 2016 is still being calculated at this time.
The Spartans scored 17 runs on 16 hits in the four hour opener. UD jumped out early to a 14-6 lead before the Duhawks scored four runs in the bottom of the fourth after a lengthy rain delay. UD added two more runs in the sixth and a run in the seventh while holding the hosts scoreless the final three innings.
A trio of Spartans would finish with three hits. Andrea Smith went 3-4 at the plate, Gianna Kuras was 3-5, and Ainsley Billesbach was 3-4. Smith and Kuras led with three RBI's each. Extra base hits included a homerun by Brianna Gyrion, triples by Smith and Kuras, and doubles by Rebecca Diffendurfer and Courtney Markin.
Taylor Blair started on the mound and allowed three runs after facing nine batters. Megan Schlueter came in for relief and faced 20 batters and allowed four runs and Randee Jackson shut down the hosts by allowing just one hit the final three innings.
In game two, the Spartans would out hit the Duhawks 8-5, but allowed five walks and gave up a run on a wild pitch in the 3-4 loss. Kuras led the offense with two hits and Gyrion had the Spartans lone double in the nightcap. Jackson got the nod for the start and would toss 4.1 innings, allowing three earned runs after facing 20 batters. Mackenzie Kyle threw the final 1.2 innings and alllowed two hits after facing seven batters.
The Spartans busy week continues on Wednesday afternoon when a make-up doubleheader at UW-Platteville is scheduled. Rain is expected for the area (60%), so any changes will be announced as we are made aware.