Spartans Capture Dual 24-18 Over Loras Duhawks in Record Fashion
Feb 4, 2016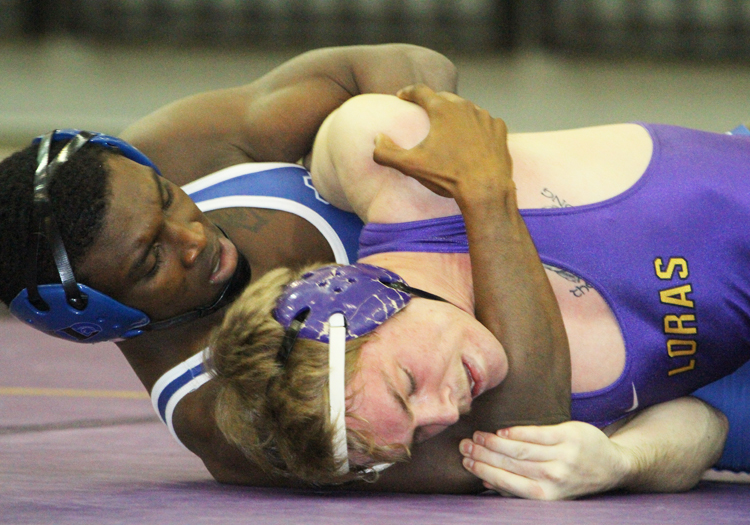 Adrian Collier captured the fall at 149 lbs. in 2:52 over the Duhawks Collin Griffin.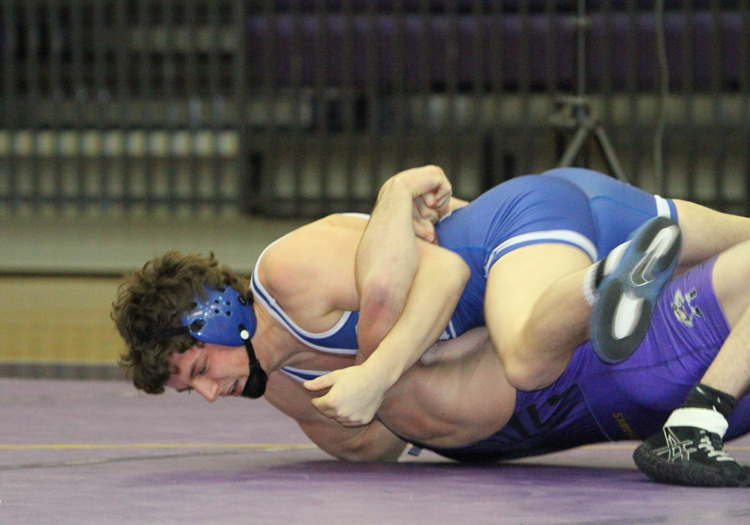 Kody Krenz going for the fall at 157 lbs. in :56 over Loras' Jimmy Davis.
DUBUQUE, Iowa - The Spartans captured the Iowa Conference Dual over the Loras College Duhawks on Thursday night 24-18. It was a record setting evening as the Spartans captured their 13th dual meet win of the season, most in Spartans history. The Spartans fans out numbered and out cheered the host Duhawks and kept the positive energy flowing from the start to the end.
UD started off slow after losing by a fall in the opening match before winning the next four consecutive matches to stretch their lead to 18-6 after a pair of decisions and a pair of quick falls in first period matches. UD's Elton Turnage won at 174 lbs. by a score of 8-1 and Jonathan Denikas battled through two extra periods to earn the hard fought victory 6-4 at 184 lbs. The victory put pressure on the host Duhawks as they needed two falls to end the match to tie the Spartans, and two final decisions left them with a loss.
The Spartans host the Jim Fox Spartan Open on Saturday, Feb. 7. in Stoltz Sports Center and McCormick Gynmnasium. Matches begin at 9:00 a.m.
Iowa Conference Dual Meet, Athletic & Wellness Center at Loras College, in Dubuque, Iowa
Match began at 125 lbs.
Univ. of Dubuque-24 Loras-18
125- Dayton Olson (LOR) wins by fall over Marcus Ingalls (DBQ), 2:58 // LOR 6 – DBQ 0
133- Stephen Rosenburg (DBQ) wins by decision over Michael Triplett (LOR), 6-1 // LOR 6 – DBQ 3
141- Jeremy Melendez (DBQ) wins by decision over Evan Weaver (LOR), 9-5 // LOR 6 – DBQ 6
149- Adrian Collier (DBQ) wins by fall over Colin Griffin (LOR), 2:52 // LOR 6 – DBQ 12
157- Kody Krenz (DBQ) wins by fall over Jimmy Davis (LOR), 0:56 // LOR 6 – DBQ 18
165- Sam Schuler (LOR) wins by fall over Alek Aragon (DBQ), 5:11 // LOR 12 – DBQ 18
174- Elton Turnage-Manuel (DBQ) wins by decision over Chris Malone (LOR), 8-1 // LOR 12 – DBQ 21
184- Jonathan Denikas (DBQ) wins by decision over Awais Arain (LOR) 6-4, SV-2 // LOR 12 – DBQ 24
197- Malcolm Watson (LOR) wins by decision over Cosmo Halwix (DBQ), 10-4 // Loras 15 – DBQ 24
285- Quin Gilliam (LOR) wins by decision over Sawyer McCaffery (DBQ), 3-0 // LOR 18 – DBQ 24