Wrestling's Seven-Match Win Streak Snapped by #19 SIT
Jan 14, 2016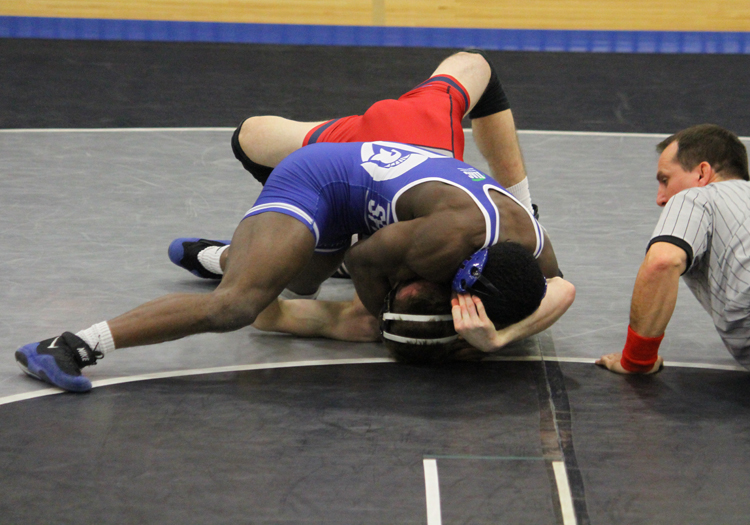 Senior Adrian Collier collects the fall in 2:55 at 149 lbs. over Zach Wilhem of Stevens Institute of Technology.
DUBUQUE, Iowa - On Senior Night, the University of Dubuque wrestling team got a pair of wins from seniors Stephen Rosenburg and Adrian Collier, but it wasn't enough as the Spartans fell to #19 Stevens Institute of Technology, 25-13, on Thursday night.

After dropping the first match, the Spartans (9-5) got off to a quick start after 133 lbs. Rosenburg, 141 lbs. sophomore Jeremy Melendez, and 149 lbs. Collier won consecutive matches to give UD an early 13-3 lead. Stevens (13-2) went on a run of their own to win the last six matches en route to their ninth straight victory.

Rosenburg improved his record to a team best 19-4 and won his ninth straight match while Collier improved to 17-5 with his third consecutive victory. As a whole, it's been a successful season thus far for the seniors as they've compiled a 76-31 combined record.

The Spartans head to the Wheaton Duals in Wheaton, Ill. this Saturday, January 16.
Match started at 125 lbs.
Individual Div. III rankings courtesy of InterMat Wrestling
Referee: Jason Wedgbury
125: SIT Rob Murray (Dec 8-6) over Julio Chavez, SIT 3-0
133: UD Stephen Rosenburg (Maj. Dec. 11-3) over Joey Borai, UD 4-3
141: UD Jeremy Melendez (Dec 6-3) over Ryan Wilson, UD 7-3
149: UD Adrian Collier (Fall 2:55) over Zach Wilhelm, UD 13-3
157: SIT Thomas Pokikuha (Dec 5-4) over Kody Krenz, UD 13-6
165: SIT #7 Colin Navickas (Maj. Dec. 12-2) over Frank Frassetto, UD 13-10
174: SIT Phil Woods (Dec 3-2) over Elton Turnage, UD 13-13
184: SIT #8 AJ Kowal (Fall 1:16) over Collin Heidemann, SIT 19-13
197: SIT Danny Moore (Dec 11-6) over Cosmo Halwix, SIT 22-13
285: SIT Tyler Maher (Dec 3-1) over Sawyer McCaffrey, SIT 25-13