Joseph, University of Dubuque's Hidden Gem Prepares for Reese's Senior Bowl
Jan 20, 2018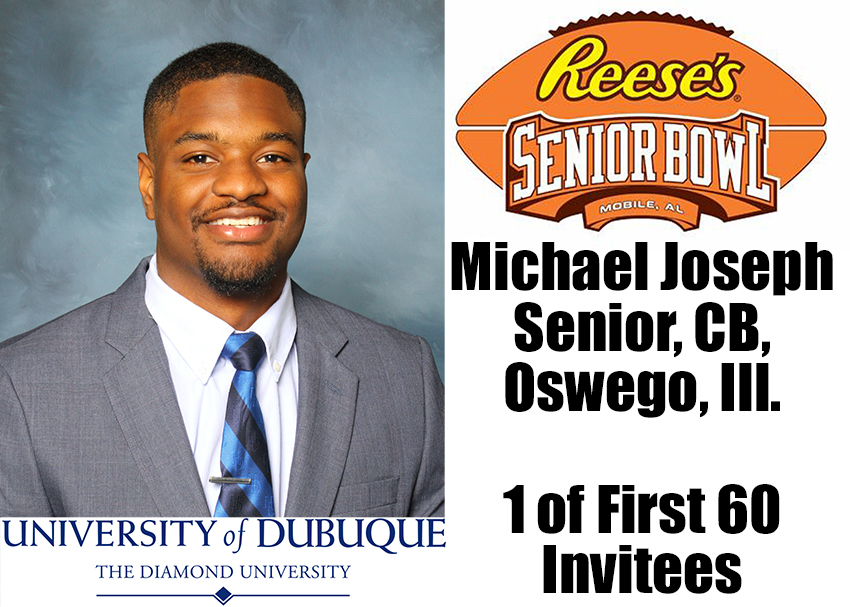 Gemstones start life in a rough fashion squeezed by pressure and movement deep within the earth. Many years later finding their way nestled among hidden treasure below ground. The University of Dubuque football student-athlete Michael Joseph began in a similar pattern in athletics.
Joseph was born in Chicago and moved to Oswego, Ill. when he was in elementary school. He liked the sport of football.
"One of my favorite childhood football memories was winning the Oswego 'Super Bowl' when I was in eighth grade," commented Joseph. "I was a member of the Oswego Panthers Orange and coached by Dustin Keenan."
Among the hundreds of thousands of individuals who play football, buried deep among the players on the sidelines who never see the playing field was Joseph. He was a 5-2, 92 lbs. freshman at Oswego High School, and lacking size, loved football. Despite some reservations from his parents, Joseph stayed out and began to grow along with interest in the sport. By the time he reached a senior in high school, the young man had grown to 5-10 and 145 lbs. Still undersized to play football, he finished his high school career with a not so stellar nine tackles mostly in blowouts when the game counted down. Not one college football coach met with Joseph.
Joseph's cousin Bridget Hosley attended the University of Dubuque and had a successful record-breaking career in women's track and field as a sprinter. It was one of the only schools Joseph knew anything about. The private Presbyterian College of over 2,300 students on the banks of the Mississippi, bordering the states of Wisconsin and Illinois would be his home for the next four and a half years.
As gemologists view a rough stone in their hands, they visualize a finished jewel, but plenty of work still needs to be completed before it's in a final graded product.
Joseph did not go out for football as a first-year student at UD, knowing his size was detrimental among the larger and faster student-athletes in the collegiate game. He sauntered into Coach Stan Zweifel's office weighing 150 lbs. soaking wet in the spring of 2014 wondering if he could go out for football the following fall. Zweifel handed him the off-season routine and weight room workouts.
"Michael spent a year in the weight room developing and it was the best thing that could've happened for him," said coach Zweifel. "We were very fortunate as Michael wasn't necessarily a recruited student-athlete by us or any other college, but we began to notice he was very athletic and undeterred by his size."
Joseph followed the workouts as his body continued to grow, but he failed to find the field in any football games in his first season in 2014. Some people may have been discouraged and packed it in, just the opposite was true for Joseph. He worked out even harder as his body would soon catch up to his desire. He added some weight and his height slowly inched up.
His second year of football (2015), he played in all 11 games on a team which went undefeated in conference play. He earned First Team All-Iowa Conference honors for his 44 tackles, four pass break-ups, and three interceptions. His third season (2016), he played in all 10 games collecting 68 tackles, eight pass break-ups and four interceptions. Joseph's senior year he would top out at 6-1 and 190 lbs. He garnered a lot of attention over the summer of his senior season after testing out well in spring ball. His final year (2017) he finished with 56 tackles, eight pass break-ups, and a school record tying eight interceptions.
As a gemologist polishes a stone, so too were the coaching staff at UD knocking off the edges and grinding away to find the brilliance hidden away for Joseph in football. Suddenly he sparkled like a diamond in the final stages of a fine piece of jewelry in front of two NFL scouts who visited UD's spring ball. He ran a :04.46 in the 40-yard dash off the indoor turf of Veterans Memorial Training Center and out of blocks ran a :04.39.
"This past summer Coach Zweifel began hearing some interest in me from many NFL scouts and he let me know to continue working on my speed and gaining in the weight room," added Joseph. "I felt like I had a pretty good junior year and believed I could improve as a senior and captain for the Spartans. After I graduated on Dec. 14 my agent (Sportstars Inc.) sent me to San Diego to continue my training and to help get me prepared for the 2018 Reese's Senior Bowl and the NFL combine."
Joseph visited with NFL scouts from nearly every team in 2017 and some have made as many as six visits to the campus this season. A long way from his high school senior season when he couldn't find playing time or a glimmer of interest to ever play the sport he loved beyond high school. The "hidden gem" was found by the NFL scouts at the University of Dubuque, a NCAA Division III school and his future and rawness continue to peak the interest of the NFL.
"As great as he is on the field, I'm happy to say he is an even better person off," stated Zweifel. "He definitely has deserved all the recognition he has garnered this year and our staff is anxious to watch him as the only Division III player in the 2018 Reese's Senior Bowl."
"I would like to thank my coaches at UD who saw potential in an undersized freshman, allowed me to develop, and gave me the skills to take my playing to a level not reached by many student-athletes in Division III," Joseph said. "I hope I inspire someone else who has yet to grow and reach their dreams... I wake up every day and feel blessed for the opportunities God has given me. My parents, Nicole and Larry Rogers have kept me grounded. My mom is my idol. She and my step-dad Larry have been there for me, my brother Malcolm Joseph (25), and my sister Marianna Rogers (5)."
The Reese's Senior Bowl will be played on Jan. 27, 2018 (1:30 p.m. CT) at Ladd-Peebles Stadium (38,888) in Mobile, Ala. Players will practice three times leading up to the game, starting on Jan. 23. All three practices and the game will be televised live by NFL Network while ESPNU will broadcast live from the Wednesday and Thursday practices.
The Senior Bowl is the nation's most unique football game and football's premier senior showcase event. It annually features the country's best senior collegiate football players and top NFL draft prospects on teams representing the North and South that are coached by the entire coaching staffs of Houston Texans and the Denver Broncos. The Texans, led by their fourth-year head coach Bill O'Brien, will guide the South team, while Vance Joseph, in his first year as head coach of the Broncos, will guide the North.
Monday at the Reese's Senior Bowl
(Players arriving/checking in/orientation)
Introductory Press Conference
5:30pm |Renaissance Riverview Plaza
2nd floor – Mobile Bay III (end of hall near radio row)
*TENTATIVE PRESS CONFERENCE SCHEDULE
5:30pm Phil Savage – Executive Director, Reese's Senior Bowl
5:50pm Josh Allen – Wyoming QB
6:00pm Shaquem Griffin – UCF OLB
6:10pm Marcus Davenport – UT-San Antonio
*NOTE: Baker Mayfield/OU will be late arrival on
Monday – WILL NOT BE HERE FOR PRESS CONFERENCE
Practice schedules - All practices open to public at Ladd-Pebbles Stadium:
Tuesday, January 23
1:30 pm – 3:00 pm (SOUTH)
3:30 pm – 5:00 pm (NORTH)

Wednesday, January 24
12:30 pm – 2:30 pm (NORTH)
3:00 pm – 5:00 pm (SOUTH)

Thursday, January 25
12:30 pm – 2:30 pm (NORTH)
3:00 pm – 5:00 pm (SOUTH)

Other events at Reese's Senior Bowl:
FCA CHICK-FIL-A SENIOR BOWL RALLY
WHEN: Wednesday, January 24
WHERE: Mobile Convention Center
TIME: 6:30-8:00 p.m.
Annually bringing together more than 2,000 attendees - making it the largest FCA Rally at a bowl game in the country - the FCA Chick-fil-A Senior Bowl Rally is always a popular game-week event.
Each year the crowd is treated to player testimonies, live music and food provided by Chick-fil-A.
REESE'S SENIOR BOWL EXPERIENCE
WHEN: Friday, January 26
WHERE: Mobile Convention Center
TIME: 3:00-6:00 p.m.
ADMISSION: FREE
Before thousands of fans pose for pictures with players during the Coca Cola Meet the Players event, they can enjoy several interactive displays, special activities and one-of-a-kind entertainment.
Run through drills just like the players on the indoor football field, check out all the interactive displays from Reese's, Adidas, the New Orleans Saints and AT&T, among others!
COCA COLA MEET THE PLAYERS
WHEN: Friday, January 26
WHERE: Mobile Convention Center
TIME: 3:30-6:00 p.m.
ADMISSION: FREE
One of the highlights of Senior Bowl week - for fans and players - is the Coca Cola Meet the Players event. Held each Friday of Senior Bowl week, fans get to interact, get an autograph and snap a picture with their favorite player at the Exhibit Hall of the Mobile Convention Center. Fans often line up early in the morning for the event, which runs from 3:30pm-6:00pm each year. The event is divided into two sessions, the first from 3:30-4:45 p.m. and the second from 4:45-6:00 p.m.