Michael Joseph Invited to the 69th Annual Reese's Senior Bowl
Nov 9, 2017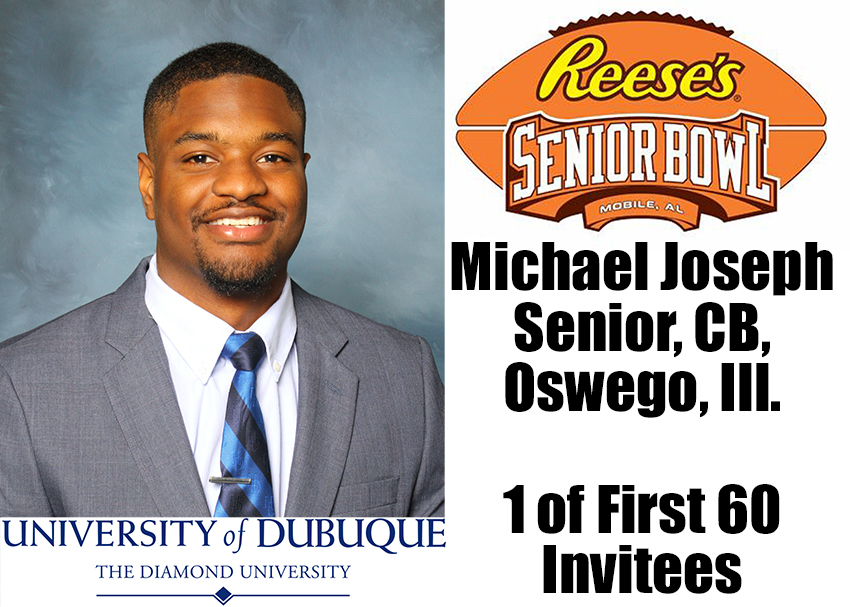 MOBILE, Ala. – University of Dubuque senior cornerback, Michael Joseph (Oswego, Ill./Oswego), received an invite to the prestigious 69th Annual Reese's Senior Bowl. Joseph was a part of the first 60 invites sent out by the 2017-18 Senior Bowl committee. The first 60 invitations by the bowl committee were mailed out on Monday, Nov. 6 and the Spartans Joseph received his invite on Wednesday, Nov. 8.
"This is such an honor for a wonderful story and a very humble man," commented head coach Stan Zweifel. "I don't think people realize what a big honor it is. Just two Division III student-athletes have been on their watch list this season among the Power 5 conferences. To have the University of Dubuque and Michael Joseph showcased among them is astounding. The Spartans were visited in the middle of August in training camp by Phil Savage (Executive Director of the Reese's Senior Bowl). To have him here watching Joseph in person was a good sign."
The Reese's Senior Bowl is played each year and showcases the top NFL Draft prospects and has been run every year since 1950. There are two teams, North and South, and each is coached by an NFL coaching staff. Players who have completed their college eligibility are eligible to participate. NFL coaches, general managers and scouts attend the week-long practice and game. The game is always played the week before the Super Bowl Each year with rosters featuring the nation's top senior collegiate football players and NFL draft prospects on teams representing the North and South.
"It definitely gives me a lot of pride for Division III, the University of Dubuque to represent the Iowa Conference, and all those playing in Division III with a chance for me to play in the 69th Annual Reese's Bowl," said Joseph. "I've been watching the Senior Bowl since high school and never thought I would be mentioned among those players. It's been crazy, I didn't expect to get as much attention as I've been getting, but it's been a joy this season. It's been fun and I've had my teammates along side of me as we go on this journey."
No Division III players participated in last year's game, with Joseph being one of two Division III players to be highlighted among the 2018 Senior Bowl watch list. The last time a player from the Iowa Conference was selected to participate was Brad Hustad (back) in 1960 from Luther College.
Joseph has eight interceptions in 2017, he ranks second in the country in total interceptions (8), ranks first in the IIAC, and ranks third in interceptions per game (.9 per game). The Spartans rank second in interceptions with 21 with the national leader Framingham St., who leads the country with 22.
The 69th Annual Reese's Senior Bowl will be played on January 27th, 2018 in Mobile, Ala. at Ladd-Peebles Stadium at 1:30 p.m. (CST). NFL Network will broadcast practice recaps and highlights, as well as the game.
Internet: www.seniorbowl.com
Facebook: facebook.com/seniorbowl
Twitter: @seniorbowl