Women's Lacrosse Battles but Fall Short Against Clarke
Mar 18, 2019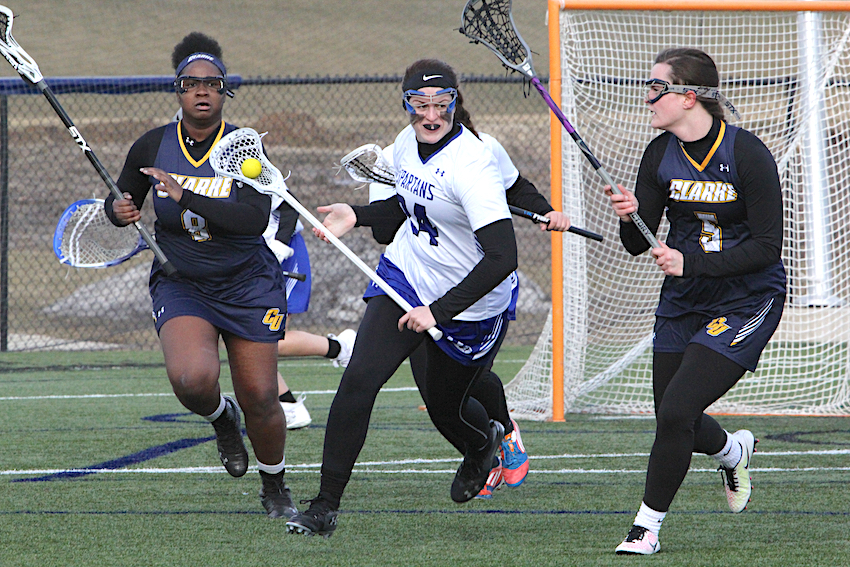 DUBUQUE, Iowa – The University of Dubuque women's lacrosse exchanged blows with the Clarke Pride all night on Monday, but the Pride pulled away late to upend the Spartans, 13-9.
Clarke kicked off the scoring before one could blink, winning the opening draw control and finding the back of the net in 35 seconds for the quick 1-0 lead. It would take more than 13 minutes but they would add to that late to put UD in a 2-0 hole. The Spartans found a spark in their offense when Julianne Galante found Lydia Kleckner for the quick response. UD's offensive rhythm continued as Carolyn Clemens took the back to the net all by herself to even the game up at 2-2 with 10:43 remaining in the first half.
As time was winding down in the first half and the Pride had regained a one goal lead, Galante found a crashing Sara Rose in front of the next for the game and equalizer with 37 seconds left before the break. However, Clarke quickly responded, sneaking in a goal with 12 seconds left before half to send UD into the break trailing 4-3.
The two teams alternated scoring the first four goals over the course of the opening four minutes of the second half to keep the game remained tied, but the Spartans could never get over the hump and take the lead. Clarke would rattle off four straight goals to spring ahead 9-5 with 20:41 remaining.
Kori King and Sara Rose would get the Spartans back within two goals after two unanswered goals with 14:29 left, however, Clarke then rattled off three straight of their own to seal the game.
Sara Rose led the way for the Spartans with four goals on eight shots. Kori King was the only other Spartan with multiple goals with two.
UD forced Clarke into 23 turnovers on the night. Rose, Kleckner, Holdt, Keegan, Ames and Weir all led UD with two caused turnovers.
In the Goal
Kaley Weir - 39:19, 9 GA, 9 Saves
Gemma Keegan – 20:41, 4 GA, 3 Saves
The Spartans will have a week off before hosting Beloit College at 6:00 p.m. on March 25th.