Spartans of UD: Jane Herbst
May 9, 2018 | University Relations staff
Spartans of UD highlights what makes University of Dubuque special – the people who live, work, and study on campus. Jane Herbst is the safety and security officer supervisor. She has walked campus as a UD Spartan for nearly 14 years.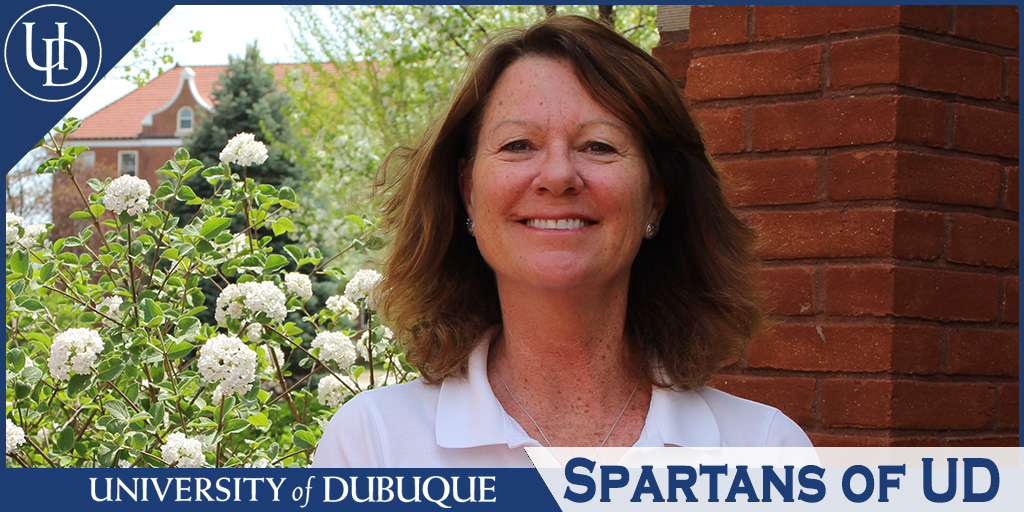 JANE HERBST
Safety and Security Officer Supervisor
1. Why did you decide to become a UD Spartan?‌
"First of all, I was born and raised in Dubuque. I consider myself somewhat of an Ambassador of Dubuque and, now, an Ambassador of UD. I love sharing information about our beautiful city with everyone. I enjoy meeting and talking with people, and here at UD I get to do that every day. My time here has also given me the opportunity to help my kids with their college tuition."
2. What do you enjoy most about your role as the safety and security officer supervisor?
"I enjoy interacting with the students and their families. A lot of the students become my extended family. A bonus is I get to walk around this beautiful campus."
3. What does a typical shift look like?
"Well, my shift is basically making sure IDs are working, cars are registered, and there is parking for everyone. I also keep my eyes and ears on what is happening around campus."
4. Do you have a favorite spot on campus?
"It has changed over the years a bit, but the courtyard area by Alumni Hall and Blades Hall is one of my favorite spots."
5. What piece of advice do you give to students?
"Remember this is your home while you are here, and we want you to feel safe. If at any time you do not feel safe, you need to come speak with us so we can help you. Communication is key."