Charles Haas ('85)
Football - Wrestling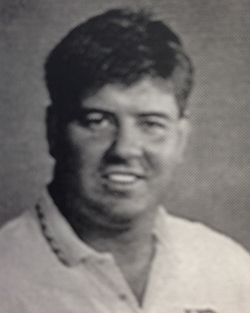 Charles Haas (C'85) was a standout in Football and Wrestling while attending the University of Dubuque. The anchor of the offensive line, Haas earned First Team All-Iowa Conference in 1983 and Second Team All-IIAC in 1981. He was also a member of the 1980 IIAC Championship team.
On the wrestling mat, Haas had his best season in 1981 by taking Second Place in the Heavyweight division at the Iowa Conference Championships. His finish at the conference tournament earned his a place at the Division-III National Tournament. Haas also finished Third Place in 1985.
In 1994, Haas returned to UD becoming the head wrestling coach and assistant football coach.