UD for Kids
UD for Kids is an enrichment opportunity going into its 25th year for gifted and talented students in the tri-state area. Students demonstrating advanced abilities in the areas of academic, leadership, creativity, visual, and performing arts are NOMINATED TO ATTEND UD for Kids.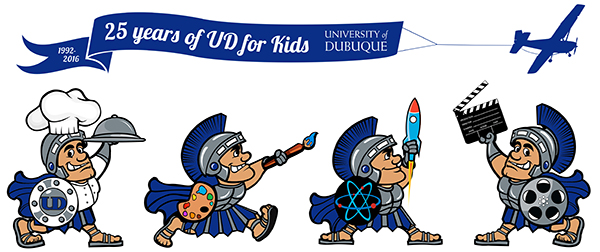 ---
Summer of 2017 dates:
Week 1: June 12-16 (current 1st and 2nd grade)
Week 2: June 19-23 (current 3rd and 4th grade)
Week 3: June 26-30 (current 5th, 6th, and 7th grade)
Registration for the 2017 classes will take place on Saturday, March 25th.
Week 1 registration will start at 7:00 a.m.
Week 2 registration will start at 8:00 a.m.
Week 3 registration will start at 9:00 a.m.
Chad Biermeier
563.589.3590
cbiermeier@dbq.edu
---
Please direct questions to UD for Kids Assistant Rhonda Dyer at rdyer@dbq.edu