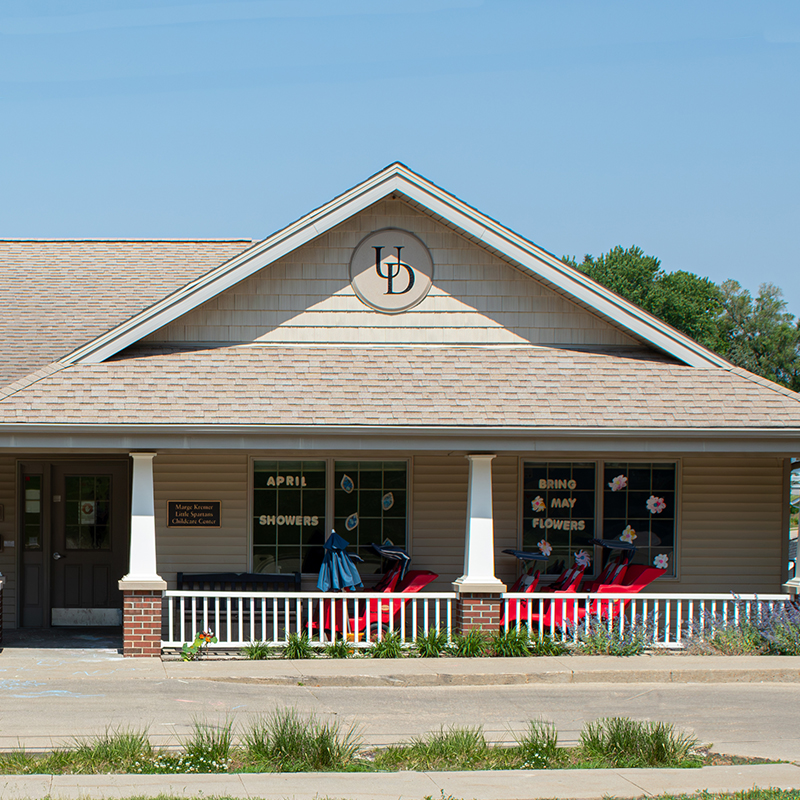 Marge Kremer Little Spartans Childcare Center
---
---
About Us
Philosophy & Mission
The University of Dubuque is a small, private university affiliated with the Presbyterian Church. The University strives to achieve excellence in the areas of education, intellectual, spiritual, and moral development, and we aim to reinforce these concepts to our younger generation.
As parents, you are your child's first and most important teachers. As a center, we will strive to build on the values that you have already begun to instill in your child, as well as assist in meeting the social, emotional, physical, and cognitive needs of your child. It is our goal for each and every child to reach their fullest potential, and will do all that we can to realize this goal.
We believe that children learn best by active exploration in a child-centered classroom, and that our role as educators is to help young children use the environment productively so the children see themselves as successful and capable learners.

Location and Hours of Operation
University of Dubuque Childcare Center is conveniently located on the University of Dubuque campus at 1001 McCormick Street. The center is open Monday-Friday 6:30 a.m. - 5:30 p.m., providing care for students and faculty of the University, as well as members of the community. Additionally, University of Dubuque Childcare provides care from 5:45 p.m. - 9:00 p.m. for students who participate in the LIFE program on campus.

Child and Adult Care Food Program
The University of Dubuque Childcare Center participates in the CACFP (Child and Adult Care Food Program).

Iowa Quality Rating System
The University of Dubuque Childcare Center participates in the Iowa Quality Rating System. Currently, the center has a four star rating. To learn more about the Iowa Quality Rating System, go to: http://dhs.iowa.gov/iqrs.
Our Program
The University of Dubuque Childcare Center is licensed by the Iowa Department of Human Services to provide care for up to 60 children aged 6 weeks - 5 years.
At a glance, there are many attributes that set our program apart as a high quality experience. Some of the features of our program are:
Small class size: Each of our classrooms is kept below the state maximum in order to ensure that the group remains small enough to allow every child to receive one-on-one attention daily.
Campus Resources: The center's location on the University of Dubuque campus provides access to many resources that are not available elsewhere. The center has open access to the campus library (which includes a full children's section), campus gyms, the football field/track, and the Heritage Center performances. The childcare center children are the University's youngest students, and the campus does all that it can to include the children in a variety of learning experiences.

Curriculum
All classrooms in the center use The Creative Curriculum as a basis for lesson planning and assessments. The Creative Curriculum is a curriculum based on learning through play. We focus on four main areas of development: Language, Social/Emotional, Cognitive, and Physical Development. Teachers will observe children and use the findings to plan activities and lessons for the classroom that will help children reach their fullest learning potential.
Our curriculum goals:
Provide a Christian setting and approach to the child in all areas of learning
Help each child grow socially, physically, emotionally, intellectually, and spiritually
Provide hands-on learning experiences
Support each child in developing a positive self-image and self-esteem
Create experiences that stimulate language development, memory, curiosity, and self-discipline
Foster social-emotional growth with peers
Model a loving, caring, and sharing attitude towards others
Utilize many curriculum sources including Creative Curriculum, teacher developed curriculums, and child initiated learning. Our responsibility as educators is to be lifelong learners so our practices reflect current research in the field of Early Childhood Education.
Our classrooms
The University of Dubuque Childcare Center is made up of five classrooms.
The Infant Room: Children age newborn to approximately 12 months (Capacity: 5)
The infant room is a family's introduction to our center. We strive to make the transition to the center a smooth one for both parents and families. Our teachers provide a warm, nurturing environment for all babies. Schedules for this room are individualized based upon the needs of each child. Throughout the day, each child will participate in a wide range of early learning activities, focusing on sensory and development skills crucial to building a foundation for a lifetime of continued learning.
We are a breast-feeding friendly center. Mothers are welcome to nurse in the classroom, or elsewhere in the center.
The Transition Room: 12-24 months (Capacity: 10)
The transition room is for infants who are on the go! Children will move to this classroom when they are crawling/beginning to walk, ready to sleep on a cot, eating table food, and ready to start the transition to being a toddler. We work on beginning communication skills, gross motor skills such as walking, and learning to be independent! Our classroom provides an interesting environment that promotes exploration while still offering the comfort of adult boundaries.
The Two's Room: 24-36 months (Capacity: 12)
The Two's are very curious! With each day, two year olds are discovering the world around them, learning new words, new motor skills, and developing new cognitive abilities. Our teachers work with these independent minded children to help them develop self-help skills such as washing hands and potty training, as well as foster their growing minds with daily story time, art activities, and structured indoor and outdoor play.
Three Year Old Preschool: 36-48 months (Capacity: 16)
Three year olds are experts at expressing themselves! They are, at least in their minds, completely independent! Our program offers activities and lessons to challenge the children. Our classroom is very structured, offering children the comfort of routine. We work on early literacy and math skills, art, social skills, and assist the children with the independence of hand washing, toileting, and other self-help skills.
Four Year Old Preschool: 48 months and up (Capacity: 16)
The University of Dubuque Childcare Center participates in the Statewide Voluntary Four Year Old Preschool Grant. This allows for all children who are Iowa residents and four years old by September 15th to receive a minimum of 10 free hours of preschool per week. The classroom space is divided into learning centers that children are free to explore throughout the day. Our lessons focus on kindergarten readiness, developing areas such as: social skills, letter and number recognition, beginning math skills, and early literacy skills.
Our Staff
Our highly qualified and dedicated staff members work daily to fulfill the center philosophy and mission. All staff members are trained in CPR, First Aid, Universal Precautions, and Mandatory Reporting. Every staff member is required to do continuing education classes each year in order to remain up to date on best practices for early childhood.
For more information on the Marge Kremer Little Spartans Childcare Center contact Tammy Pierro, Director of Childcare at 563.585.7461 or by Email at TPierro@dbq.edu