Pocket Prairie Creates Space to 'Connect God's Creation and Emphasize Stewardship'
By Stacey Ortman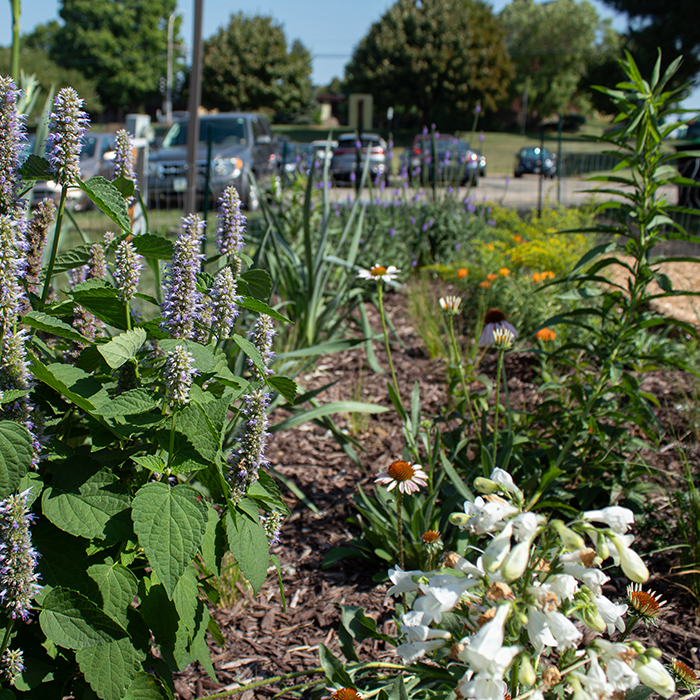 DUBUQUE, Iowa - Anise hyssop, butterfly milkweed, foxglove beardtongue, narrow-leaved purple coneflower, and 14 other plant species are nestled in a new pocket prairie on the University of Dubuque's campus.
The 130-square-foot pocket prairie, with over 70 individual native prairie plants, is located near the parking lot at the intersection of University Avenue and McCormick Street across from the Jackaline Baldwin Dunlap Technology Center. It was planted over the summer with low maintenance flowers that are attractive to pollinators and provide bloom throughout the growing season.
"The goal is to create an interpretive and contemplative space to connect God's creation and emphasize stewardship. We're caring for creation by implementing these native species on campus in a space for other living creatures, such as pollinators, to exist," said Joshua Chamberland, MPA, stewardship and sustainability coordinator at UD.
With the help of the Dubuque Colleges Sustainability Coalition, four colleges across Dubuque County - UD, Emmaus Bible College, Loras College, and Northeast Iowa Community College - received funds from a collaborative Sustainable Dubuque grant to install pocket prairies on their campuses via the Mowing to Monarchs program. Established by the Dubuque County Conservation Board and the Dubuque County Master Gardeners, the program provides accessible training and information and an experience base to guide urban and suburban homeowners in successfully adding native plants into their yards.
"Joshua Chamberland and his efforts spearheading the Dubuque Colleges Sustainability Coalition was what Dubuque County needed to guide the colleges into being a more ecologically focused community... The goal is to bring nature closer to home to help citizens build a sense of place. Colleges are homes to students for at least four years and potentially create lifelong citizens in our communities. Exposing students to Mowing to Monarchs on college campuses will hopefully continue to reshape our communities by bringing a bigger focus on native communities which ultimately leads to more resilient communities," said Kaytlan Moeller, outreach coordinator with Dubuque County Conservation.
UD's pocket prairie was planted over the summer by students in the Biology of Local Flora summer class taught by Rasika Mudalige-Jayawickrama, PhD, professor of plant biology. The class provided students a practical experience on how they could change their ecosystem.
"It is wonderful to have a small patch of prairie right on campus. We can use the pocket prairie to teach about local flora on campus grounds. Students also learned the benefit of having a prairie, their deep root systems, and how beneficial it is to have a prairie instead of lawn," Mudalige-Jayawickrama said.
Selected by Dubuque County Conservation and Dubuque County Master Gardeners to replicate the full-sun prairie habitat native to the area, the plants follow the sleep, creep, leap philosophy. According to the Dubuque County Conservation's website, in the first year, the plants are sleeping and establishing root systems. In the second year, they creep further into the soil. In the third year, they leap with root systems in excess of six feet down into the Earth.
"These plants provide food and shelter to important native insects such as the monarch butterfly and rusty patched bumble bee," Chamberland said, later adding, "This project is an accurate representation of the approximately 20 acres of native Iowa prairie that can be experienced out at Wolter Woods and Prairies Environmental Stewardship and Retreat Center."
This fall, another class, DART 401 Identity Design, taught by Sheila Sabers, MAC, chair of the Department of Digital Art and Design and assistant professor of digital art and design, will be designing interpretive signage for the space, which is expected to be installed in spring 2024.
In addition to the signage, the pocket prairie has a mulch path, an archway, and benches. A peace pole will be placed this fall. Peace poles, with the prayer "May Peace Prevail on Earth," are part of a global movement with over 200,000 poles in 200 countries around the world. Started in 1955 in Japan by Masahisa Goi, the movement joins together people around the world who hope for peace.
"Planting a peace pole at the pocket prairie was a way to mark this spot as a place dedicated to peace and contemplation - peace with the Earth and among the whole human family. While not every language connected to UD and Dubuque could be included, we chose eight languages tied to the land and community history as well as our student body: Hebrew, Mesquakie, German, Arabic, Marshallese, Spanish, English, and Swahili," said Rev. Susan Forshey, PhD, associate professor of Christian formation.
She added she hopes the peace pole "will encourage all who pass by to pause for a moment of peace in the midst of their day and to reflect on how to embody peace in their own lives."
Students enrolled in HON 157 Sacred Spaces, a new honors seminar co-taught by Mary Emily Duba, PhD, chair of the Department of Theology and associate professor of theology, and Brian Hallstoos, PhD, associate professor of history, will design a dedication ceremony for the pocket prairie later this fall. They will also explore what makes a space sacred, how sacred space is created and cultivated, and what happens when a sacred space is desecrated, destroyed, or lost.
"Recognizing that ceremony and ritual contribute to the creation and maintenance of sacred spaces, the class will be designing a ceremony to dedicate the pocket prairie, including the peace pole, as a place where all who long for peace – among peoples, with the Earth, and in the midst of a busy day – can find space for contemplation and renewal," Duba said.