Spartans of UD - Alyssa Skrove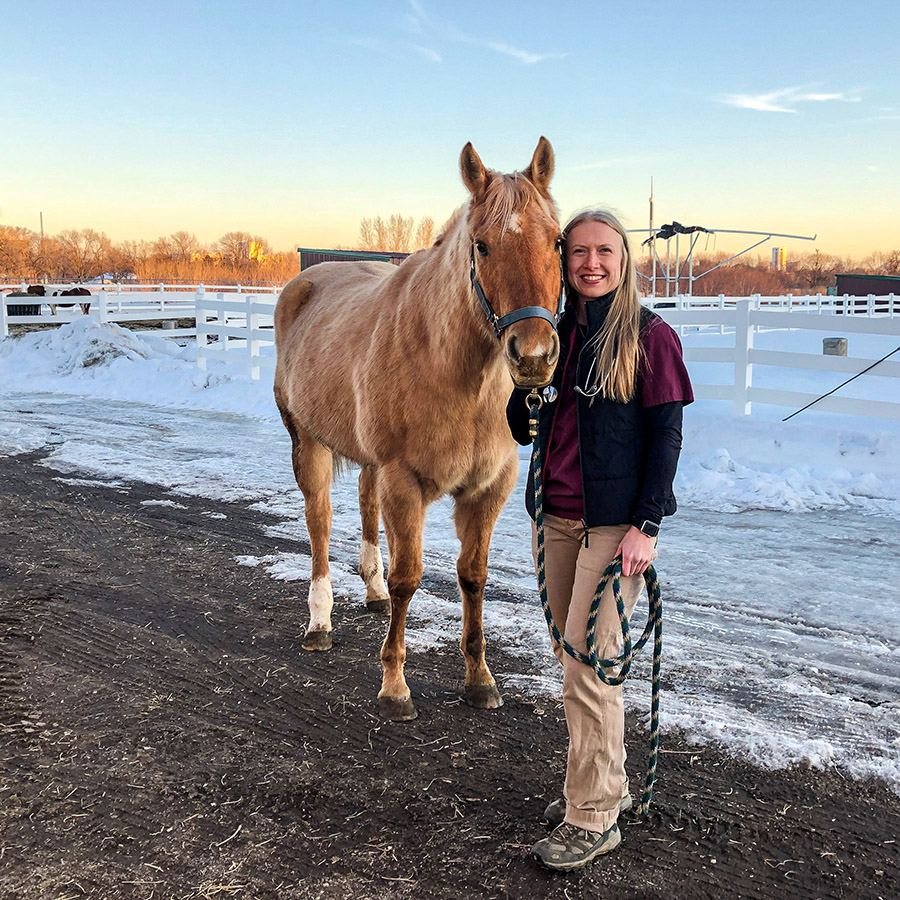 Spartans of UD highlights what makes the University of Dubuque special - the people.
Alyssa Skrove (C'20), who was a biology major and earned a bachelor of science at UD, now attends the University of Minnesota College of Veterinary Medicine.
What inspired you to pursue veterinary medicine?
"Being a voice for those that don't have one is truly something special. I have always been a person who has had a 'special touch' with animals and knew I wanted to devote my life to them in some way, and that ended up with pursuing a doctor of veterinary medicine degree. Veterinary medicine not only gives me the opportunity to save animals when they are at their worst, but it also lets me help ensure a lifetime of health and happiness for them. Animals are an invaluable part of our lives that provide people with such happiness, humor, and adventure, and I am so grateful to get to be a part of that."
How did your time as a biology major at UD help prepare you for veterinary school?
"Beyond the academic course load, completing a summer of research through the Joseph and Linda Chlapaty Summer Research Fellowship allowed me to not only gain exposure to conducting biological research, but it also gave me experience in small mammal handling, public speaking, data management, and more. These aspects were extremely helpful coming into veterinary school, and I am grateful for all of the lessons it taught me. In addition to the research, being able to create personal bonds with the professors at UD has given me the ability to reach out and utilize them for various things such as scholarship applications and letters of recommendation. Lastly, I feel as though having smaller class sizes also helped me personally to focus and learn more efficiently, as the professors were able to create conducive environments that were adjusted to each class's individual pace and learning style."
What is your favorite memory from your time at UD?
"It's very hard to pick a single favorite memory from UD, so I have two that stand out the most. The first was one of my favorite nights out on our home track. Triple jump ended up being the very last event competing at the meet, and our entire team gathered around the sandpit to cheer us on. Many personal records were achieved that night and a whole lot of love was felt. UDTFXC teammates had always been valuable friends to me, but that night they became more, they became family.
"The second memory was when I found out I was accepted to the University of Minnesota College of Veterinary Medicine. Dr. (Gerald) Zuercher, my mentor, immediately informed everyone in the Department of Natural and Applied Sciences, Coach (Chad) Gunnelson spread the news to everyone in the athletics realm, and my best friend Gemma Keegan even threw a mini party at school for me. It felt like around every corner I turned, people were celebrating with me, all people who helped me get to where I am today. I am so grateful for all of them helping to make that moment in my life so special and memorable."
In your opinion, what makes UD special?
"When I was narrowing down schools to attend for undergrad, I truly wasn't sold on attending a small school. Coach Gunnelson knew this and wanted to help me understand the benefits of UD, so he arranged a phone meeting with Dr. Zuercher to allow me time to ask questions about both track and the Department of Natural and Applied Sciences. This gesture in itself convinced me to make the trip down and tour. I went into the day thinking it was just going to be yet another tour to get out of the way, but I left with an overnight visit arranged with some teammates and UD being my favorite school thus far. The individualized care you get at UD is hard to come by and, in my opinion, makes UD stand out the most. Across all departments, from coaching staff, to the science department, to Campus Ministry, and more, everyone is so genuinely concerned with helping students achieve their goals and become the best version of themselves, a quality not all universities can say they have."
What advice do you have for our future Spartans?
"My advice for future Spartans is to take advantage of all of the opportunities you are offered at UD because many of them are not seen at bigger schools. Many of these will help you stand out from the crowd when applying to graduate schools, jobs, internships, etc., and will give you invaluable experiences. I truly think competing for UDTFXC, participating in the Joseph and Linda Chlapaty Summer Research Fellowship Program, and being on the boards of various clubs all helped set apart my application from the others. Use the small school advantage and create meaningful relationships with your professors as well, I am living proof I would not be where I am today without them. Lastly, remember to enjoy your time at UD. It will go by in a blink and you won't realize how much you miss it until it's gone!"