The University of Dubuque Honored Alumni at Awards Ceremony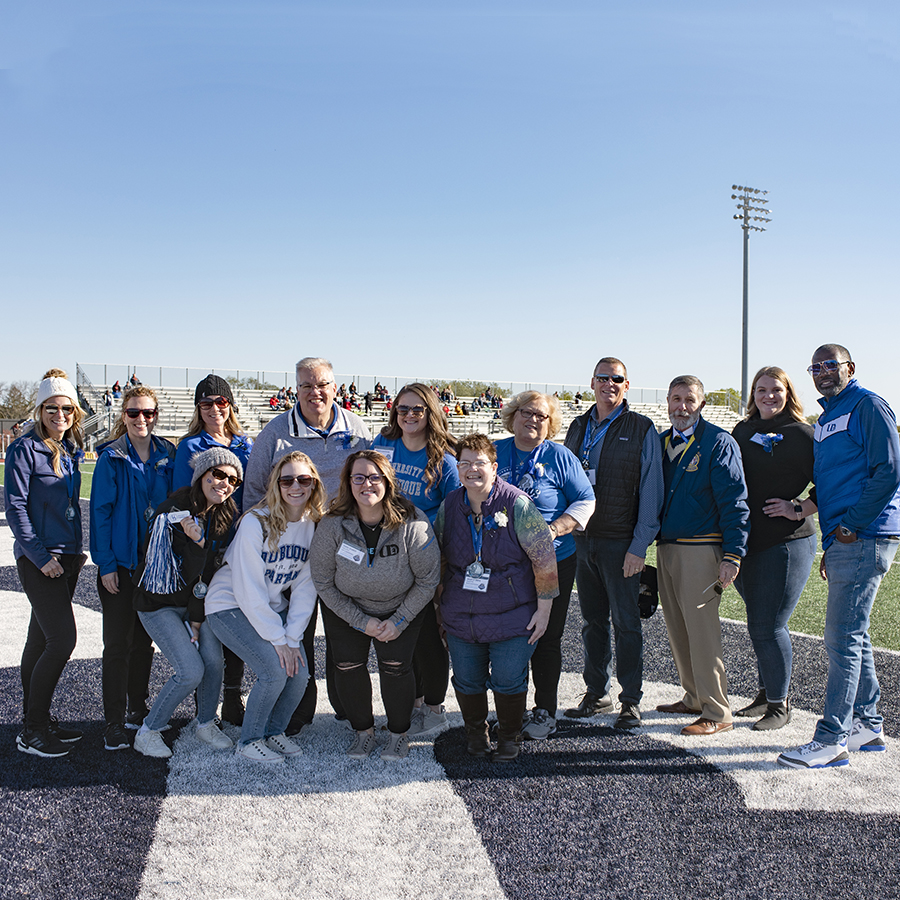 DUBUQUE, Iowa - The University of Dubuque honored five alumni as well as UD health care providers at the Alumni/ae Awards Ceremony during Homecoming on Saturday, Oct. 16, 2021, in Heritage Center.
The alumni honored this year were:
ALUMNUS OF DISTINCTION AWARD
Robert "Bob" Nagel (C'51), of Denver, Colorado

Robert "Bob" Nagel graduated from the University of Dubuque in 1951 with a major in history that included an emphasis on social sciences. While at UD, Nagel was involved in Mu Sigma Beta fraternity, Social Science Club, Student Council, Band, Theater, and Debate. After graduation, he attended the University of Colorado School of Law and earned a Juris Doctor degree.
For the first couple of years after law school, Nagel was an associate at the Denver law firm Henry and Adams. Wanting to branch out, he worked for a time as a sole practitioner before forming, along with two friends and fellow CU graduates, the firm named Law, Nagel and Clark. During a leave of absence from his firm, Nagel was appointed and served as an Assistant Colorado Attorney General where he represented various state departments and agencies and from which he later moved on to become Chief Counsel to the Colorado Public Utilities Commission. After returning to his firm, for several years Nagel's primary, but not exclusive, legal activity involved a co-lead role in the financing, construction, leasing, and operation of several large regional indoor shopping malls. He then had the opportunity to become an early participant in the development of Cable Television as a means of program delivery and in the creation and operation of numerous Cable Television systems. He remained mostly involved in Cable Television until his retirement in 1997. Having completed a career as a practicing lawyer, one that was varied, enjoyable, and rewarding, Nagel considers that one of his personal accomplishments has been the gaining and maintenance of the respect of his fellow lawyers and the general public during a long and often strenuous legal career.
Nagel also served on and/or supported various Denver and Colorado area charitable and public organizations, including Mile High United Way and InnerCity Christian School.
Outside of work, Nagel's favorite activities included a lifetime of flying as a private pilot mostly for pleasure but sometimes for business, scuba diving, playing golf, lengthy vacations in Mexico and Canada, and worldwide travel. Nagel and his spouse, Jane, have had the good fortune of being able to travel to and enjoy large parts of all the continents.
Nagel and Jane have been married for 66 years. They reside in the Denver, Colorado, area. Together they have three adult children (Andrew, Martha, and Kurt) and are blessed with 10 great grandchildren. When asked, Bob said his most notable accomplishment has been making it to the age of 92 while still vertical.
PROFESSIONAL ACHIEVEMENT AWARD
Torrance "Tory" Richardson (C'92), of Grand Rapids, Michigan

Torrance "Tory" Richardson graduated from the University of Dubuque in 1992, earning a bachelor of science degree in aviation management with a minor in flight operations. While at UD, Richardson was a student ambassador, president of the Mu Sigma Beta fraternity, and president of the Greek Council.
Richardson is the president and CEO of the Gerald R. Ford International Airport Authority, overseeing all functions and activities of Michigan's second-busiest airport. He is also responsible for developing and implementing the Airport Authority's strategic vision, including long-term plans for future development, infrastructure improvement, guest growth, and other initiatives.
Successful in guiding airports through significant change and boosting regions' economic vitality, Richardson is leading the Airport Authority's Project Elevate, a revolutionary expansion of the airport to accommodate passenger growth that includes adding nonstop international commercial flights.
Throughout his almost 30-year aviation career, Richardson has built his knowledge of aviation by working in many facets of the industry, holding various positions with Fixed Base Operations, Airlines, National Weather Service, Airport Operations, Airport Maintenance, Airport Management, and Aircraft Rescue and Fire Fighting.
Prior to joining the Ford Airport in 2019, Richardson was executive vice president and chief operating officer of the Columbus Regional Airport Authority, which oversees three airports in central Ohio: John Glenn Columbus International Airport, Rickenbacker International Airport, and Bolton Field. During his tenure, passenger traffic grew 33% to more than 8.4 million travelers while freight increased 91% to more than 300 million pounds. He previously served as the Columbus Regional Airport Authority's chief strategy officer and vice president of human resources, government affairs, and strategy. Before that, he was executive director of airports for the Fort Wayne-Allen County Airport Authority, which includes Fort Wayne International Airport and Smith Field Airport in Fort Wayne, Indiana. Prior to Indiana, he was the executive director at Rapid City Regional Airport in South Dakota and an operations specialist and maintenance worker at the Dubuque Regional Airport in Iowa.
Richardson is past chair of the American Association of Airport Executives (AAAE) representing over 7,000 members in the U.S. He is past president of the Great Lakes Chapter of the American Association of Airport Executives. He also has held leadership positions with the Airports Council International-North America and is past president of the Ohio Aviation Association. Richardson has served as chair for several national aviation conferences and is actively involved in the National Academies of Science - Transportation Research Board's Airport Cooperative Research Program. In addition to these aviation-related roles, he has held leadership positions on other non-profit boards including conventions and visitors' bureaus and United Way.
Richardson is a proud recipient of the President's Special Recognition award from the Aviation Association of Indiana and the Outstanding Service Award from the Great Lakes Chapter of AAAE. However, he is most proud of his spouse, Lisa, and their three young adult children: Zachary, Logan, and Kyra.
AWARD OF MERIT
Courtney Thompson (C'11), of Yelm, Washington

Courtney Thompson graduated from the University of Dubuque in 2011 with an English in secondary education major. While at UD, Thompson was involved with Sigma Tau Delta, presented at the Streamlines Conference in 2010 and 2011, and participated in intramural sports. After graduation, Thompson attended Arizona State University, graduating in 2015 with a master's of education in gifted education.
Thompson's professional goals and accomplishments include working towards helping to close the achievement and opportunity gap through equity work and involvement with AVID and Title I schools. Her dedication to students has been highlighted repeatedly through the years. In 2019, New York City businessman Ben Adam adopted Thompson's classroom and introduced her on the website ClassroomGiving.com. Actress Kristen Bell put Courtney in her "Featured Teacher Friday" on Instagram and encouraged her 10.8 million followers to donate to Thompson's classroom using her Amazon Wish List. Further, Walgreens and People magazine featured Courtney in their "Beyond the Classroom" campaign. In 2020, Courtney was awarded the Arizona Teacher of the Year Award, presented by Arizona
Federal Credit Union and the Arizona State Fair, because of her commitment to students while helping to raise money to offset students' college tuition.
Thompson is an avid volunteer with her church and previous district for support of teachers, students, and families. She attributes a portion of her success to the education foundation UD prepares teachers with, and she gives a special shout out to the English department and Professor Gomoll!
Outside of being a teacher, Thompson has enjoyed traveling around Europe and all the adventures that came with living in Arizona. She currently resides in Yelm, Washington, with her perfect dog, Punkie Brewster. She enjoys spending time with her family - especially her two nieces and one nephew.
VOLUNTEER RECOGNITION AWARD
Keith Parris (C'00), of Plainfield, Illinois

Keith Parris graduated from the University of Dubuque in 2000 with a degree in finance. While attending UD, Parris participated in athletics playing basketball where he holds records for field goal percentage and blocks. Parris also participated in the Business Club, where he held the vice president position. Additionally, he was a member of the Pan African Student Union. After graduation, Parris pursued his master's of business administration with an emphasis on human resources and finance from the Keller Graduate School in 2003.
After receiving his master's degree, Parris was recruited to the Chicago area to begin his career working for a real estate investment company as a portfolio manager. After gaining experience in the real estate business, he went on to work for British Petroleum (BP) where he was instrumental in implementing the shared services business model across the world, allowing BP to expand operations in Illinois, Kuala Lumpur, and India. Parris took his experiences at BP and joined the team at Amazon where he helped lead the operations of a large-scale fulfillment operation. After spending a few years at Amazon, he started at Dyson where he was a leader in customer service operations for the United States, Canada, and Mexico. Under his leadership, Parris was responsible for record-setting sales growth across his region. This knowledge and experience kept his region at the top of Dyson's 22 markets across the globe. That led Parris to his current role at BCU Financial Services as a director of Contact Center Operations and Technology. Other professional career highlights include being an Advisory Board member for George Washington University School of Business and an active mentor in all of his corporate roles.
Parris has taken his love for the game of basketball and coached college and youth basketball for the past 15 years at various locations across the Midwest including Edgewood College, Aurora University, North Central College, and Kishwaukee College. Using basketball as a vehicle to mentor young men and women, Parris finds this instrumental in showing young men and women the importance of discipline, hard work, and dedication.
Parris has been an active UD alumnus and has participated in panel discussions with current students on his career and personal learnings. Over the past several years, he has been a driving force with the Black Alumni and getting involved on campus, particularly during Homecoming festivities. Parris has helped organize student and alumni networking events, and he is the main point person for the Black Alumni and Black Student Union tailgate tent during Spartan Fest. Parris is an advocate for young adults pursuing their dreams at UD and assists with recruiting, particularly with the men's basketball team. Additionally, he supports students financially through the Annual Student Scholarship Fund and encourages fellow alumni to join him in supporting the University.
Parris has worked and lived across the Midwest the past 20 years, but he still considers Dubuque his home. Keith resides in Plainfield, Illinois, and is the proud father of Isaac, Ivy, and Kalia.
VETERANS AWARD FOR DISTINGUISHED SERVICE
Captain Edward "Ed" L. Hanke, USAR (CE) (C'65), of Pittsburgh, Pennsylvania

Captain Edward "Ed" Hanke graduated from the University of Dubuque in 1965 with a degree in biology. During his time at UD, Hanke was a member of the cross-country team, tennis team, wresting team, and a charter member of Alpha Phi Omega fraternity. After earning his degree, Hanke attended Purdue University, Washington University, and the BSA National Executive Institute.
Hanke enlisted in the Army in 1966, was Officer Candidate School commissioned 2nd Lt and assigned to the 20th Engineer Brigade serving in the Republic of Vietnam during four Tet Offensives as a platoon leader for the 104th Dump Truck Company and as the Commanding Officer of a Quarry Company on the Cambodian border. Returning home, he served as company commanders at Fort Dix, New Jersey, and Fort Meade, Maryland, where he completed his enlistment. Hanke is proud to say that even though being in a combat zone, he never lost a man to enemy action.
Presently retired from the Boy Scouts of America and the United States Postal Service, Hanke stays busy as a board member of the Southwest Veterans Home and the Sharing and Caring Boat Ride for Hospitalized Veterans. He is also a member of Session of Bower Hill Community Church. In addition, Hanke is active with various veteran and fraternal organizations including Disabled American Veterans, American Legion, VFW, National Order of Trench Rats, Rotary, Masons, National Sojourners, Shriners International, Grotto, and Tall Cedars of Lebanon.
As an Agent Orange victim, he is personally proud of being a cancer survivor.
Ed and his spouse, Linda, reside in Pittsburgh, Pennsylvania, and will celebrate their 35th wedding anniversary in November 2021. He is the father of two children: Louis (deceased) and Elissa.
SERVICE TO COMMUNITY AWARD
UD Health Care Providers

This year, the University of Dubuque family was honored to recognize UD health care providers for their strength, courage, and service to the community during the COVID-19 pandemic and through the work they do each day.
Every day we have the privilege to hear how UD graduates are making a difference, providing care, and being a source of comfort, a confidant, and even a friend to those in need. Through their daily work, they live out the Mission of the University of Dubuque, practicing Christian love and providing service to both the church and the world.