University of Dubuque Earns 2023-2024 Military Friendly® School Designations
By Stacey Ortman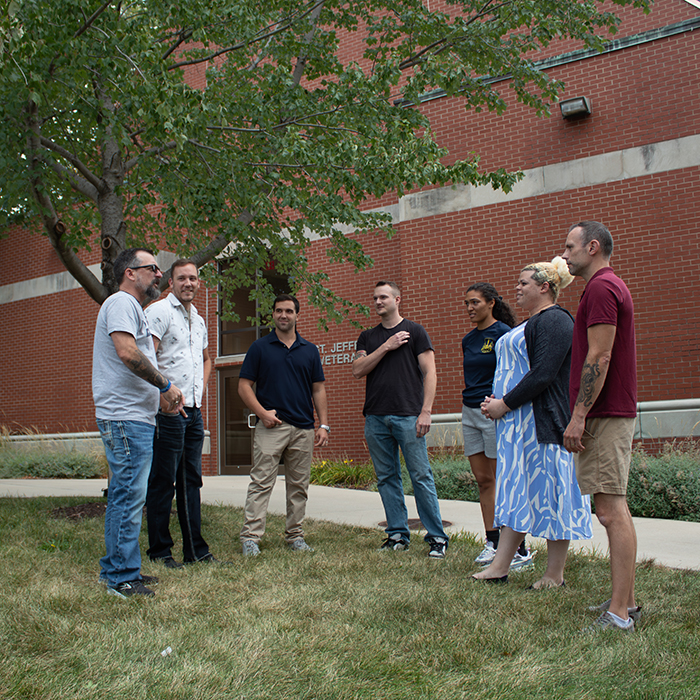 DUBUQUE, Iowa - The University of Dubuque has once again been recognized for its dedication to the military community, earning gold status as a 2023-2024 Military Friendly&reg: School and being named a Top 10 Military Spouse Friendly® School with an eighth-place ranking. Both of the designations were in the category of private offering doctorate.
UD has been designated a Military Friendly® School every year since 2011. TEST 2
"The University of Dubuque truly honors service and has been Military Friendly® for decades. It is apparent throughout the campus; it is in our DNA," said Rick Ernst (CSM, USA, Ret), director of the Sergeant Jeffrey B. Dodge Veterans Center.
Institutions earning the Military Friendly® School designation were evaluated using public data sources and responses from a proprietary survey. More than 1,800 schools participated in the 2023-2024 survey with 655 earning special awards for going above the standard.
UD's commitment to service members and veterans dates back to World War II with the Navy's V5/V12 programs and continues to the present day with a vibrant U.S. Army ROTC program and veteran support group for those studying on campus. The Sergeant Jeffrey B. Dodge Veterans Center is one of the largest in the region and is where Ernst provides student veterans assistance to ensure they are receiving all of their entitled benefits. Additionally, UD is a Yellow Ribbon School, a Vietnam War Commemoration Partner, and a Homebase Iowa employer.
"The University of Dubuque offers unparalleled support to our military-affiliated students. We offer one-on-one personalized services to each and every veteran, dependent, and military member. UD also has one of the highest dollar value Yellow Ribbon School contributions in the region and offers a reduced tuition to veteran spouses through our Salute to Service program," Ernst said.
Josette Robertson, a senior music education K-12 major from Colorado Springs, Colorado, is one of the more than 100 military-affiliated students UD serves. She was a sergeant in the U.S. Army and served as platoon sergeant for her unit for three years before she was honorably discharged.
"I find it amazing that our university gets to be a part of the Military Friendly® School designation. The hard work that our veterans center does to help those who served start school again is great! It means they actually care," Robertson said, adding, "The veterans center is a fantastic place to go and escape the business of the rest of the campus and to decompress and have snacks. I go there a lot when I need to really focus, do video conferences, or print something quick for class."
The 2023-2024 Military Friendly® Schools list will be published in the May and October issues of G.I. Jobs magazine and can be found at www.militaryfriendly.com.
Methodology, criteria, and weightings were determined by Viqtory with input from the Military Friendly® Advisory Council of independent leaders in the higher education and military recruitment community. Final ratings were determined by combining the institution's survey scores with the assessment of the institution's ability to meet thresholds for student retention, graduation, job placement, loan repayment, persistence (degree advancement or transfer), and loan default rates for all students and, specifically, for student veterans.
"Military Friendly® is committed to transparency and providing consistent data-driven standards in our designation process. Our standards provide a benchmark that promotes positive outcomes and support services that better the educational landscape and provide opportunity for the military community. This creates a competitive atmosphere that encourages colleges to evolve and invest in their programs consistently. Schools who achieve awards designation show true commitment in their efforts, going over and above that standard," said Kayla Lopez, national director of military partnerships, Military Friendly®.
For more information about UD's student veteran services, visit http://www.dbq.edu/Veterans/.