McKenzie Named USTFCCCA All-Academic
Jul 24, 2014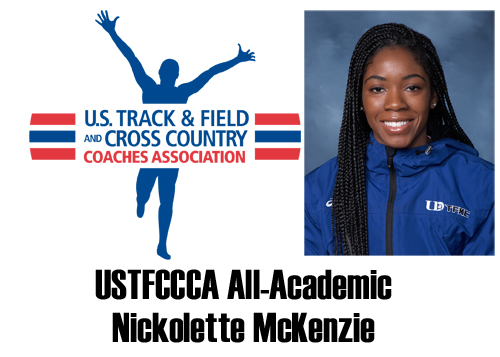 NEW ORLEANS, La. – The University of Dubuque women's track and field team was honored by the the U.S. Track & Field and Cross Country Coaches Association (USTFCCCA), today with Nickolette McKenzie (Jr., sprints/jumps, Hoffman Estates, Ill./Fremd HS) being named by the association as All-Academic. Including the Scholar Athletes of the Year, a total of 416 women from 126 institutions earned USTFCCCA All-Academic honors for their combined academic and athletic accomplishments.
To qualify for the USTFCCCA All-Academic Track and Field Team, the student-athlete must have compiled a cumulative grade point average of 3.30 and have met either of the following athletic standards:
Competed in an NCAA Indoor or Outdoor Championship
Finished the regular season ranked in the national top 35 in an individual event or ranked in the national top 25 (collective listing) in a relay event on the official NCAA POP list provided by TFRRS.org
McKenzie is a double major in Wellness & Exercise Science and Business who maintains a cumulative GPA of 3.60. McKenzie earned the first IIAC Outdoor Championships title for UD in 2014. It was the Spartans first women's title since Lisa Demerath won the 10,000m run in 2002. She leaped to victory in the triple jump, a winning leap of 11.70m (38'-4.75"). She was also part of a record breaking relay squad which set a school record in the 4x100m with teammates Jasmine Bethea (Schaumburg, Ill./Schaumburg), Tieisha Starks (Waukegan, Ill./Waukegan), and Brittany Burns (Beloit, Wis./Beloit Memorial) that finished third at 48.36, 0.54 seconds faster than the previous mark.
McKenzie qualified for the 2014 NCAA Division III Outdoor Track and Field Championships with her qualifying distance at the IIAC Championships by jumping 11.70m (38'-4.75") which ranked her 20th in Division III. In the championships she placed 15th of 22 competitors in the women's triple jump with leaps of 11.32m (37'-1.75") in her second and third jumps.