Men's Soccer Team Can't Contain Illinois Wesleyan in Loss
Sep 13, 2014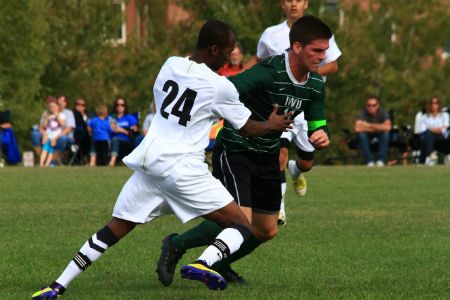 BLOOMINGTON, Ill. – The University of Dubuque men's soccer team struck first but was overwhelmed by the Illinois Wesleyan attack in 3-1 defeat.
The Spartans (1-3-2) jumped out to the quick lead on Brandon Wiley's second goal of the season 16 minutes into the match. It was tough sledding from then on as Illinois Wesleyan (4-2) outshot them 23-8 over the course of the game. Riley Jensen did what he could to stave off the attack after tallying nine saves in his second straight start. Unfortunately the Titans managed to connect three times, including twice in the second half, with three assisted goals. The last one came at the 60-minute mark.
The Spartans will take the field this Wednesday, September 17th as they host UW-Platteville at 7:00 p.m.