Missed Opportunities Doom No. 22 Women's Soccer Team
Sep 13, 2014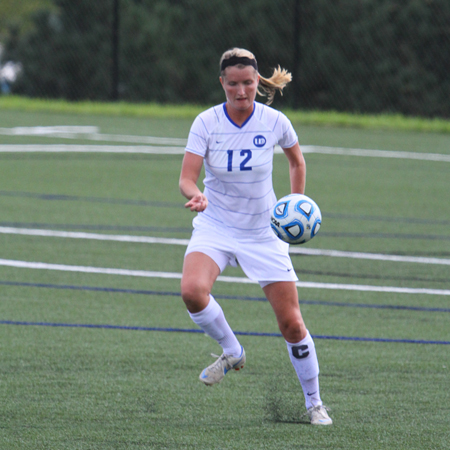 DUBUQUE, Iowa – A multitude of missed shots and a couple tough breaks for the University of Dubuque women's soccer team left them with their first loss of the season to UW-Oshkosh, 2-0.
It was all Spartans (6-1) in the first 25 minutes of play as they accumulated five shots and three corner kicks compared to the Titans (3-2) zero in both categories. UW-Oshkosh managed to find the soft spot in the Spartan defense by assuming the 1-0 lead on their first shot of the game, 26 minutes in. The tough breaks continued as the second half began.
Yet another goal for the Titans pushed the lead to 2-0 after four straight unsuccessful UD shots to begin the second half. The Titans caught the lucky break after Elliott increased the lead with a high shot that went in-and-out of UD keeper, Tiffany Duncan's hands. Shortly thereafter they were without the services of second-leading goal scorer, senior Megan Siepler, after a collision near the UD goal sidelined her for the remainder of the game.
Katie Lynn, who attempted a game-high six shots, launched three (including two on goal) in the last 20 minutes but to no avail. She led the charge as UD outshot UW-Oshkosh, 16-7.
The Spartans have taken at least twice as many shots as their opponent in every game this season and are outshooting them 151-53 overall.
They face Augustana (Ill.) on the road this Wednesday, September 13th at 7:00 p.m.