Women's Volleyball Outpaced by Dutch
Sep 23, 2014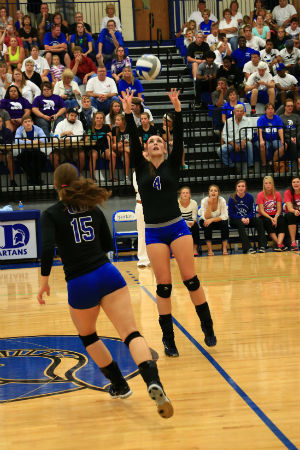 DUBUQUE, Iowa – The University of Dubuque women's volleyball team couldn't quite keep up with Central and fall in four sets (25-18, 12-25, 22-25, 18-25).
The Spartans (7-12, 0-2 IIAC) exploded out of the gate with an impressive 25-18 display, but Central managed to rally and win the next three sets. Sets two and four were all Central (10-5, 1-1) as they held the outright lead for all but four points in the fourth. Set three was a competitive back-and-forth battle that featured 15 ties and seven lead changes. Coincidentally, Central and UD posted 14 kills each and a similar attack percentage of .188 and .184, respectively.
UD played arguably their best volleyball of the conference season in set one. They led from the outset and hit an eye-popping .500.
Hannah Zieser was the offensive and defensive catalyst after earning a game-high 36 assists and team-high 14 digs. Klaudia Basierak led the team with 12 kills while Amanda Reetz wasn't far behind with 11.
The Spartans head north to Milwaukee, Wis. for the annual IIAC/NACC Challenge. They face the first of four NACC foes, Aurora University, on September 26th at 3:00 p.m.