Vikings Outduel Spartans in Four Sets
Oct 10, 2014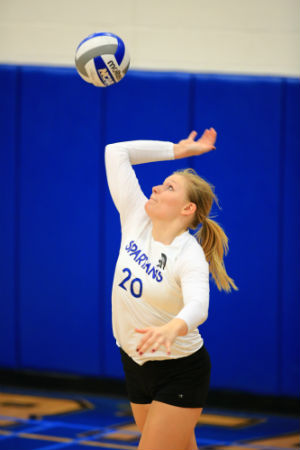 ROCK ISLAND, Ill. – The University of Dubuque volleyball team couldn't overcome a slow start as they fell to Augustana (Ill.) on the road, 3-1, on Friday night.
It was tough sledding out of the gates for the Spartans (11-15, 2-2 IIAC) as they dropped set one 15-25. They managed to counter the Augustana (17-5, 2-1 CCIW) attack in set two with a 28-26 thriller. It was a no-go in sets three and four as the Vikings staved off the Spartan advance to win by the scores of 25-21 and 25-16.
The Spartans finished the match hitting just .173 while the Vikings attacked with a .250 hitting percentage.
Klaudia Basierak led the offense with 13 kills while Hannah Zieser tallied 43 assists. Karrah Davis racked up 20 digs while pioneering a defensive effort that featured three players with 18 digs or more. Amy Tranel totaled 10 kills but posted a game-high efficiency of .429.
The Eagles have given the Spartans fits, improving to 11-2 in the series. UD couldn't extend their winning streak to two after defeating UW-Lacrosse in last year's match, 3-1.
The Spartans take Wartburg (17-6, 2-2 IIAC) on the road this upcoming Tuesday, October 14th at 6 p.m. (JV) and 7:30 p.m. (V).