Duo of Ortiz and Nava Pace Spartans to 3rd Place at Dr. Tucker Invite
Oct 17, 2014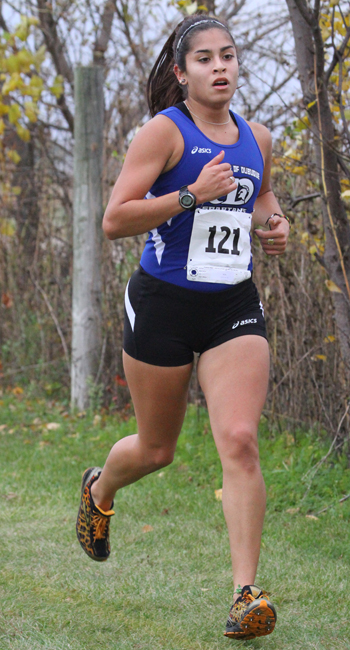 DUBUQUE, Iowa –
Fabiola Ortiz
and
Brenda Nava
paced the Spartans with their best individual finishes of the year at the Dr. Tucker Invite hosted by Loras.
It was primarily an IIAC affair at the Dubuque Soccer Complex if not for Monmouth, who crashed the IIAC party with a fourth-place team finish (71 points). Taking home the trophy was Loras who narrowly edged out Simpson, 39-49. The Spartans represented third-place with 68 points. Coe concluded the team scoring with 130 points.
Ortiz couldn't quite catch the swift Kyra Kimber from Monmouth (22:53) but still finished strong in second place (23:24). She sparked her teammate - "Ms. Consistent" as assistant coach Geoff Gundlach would call her – Nava into a seventh place performance with a time of 24:37. Freshman Skylar Brooks (25:13, 16th) ran like a veteran as she breezed to a 15-second PR (personal record) on a windy day.
Reliable seniors, Rachael Busjahn and Sam Holen, did their thing as they finished three seconds apart with times of 25:37 (23rd) and 25:40 (24th), respectively.
"Our seniors dug down and did a good job as our number 2-4-5 runners tonight," said Gundlach on their performance as he challenged them in preparation for the IIAC Conference meet.
"We are looking forward to the conference meet but we know we have to keep working and striving to improve. We can rest on absolutely nothing the next month and we have to ask more from ourselves and our teammates."
The Spartan harriers will look to do just that as they travel to Indianola, Iowa to compete at the Iowa Conference Championships on November 1st at 11 a.m. It will be hosted by Simpson College.
2014 Loras College Invitational
Dubuque, Iowa - 10/17/2014
==================================================================================
Meet Record: $ 21:09.10 2010 Obsie Birru, Grand View Univ
Name Year School Avg Mile Finals Points
==================================================================================
1 #61 Kyra Kimber SR Monmouth College 6:08.3 22:53.2 1
2 #121 Fabiola Ortiz SO Univ of Dubuque 6:16.7 23:24.2 2
3 #12 Brianne Cook JR Loras College 6:21.7 23:43.0 3
4 #93 Briana McCloskey SO Simpson College 6:27.8 24:05.8 4
5 #81 Sadie Timms FR Simpson College 6:30.2 24:14.6 5
6 #19 Lindsey Gidel SO Loras College 6:33.0 24:25.1 6
7 #126 Brenda Nava SR Univ of Dubuque 6:36.4 24:37.8 7
8 #23 Becky Hilby SR Loras College 6:36.9 24:39.7 8
9 #24 Hallie Martin SR Loras College 6:38.0 24:43.6 9
10 #58 Alexandra Dupont FR Monmouth College 6:38.1 24:44.1 10
11 #84 Bree Gaster JR Simpson College 6:40.9 24:54.4 11
12 #166 Beth Heims SO Coe College 6:42.3 24:59.9 12
13 #17 Emily Day SO Loras College 6:43.4 25:03.8 13
14 #89 Jessica Gronke SO Simpson College 6:44.9 25:09.6 14
15 #77 Courtney Neuendorf FR Simpson College 6:45.6 25:12.0 15
16 #115 Skylar Brooks FR Univ of Dubuque 6:45.9 25:13.2 16
17 #59 Brittany Daniel SO Monmouth College 6:46.4 25:15.2 17
18 #3 Sydney Brokaw FR Loras College 6:48.0 25:20.8 18
19 #69 Barbara Duffy SR Rockford Univ 6:49.3 25:26.0
20 #16 Ashley Wenthold JR Loras College 6:49.6 25:27.0 19
21 #20 Abby Heiderscheit SO Loras College 6:50.8 25:31.5
22 #55 Joanna Podosek FR Monmouth College 6:51.3 25:33.3 20
23 #124 Rachael Busjahn SR Univ of Dubuque 6:52.3 25:37.1 21
24 #125 Sam Holen SR Univ of Dubuque 6:53.1 25:40.1 22
25 #57 Thea Bloom JR Monmouth College 6:55.1 25:47.4 23
26 #117 Kristin Mackenburg FR Univ of Dubuque 6:57.0 25:54.4 24
27 #15 Kristi Shogren JR Loras College 7:04.0 26:20.8
28 #118 Sybbie Sears FR Univ of Dubuque 7:04.1 26:21.0 25
29 #11 Emily Sotelo FR Loras College 7:06.7 26:30.9
30 #56 Amy Wollenburg FR Monmouth College 7:07.0 26:31.9 26
31 #8 Kelly Minear FR Loras College 7:07.4 26:33.5
32 #7 Mercedez Kennedy FR Loras College 7:09.7 26:42.0
33 #169 Allison Rogers JR Coe College 7:10.3 26:44.1 27
34 #13 Andrea Frank JR Loras College 7:10.5 26:44.9
35 #163 Brianna De Jong SO Coe College 7:11.0 26:46.8 28
36 #80 Lesley Roquet FR Simpson College 7:11.2 26:47.5 29
37 #94 Morgan Moline SO Simpson College 7:11.7 26:49.3 30
38 #161 Holly Wisnousky FR Coe College 7:11.9 26:50.0 31
39 #147 Martina Smith SO Buena Vista Univ 7:13.5 26:56.2
40 #164 Felicia Devine SO Coe College 7:14.1 26:58.5 32
41 #96 Lauren Doocy SR Simpson College 7:15.0 27:01.5
42 #123 Kiersten Wenthold SO Univ of Dubuque 7:15.4 27:03.1
43 #68 Stephanie Tassone JR Rockford Univ 7:15.8 27:04.6
44 #122 Melissa Todman SO Univ of Dubuque 7:16.1 27:05.7
45 #9 Carrie Piper FR Loras College 7:18.5 27:14.6
46 #14 Amanda Rodriguez JR Loras College 7:19.4 27:18.1
47 #162 Maddie Bain SO Coe College 7:20.6 27:22.7 33
48 #10 Sarah Schoel FR Loras College 7:23.6 27:33.7
49 #88 Maria Claussen SO Simpson College 7:23.6 27:33.9
50 #145 Meredith Van Zuiden FR Buena Vista Univ 7:27.3 27:47.5
51 #160 Abie Mellick FR Coe College 7:27.6 27:48.8 34
52 #54 Isabella Kosier FR Monmouth College 7:28.1 27:50.4 35
53 #5 Nicole Dryanski FR Loras College 7:29.8 27:57.0
54 #22 Amanda Elsen SR Loras College 7:30.0 27:57.7
55 #53 Kelci Foss FR Monmouth College 7:30.8 28:00.6
56 #2 Genevieve Brockway FR Loras College 7:31.8 28:04.5
57 #116 Kayla Kinateder FR Univ of Dubuque 7:33.6 28:11.2
58 #184 Maddie Moore FR Iowa T&F Club 7:34.2 28:13.2
59 #4 Kristin Dryanski FR Loras College 7:36.1 28:20.5
60 #144 Erin Morley FR Buena Vista Univ 7:37.8 28:26.7
61 #85 Emily Manning JR Simpson College 7:44.0 28:49.7
62 #75 Lauran Beckman FR Simpson College 7:45.4 28:55.1
63 #120 Madison Montgomery JR Univ of Dubuque 7:46.1 28:57.7
64 #187 Caitlin Chainey SO Iowa T&F Club 7:47.3 29:02.3
65 #119 Grace Voelliger FR Univ of Dubuque 7:49.3 29:09.7
66 #67 Mayra Rodriguez JR Rockford Univ 7:53.7 29:25.8
67 #79 Kelsey Roquet FR Simpson College 7:56.3 29:35.6
68 #159 Amanda Donovan FR Coe College 8:01.2 29:53.8
69 #82 Brooke Volz FR Simpson College 8:02.0 29:56.9
70 #60 Katelynn Propes SO Monmouth College 8:02.9 30:00.4
71 #167 Kelsey Kemp SO Coe College 8:08.4 30:20.8
72 #179 Amanda Enman SO Faith Baptist 8:09.4 30:24.6
73 #70 Carla Ramirez SR Rockford Univ 8:17.7 30:55.6
74 #78 Danni Roethler FR Simpson College 8:40.6 32:20.8
75 #6 Jacqueline Josephs FR Loras College 8:41.2 32:22.9
76 #185 Chantel Schmidt FR Iowa T&F Club 8:59.9 33:32.7
77 #180 Kimberly McDaniel SO Faith Baptist 9:34.8 35:42.8
=================================================================================
Rank Team Total 1 2 3 4 5 *6 *7 *8 *9
=================================================================================
1 Loras College 39 3 6 8 9 13 18 19
2 Simpson College 49 4 5 11 14 15 29 30
3 Univ of Dubuque 68 2 7 16 21 22 24 25
4 Monmouth College 71 1 10 17 20 23 26 35
5 Coe College 130 12 27 28 31 32 33 34