Lynn-ing Effort Guides Women's Soccer to Third Straight IIAC Championship Final
Nov 5, 2014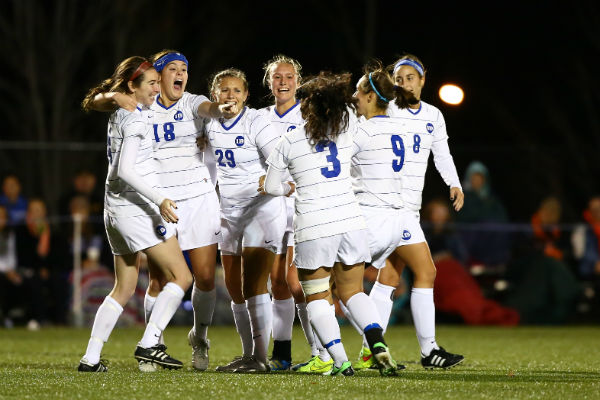 DUBUQUE, Iowa – Katie Lynn was the spark off the bench for the No. 1 seed University of Dubuque women's soccer team after she scored both goals in a 2-1 triumph over No. 4 Wartburg in the IIAC semifinals on Wednesday night.
The win marked the second time in three years the Spartans (16-4, 6-1 IIAC) have knocked off Wartburg in the IIAC semifinals.

Despite a well-placed shot on goal by Kyleigh McLaughlin early on, it seemed as if the Knights (10-6-4, 4-2-1) might have the upper hand in exacting revenge from their 2012 semifinal loss after maintaining lengthy possessions inside UD territory. The Knights had their chances but it would go for naught thanks to Tiffany Duncan's two first-half saves and a UDefense that prevented zero corner kicks.
After entering the game midway through the first, Lynn's second shot attempt was spot-on in the 39th minute off a quick pass from Lisa Rosas at the top of the box as UD struck first.
Even with the lead, the Spartans came out aggressive in the second. Less than 10 minutes in, Megan Siepler's free run up the right side of the box resulted in a shot that nearly grazed the top of the crossbar. Moments later, Lynn would follow with a whirling dervish of a shot that skated past the right post.
Wartburg continued to press and broke through in the 66th minute with an unassisted score 18 yards out from the right side.

The Spartans would have none of it after setting up a Melissa Sawyer corner kick in the 69th. She sent an arcing ball into the pit of orange and white as Lynn got a hold of it. Lynn's first shot caromed off the hands of the Wartburg keeper which Lynn sent screaming to the back of the net to give UD the final 2-1 advantage.

Duncan maintained her presence between the posts after saving four shots in the final seven minutes of play that included a last ditch effort by Wartburg with 30 seconds to go.

On the defensive end Duncan snagged nine saves on the night while Lynn led all shooters with six shots, three on goal.
Wartburg ended up winning the shot count, 15-11, but it was UD who decisively controlled the corner kicks, 4-1.
The Spartans broke through a Knight defense that had allowed five goals in IIAC play, four of those credited to Luther and the other to UD in a 1-0 overtime victory on October 18th.
UD earned their fourth straight win over Wartburg since 2012 and upped their record to 4-14 all-time against the Knights.

The No. 1 Spartans advance to play in their third straight Iowa Conference Championship as Loras will end their reign of four straight IIAC tournament titles. They will play host to No. 2 Central (11-4-3, 5-1-1 IIAC) this Saturday at Oyen Field at 3 p.m. Central defeated Luther 1-0 in overtime to advance to the IIAC final.

Box Score